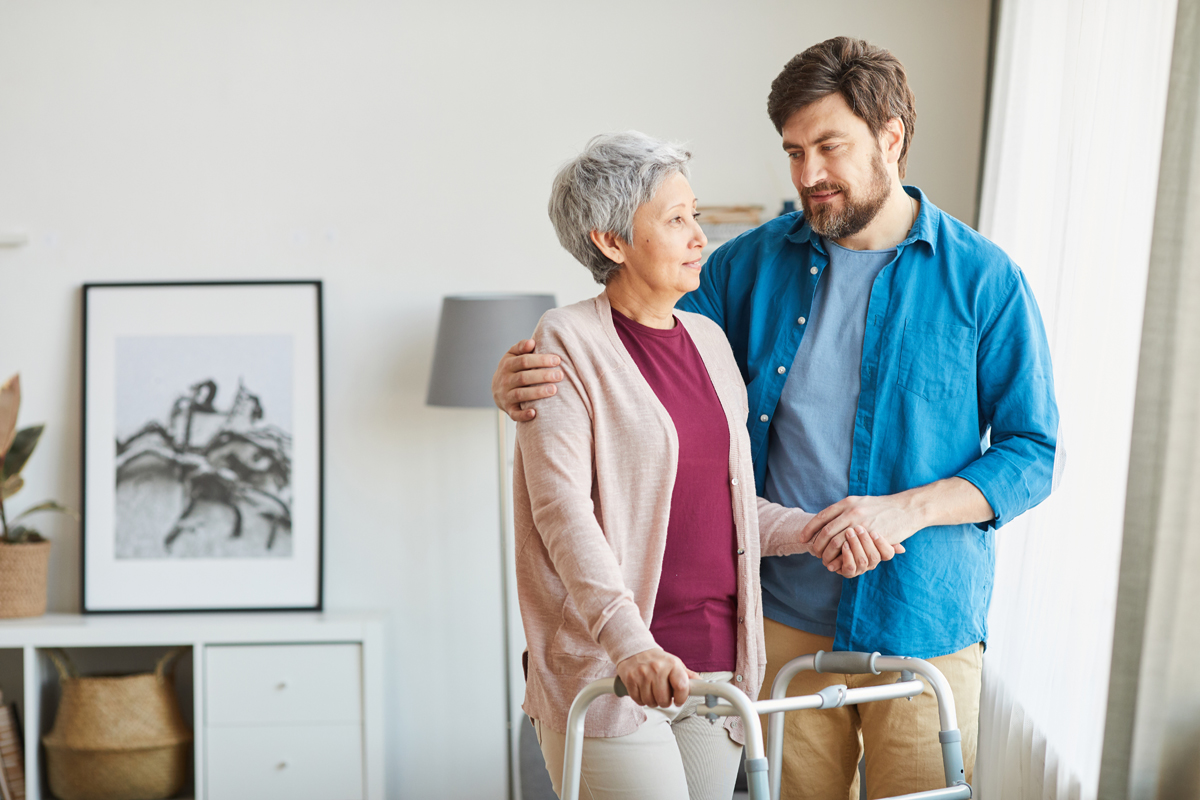 This is a complete fall prevention checklist to keep the elderly safe at home.
Floor Safety
❒ Keep all pathways free of furniture in every room of the house.
❒ Secure any and all throw rugs by applying nonslip backing.
❒ Ensure there are no loose objects on the floors.
❒ All wires need to be securely taped or coiled next to walls.
Bedroom Safety
❒ Keep a lamp and/or flashlight near your bed.
❒ Install at least one nightlight in the room.
❒ Keep a phone near your bed at all times.
❒ Add a bed rail to make it easier to get in and out of the bed.
❒ Keep the flooring free of any clutter.
Bathroom Safety
❒ Install a nightlight in the bathroom.
❒ Grab bars should be installed near the toilet and tub.
❒ A raised toilet seat will make sitting and standing up easier.
❒ Use a non-slip bath or shower mat.
❒ Use a shower chair or bath bench in the tub area.
❒ Place a secure and slip-resistant rug outside of the tub area.
❒ Promptly clean up any water on the floor.
Kitchen Safety
❒ Keep frequently used items on the lowest possible shelf.
❒ Have a sturdy stool in the kitchen, if necessary.
❒ Keep a reaching aid nearby.
❒ Any loose footboards should be replaced immediately.
❒ Remove any rugs from the kitchen area.
❒ Only use non-skid floor wax in the kitchen.
❒ Post important information, including doctor's phone numbers, on the refrigerator.
❒ Clean up spills promptly.
Living Area Safety
❒ Ensure all pathways are clear.
❒ Secure all rugs with non-slip backing or remove the rugs altogether.
❒ Install light switches at the entrance of all rooms.
❒ Keep all rooms clear of any clutter.
❒ Repair loose footboards immediately.
❒ Keep all electrical cords far from pathways.
❒ Do not sit on chairs that are difficult to stand up from.
❒ Get rid of any wobbly or unstable furniture.
Outdoor Safety
❒ All paths need to be brightly lit at all times.
❒ Have lighting around all stoops and steps.
❒ Install handrails around steps.
❒ Always keep sidewalks and walkways clear.
❒ Repair uneven or broken steps.
❒ Remove any roots that may be sticking up from the ground.
Fall Prevention Tips
❒ Perform daily exercises to improve your mobility, strength and balance.
❒ Have your doctor check your eyes at least once per year.
❒ Wear shoes both inside and outside.
❒ Ensure all lighting works properly.
❒ Keep all emergency information near the phone.
❒ Keep a cell phone nearby at all times.
Find Quality Assisted Living With SLS Communities
If you're looking for the very best assisted living in Phoenix; SLS Communities can help!  We have 5 locations in the Phoenix Valley that seniors and their families can choose from for assisted living services.   With great amenities such as meticulously manicured landscaping, pools, theater rooms, on-site salons, and much more SLS delivers seniors the very best assisted living services in Phoenix, Arizona.
Check out our locations below
For more information about assisted living and senior living services please call 480-348-0300.