Ventana Winds Is Arizona's Retirement Living At Its Finest!
Assisted Living
12322 N. 113th Ave.
Youngtown, AZ 85363
623-323-9807
Memory Care
12322 N. 113th Ave.
Youngtown, AZ 85363
623-583-2460
Ventana Winds Assisted Living and Memory Care is located near the border of Sun City and Youngtown, Arizona and is conveniently located by everything that you may need: great shopping, golf courses, terrific restaurants, sports arenas, cultural centers and medical offices. The atmosphere is family-oriented, relaxed and warm with a ambience that embraces small-town values. Each of our spacious apartments has walk-in closets, a patio or balcony, extra storage space and ceiling fans. You'll find a comfortable retirement lifestyle that fits your specific needs. With one look at our beautifully landscaped grounds and elegant decor you will feel right at home. Each of our spacious apartments has walk-in closets, a patio or balcony, extra storage space and ceiling fans. Ventana Winds is a unique assisted living near Sun City Arizona. Our assisted living community provides beautiful one and two bedroom apartments with ample space for furniture and personal items. Each spacious apartment has a walk-in closet, a patio or balcony, extra storage and a kitchenette with a full size refrigerator. Our three-story assisted living is built between a crystal clear swimming pool and a lovely courtyard.

Our Chef Prepared Meals are Served in our Restaurant Style Dining Room!
Ventana Winds offers world class dining options, on a daily basis. Our full menu options are nutritious, tantalizingly delicious and are made with quality ingredients for a complete dining experience. The professional Chef's and Kitchen Staff at Ventana Winds can't wait for you to try our food! Click the link below to view a daily sample menu.
Why Choose Ventana Winds?
Ventana Winds Retirement Community combines luxurious resort style living with fantastic amenities. From full scale dining to spa style salon services, beautiful accommodations and a sense of community and belonging, Ventana Winds has it all. Whether you have an active lifestyle, or need a little assistance around your home or with transport, you can have the comfort of knowing our caring staff are always there for you. Ventana Winds is proud to offer both Assisted Living & Memory Care communities that will be sure to impress!! The beautiful upscale building will provide unbelievable views! Offering apartments in all sizes from Studio, One Bedroom & Two Bedroom, you will have many options to choose from!
A Full Schedule of Exciting Activities Every Day!
Ventana Winds Assisted Living as a wide variety of daily activities to keep both the mind and body active. From early morning walks to board games, to trivia contests, to bible stories, card games and movies where every resident is welcome and encouraged to join in! At Ventana Winds, we believe in a holistic approach where our residents can thrive with activities that not only interest them but help to build a spirit of fun and camaraderie. Additional Activities Include the following.
Morning Stretches, Exercises, & Water Aerobics
Movie / TV Shows Hours with Art & Crafts Times
Billiards, Pokeno, Bingo & Bowling
Including Much, Much More…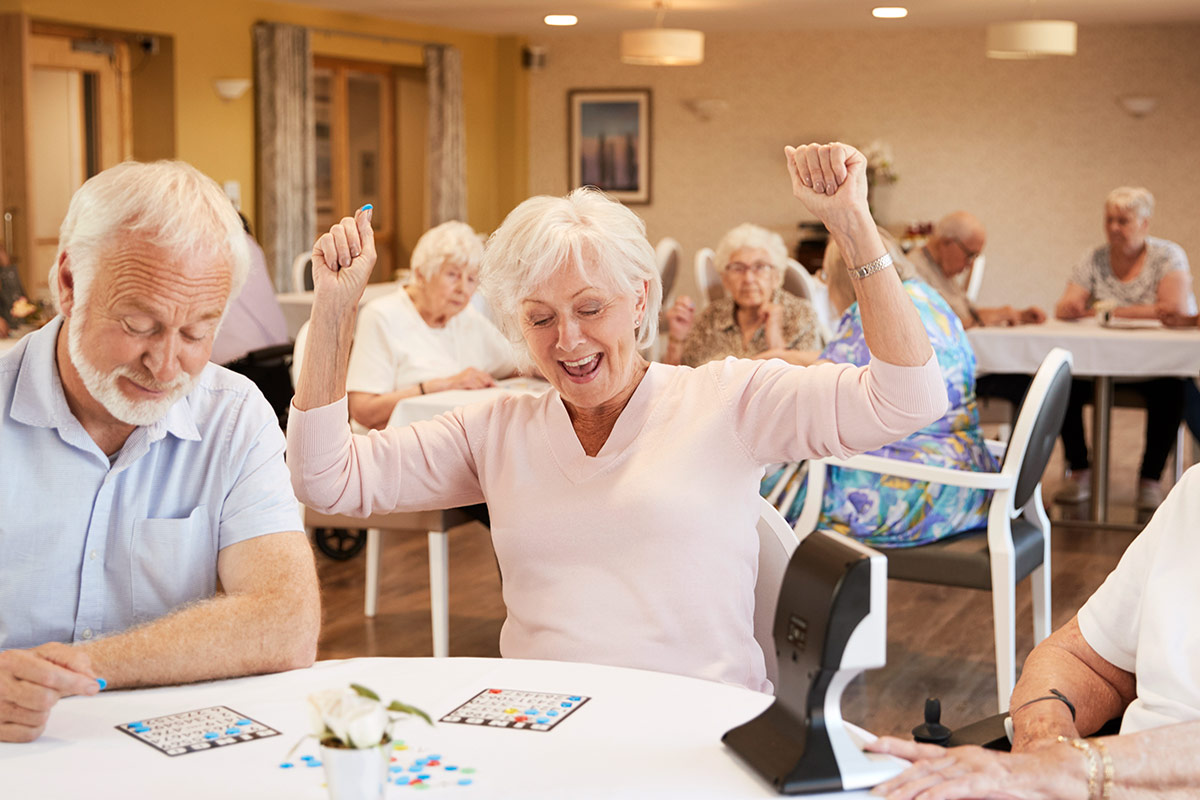 Contact Ventana Winds Here!
Contact us here, or call 623-323-9807 for more information on our Retirement Community in Arizona.
View Our Other Arizona Communities!
All of our communities offer an abundance of activities, flexible amenity packages, and a variety floor plans to choose from. Let us help you find an SLS retirement community you will be proud to call home!
ALL OF OUR COMMUNITIES ARE PET FRIENDLY!
ASSISTED LIVING: 623-323-9807 | MEMORY CARE: 623-323-9807