How To Talk To A Parent With Dementia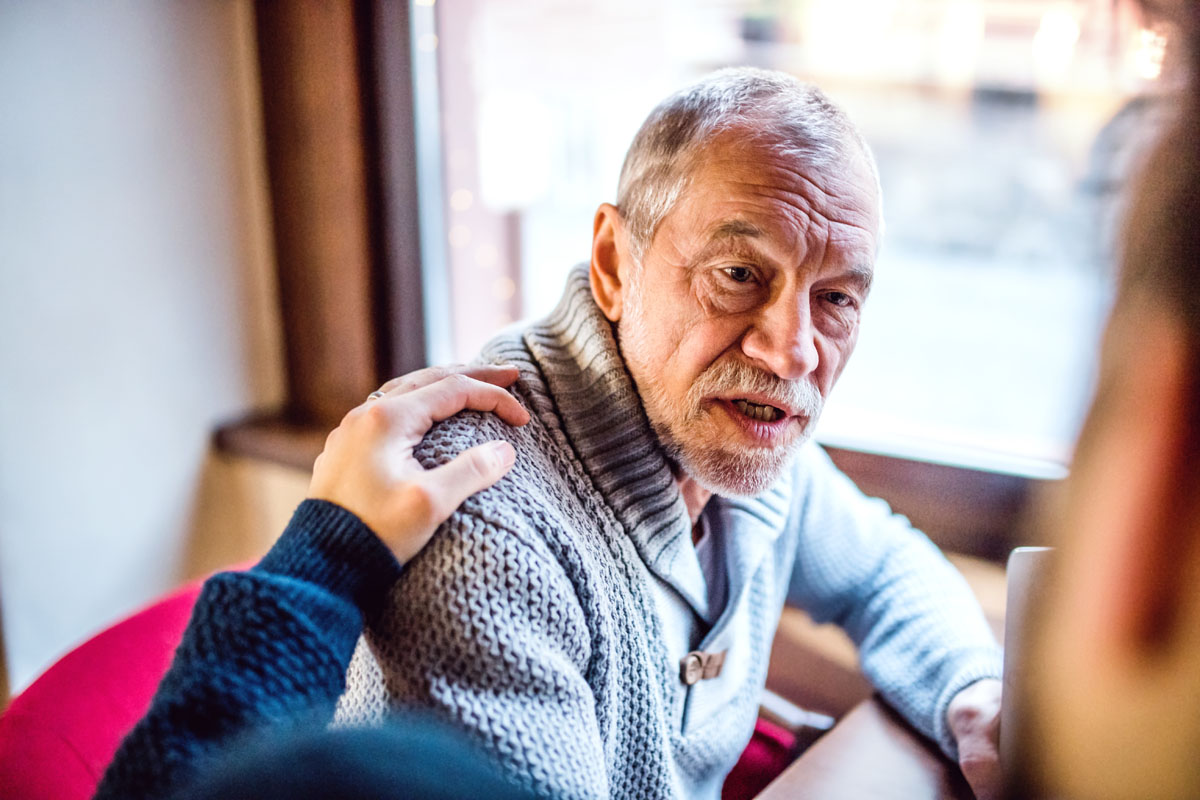 Understanding how to communicate and interact and with our loved ones through this time is vitally important. Read more about these communication strategies for communicating with someone with dementia.
Communication Techniques For Those Suffering From Dementia
Many people use the expression, "empty shell of a person" when describing a loved one in the later stages of dementia. Unfortunately, dementia does transform people, but those that are living with dementia are far from "empty shells." The shell may become challenging to open, and some days it might not open at all. But don't forget there is still a beautiful, loved one within.
Knowing how to "open the shell" gives us the opportunity to significantly connect with our dementia-stricken loved one — even if only for a short-lived moment. But there are techniques and artistry involved with connecting emotionally or communicating with a loved one who is afflicted with dementia.
Here are some tips on how to communicate effectively with someone who has dementia:
Realize what you're facing. Dementia does get worse over time. Those with dementia will gradually have a more challenging time understanding others, as well as communicating normally.
Stay away from distractions. Find a good place and time to talk when there aren't a lot of distractions around. This will allow your loved one to focus all their mental energy on communicating.
Speak naturally and clearly in a warm and calming voice. Avoid 'baby talk' or any other kind of disdain.
Try and refer to them by their name. Avoid "he," "she," and "they" during your conversations. Names are also significant when greeting a loved one with dementia. For example: "Hi, Dad. It's me, Tony," is to be preferred over, "Hey. It's me."
Avoid talking about too many topics. Someone with dementia might not be able to engage in the mental back and forth involved in keeping up with a conversation with numerous threads.
Try using nonverbal cues. For example, keep eye contact and smile. This will help comfort your loved one and will establish understanding. When their dementia is very advanced, nonverbal communication may be your only option.
Listen attentively. If you can't understand something your loved one is telling you, kindly let them know.
Don't over think your talks. Your conversations usually will not go very far if you try to correct every little statement your loved one makes. It's alright to let misstatements and delusions go.
Be patient. Give your loved one some time to think about what you are saying. If you need to ask a question, give them a moment to respond. Try not to get frustrated.
Be aware that there will be good days and bad days. While the common trend of dementia sufferers is a downward decline, people with dementia will have their ups and downs just like everyone else.
Read more about the very early signs of dementia right here.
Find Quality Independent Living, Assisted Living, & Memory Care In Arizona
If you're looking for the quality assisted living, memory care, and senior living services in Phoenix, Mesa, Surprise, Peoria, or anywhere else in ARizona; SLS Communities is here for you!  We have 5 locations around the valley that seniors and their families can choose from. With excellent amenities such as beautifully manicured landscaping, swimming pools, theatre rooms, on-site salons, and much more. SLS delivers today's seniors the very best retirement care services in the Phoenix, Arizona area.