Retirement Wishes for a Boss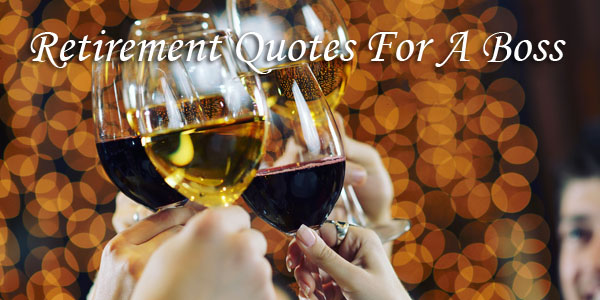 Are you searching for retirement quotes for a boss? This post should help.
1. As you are retiring from work dear boss, I wish you a happy life full of fun and excitement.
2. Retirement is where you paint your dreams and spend time with your family. I wish you a very happy retirement.
3. I wish I can also retire now so that I don't have to call anyone boss. Also, congratulations, Boss! Enjoy your retirement.
4. After climbing so many mountains in over the years, you can now belatedly enjoy the view!
5. No more waking up to alarms. No more rush hour and daily commutes. Most importantly, no more stress from us at the office! Congrats boss!
6. You were an awesome team player, even harder worker, and an exemplary boss. Enjoy retirement.
7. It's time for you to take it easy after all these years of hard work. Enjoy your next adventure boss.
8. I wish you a stress-free and fun retirement. We're really going to miss your guidance at work. Congrats boss.
9. Congratulations on retiring in such a refined manner, dear boss. The most thrilling time of your life has just begun!
10. We will miss your wisdom and experience as a boss but most of all, we will miss the inspiration you have been to us. Enjoy your retirement.
11. Now you will finally have time to find that special fishing spot or to sleep through an afternoon football game on TV. It couldn't happen to a nicer boss.
12. Some people retire too early and lament wasting their lives. Some people retire too late and hated overworking. But your timing is just perfect, enjoy your retirement boss.
13. The feeling of retiring is like turning into a kid, just waiting to go home to open that box of candies you stashed away to relish on a special day. Happy retirement dear leader.
14. We'll miss you as our boss, but we'll miss you more as our mentor, friend, and colleague. We wish you a happy retirement.
15. Now you can finally say, "Let the relaxation, weekend retreats, and outlandish vacations begin!" Congratulations on your retirement!
16. Just think about it. Retirement signifies long, seven-day weekends! Lucky you! Congratulations!
17. Do you think you could possibly give me a raise on your way out the door? Congratulations on your retirement.
18. We wish you the best as you close this chapter and start a new one. Enjoy retirement boss!
19. Great job! You have run a good race. Now it is time to take in the rewards of all your labor. Congrats dear leader.
20. You have a fantastic way of bringing out the best in us. I'm so glad to have been under your leadership. Enjoy your Retirement.
21. Let down your hair. Kick off your socks. Garner the rewards of a life of hard labor. Your retirement is your time to flourish.
22. Thank you for your years of guidance and commitment to the job. It has been a pleasure working with such a wonderful boss.
23. Work just won't be the same without you, boss. I sure hope you enjoy the years ahead of you. Happy Retirement!
24. Congratulations on retiring. We wish you tons of happiness and excitement in your years ahead.
25. Congratulations! You've been promoted, unfortunately you're no longer the boss, your wife is. Happy retirement.
26. It's okay to be unhappy about retiring, but it is a lot better to be happier about the awesome days ahead. Congratulations!
27. Happy Retirement! If you get bored, just give me a call. I'll be more than happy to share some work with you!
28. Don't forget about us when you're enjoying your retirement. Come to visit, keep in touch and boss us around for old time sake.
29. Enjoy your new position as a retiree! It's the last time you'll ever need to start a new job. Happy retirement boss!
30. Retirement is like turning eighteen – you can't figure out what to do with the rest of your life.
Read short retirement quotes at Chaparral Winds Retirement Community