What is Independent Living?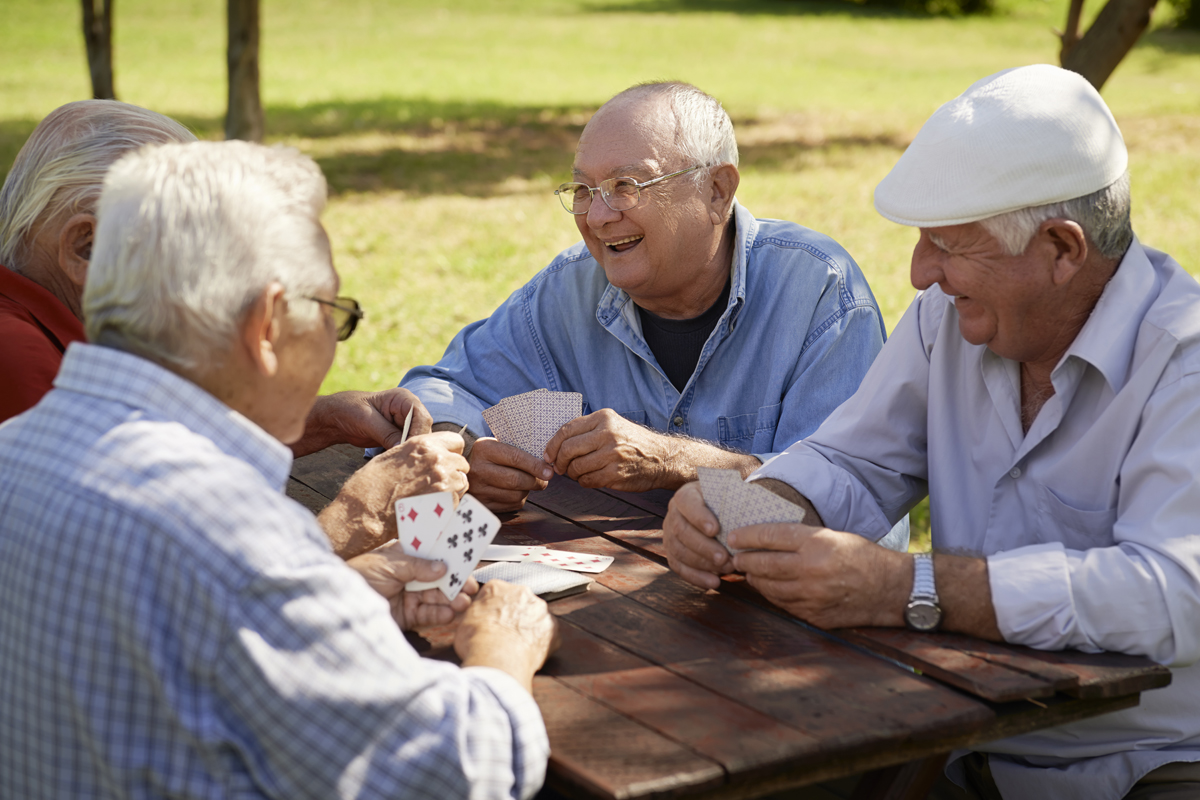 Independent living is living arrangements in communities for individuals or couples who are 55 and older.  The communities are characterized by lots of activities and apartment style living.  Each unit is typically a studio, single, or two bedroom floorplan and care consists of meal preparation, and resort style living.  This gives our residents the comfortable active lifestyle they want with plenty of opportunities to be social and stay connected.
After retirement; adventure awaits.  SLS Communities Independent Living offers seniors a place to live where the details are taken care of for them.  We take care of the cooking, cleaning, and laundry while our residents go out and enjoy life!  Our communities feature fitness centers, theater rooms, beauty salons, pools, spas, and chef prepared meals served in our restaurant style dining rooms.
Exactly what does independent living consist of?
Independent living is nothing more than a housing arrangement for seniors who have reached the age of 55 and up. However, there are a few exceptions to this. Housing for seniors vary in types, such as apartment living to free-standing homes, including retirement communities. Independent living housing has a friendly atmosphere, allow seniors get around with ease, are more compact, and any maintenance and/or groundwork is taken care of.
Nearly all communities for living independently offer their residents various programs and activities, amenities, and various other services.  Housing for independent living usually include clubhouse and/or recreational centers allowing seniors a chance to interact with others in the community. Independent living also offers community participation in arts, crafts, gatherings on holidays, educational classes, movie nights, among many other community activities.
The housing for independent living might even offer other facilities like fitness centers, golf courses, swimming pools, interest groups, a variety of clubs, and tennis courts. There are many other services that independent living communities may offer, such as: beauty & barber shops, on-site spas, basic housekeeping, daily meals, and laundry services.
After all, independent living facilities are usually focused on those who have reached the age of 55 and up, created and designed to give an atmosphere of living independent, but with assistance available in areas where it may be needed. Hiring in-home help is an option for those who feel they need it.
Some other housing names for independent living
Congregate care
Retirement communities
55+ and/or 62+ communities
Retirement homes
Senior apartments and/or senior housing
Active adult communities
Continuing Care Retirement Communities
Different types of facilities for independent living and retirement homes
With several different choices in what type of independent living facilities to choose from, such as, separate houses and apartment complexes, it will depend on the cost range and the services one is looking for:
Low-income or subsidized senior housing
The United States offers senior's subsidized housing complexes that are provided by the United States Department of Housing and Urban Development (HUD), that are for senior's that are on a low-income budget.
Housing for senior's, apartments or congregate care
Apartment complexes for senior's are usually restricted and intended for those who have reached the age of 55 and up. Included in the rent are community services, which generally include things like transportation services, recreational programs, and the serving of meals in the communities dining room.
Retirement homes and retirement communities.
Housing units that are used as retirement communities are usually restricted for seniors 55 and up. Housing units for senior's may be duplexes, townhouses, condominiums, and even single family homes. Those who make the decision to live in housing units like these may have added fees, depending on other services they would like to be included, other services such as the use of recreational centers, yard work, maintenance, and/or clubhouses.
Continuing Care, Retirement Communities (CCRCs)
Those who anticipate having significant health problems later down the road may wish to consider a CCRC. Facilities for independent living have a wide variety of health care, and many of them will have nursing home care within their community as well. Residence that start feeling as though they could use a little extra help with their regular daily activities can be transferred from the independent living units into the assisted living housing or into the facilities with skilled nursing on hand. CCRC's benefits the resident by letting them relocate only once, and by letting them continue living in the same community, most importantly, letting them live as independent for a little longer.
How is independent living any different than other senior living?
The difference between independent living and other senior housing has to do with the level at which the resident need assistance. If the residence needs assistance 24 hours per day with activities like eating, bathing, going to the bathroom, getting dressed, or certain medical needs, this might be saying that they are candidates for the assisted living housing.
To learn more, read Senior Housing Options
Independent living, is it right for me?
When seniors have to make a change in their living arrangements it can feel as though their world is caving in on them, thus, as though they were losing their independence. However, independent living is just that! About making it easier to carry on being independent. Acknowledging that one's limitations are keeping them from living their regular independent life and facing that they could have a quality life with a little assistance will let them have an independent life a bit longer.
Would independent living be right for me?
Find out by answering these four questions:
Am I keeping my home up as good, as I use to or is it getting harder for me to do?   
Keeping a home up and going may be a piece of your pride, but as age sets in it can also be overwhelming, becoming a burden that is dragging you down. Let's say your home has a yard that is in constant need of attention or those extra rooms that are no longer needed still are in need of cleaning, at least dusting now and then. Maybe there are difficulties in accessing the home due to stairs or steep inclines, such as driveways, keeping you from getting out and/or around as much as you would like, leaving you isolated.
There is even the possibility that the neighborhood safety isn't as safe as it used to be, preventing you from walking as you once did, or preventing you from getting out at all. Of course, you could eliminate several of these challenges by hiring help, such as home remodeling, even a few of the family members might be willing to help out. In any case, if it is independent living you seeking, without all the stress of up-keep – then what you are needing may be a means to independent living, more time and freedom, with the flexibility to enjoy your senior years.
Have I been connecting with my friends and family as much as I would like too? 
Those that find themselves more and more isolated have a much greater risk of having depression and/or problems with their mental health. This can happen for many different reasons, such as becoming mobile, which is making getting around very difficult and/or not being able to drive as you once were able to do.
Maybe your friends and/or neighbors do not have as much time anymore to come around, or you just don't feel safe in your own neighborhood anymore. Although being able to chat and send messages using the internet is very helpful, it can never replace actual face-to-face contact with others.
The facilities at an independent living housing unit will give you that network of peers that your social life is has been lacking in, as well as offering structured activities such as arts and crafts, field trips, sport, and many others.
Is getting around getting harder for me?
You're are now living in a home that is located where driving is more difficult for you to get out and socialize in activities or visiting friends and family, even to do your shopping. If driving is giving you trouble and you now rely on using public transportation or it is hard for family and friends to get to your home. Even having difficulties in getting to those doctor's appointments.
They even offer on-site amenities, and many will offer options in convenient transportation needed for outside activities.
Is my health declining (and/or my spouses)?
Taking into consideration the condition of your health at this time and understanding what the condition of your health in the future may be like is an important measure that needs to be taken. For instance, the current condition of your health can let you know what you can expect later on, such as a health condition that is expected to get worse and not better with time.
Under these conditions, planning a head might be the wisest thing to do. It's not just your health to be thinking about however, your spouse will also need to do the same thing, the both of you should plan your future living arrangements together.
Ask yourselves the following questions:
Do you (and spouse) still manage to get through your daily living activities, like washing clothes, cooking meals, and taking bathes?
Do one or both of you have the ability to manage finances as well as you once did?
Are the both of you managing your medications and keeping up with any doctor's appointments you may have?
Housing for independent living is for those who may need a small amount of assistance with daily living activities. Understanding this will help you in deciding what is best for you.
How to deal with your move to independent living 
Picking-up and moving your home is definitely a major event in one's life, as well as stressful. Although the advantages of independent living are well known to you, decision making on it can be a hard one to make. There is no doubt, going to be regrets, such as feeling depressed or even sometimes embarrassed that you are no longer as capable as you once were to keep up your own home.
Sometimes many seniors will be looking forward to having the opportunity to be social again and have companionship, which is a part of what independent living has to offer. Regardless, grieving the loss of your long time home and the neighbors you have come to trust is a natural process, and to be expected now and again. You may even have feelings of feeling vulnerable and anxious.
It is a part of the natural process to miss the way it used to be, and though there are sometimes feelings of not being in control anymore, that will pass for you are in fact, in control when you choose independent living facilities. These feelings will also pass as you start feeling more alive with your new living arrangements. It is alright to spend a little of your time to ponder on your thoughts, thinking about the memories you have is a good way to cope with your feelings. Reaching out and talking to a family member or finding a new friend or a staff member in your housing of independent living that you can share how you feel with is also medicine for the soul.
Keep in mind that you are not alone. Nearly everyone at one point or another will need a little assistance with their everyday activities and/or long care services, after reaching the age of 65, this is certainly nothing to feel ashamed of. When one gets older they are naturally going to run into times where there will be adaptions to be made, as well as, to changes and it is significant that one takes time mourn the past, but the past should be something you have as memories, not something one needs to forget.
However, it is time to except the fact that a move may be in store. Almost all of the senior's that move into housing for independent living find it an exciting and interesting new chapter in their lives, with new experiences and friendships.
Follow these tips for an easier transition to independent living
While adjusting to your new living environment you will get to meet your new neighbors, and invited to join in on new activities. In the beginning, this may be a bit stressful. The following are a few things to make the transition a little smoother. You will be able to make your new home comfortable and to fit you by painting it, and hanging all those important photos. Bring your favorite chair with you and whatever else you have that is important to you.
Get a head start on things and start packing earlier. Instead of putting things off until the last minute, adding extra stress by having to make decisions quickly on what to keep and what to get rid of.
You should research independent living facilities and be absolutely sure to choose one that has everything you're looking for. Asking questions will help you to know what to expect later.
Get out and about meeting new people and joining in on various activities offered. Socializing will make you feel more at home.
Don't make things harder on yourself. Everyone is different and everyone adjusts to changes differently. When you are feeling down about something talk to someone about it.
When choosing retirement or independent living, choose according to what you want and what services you feel you will need.
The people in the community
Make connections with others in the community, start conversations and visit with them.
Are any of the people someone you think you want to get to know more about?
Did you find the staff to be friendly?
Spend time with the other residents and test out one of their meals.
How large was the community? What is its location?
The size of a community and what you are comfortable with will depend on what you are looking for.
What type of housing will you feel more comfortable with, apartment living or a detached home?
Take into consideration the location
Help support your loved one's decision to move
Let your loved one's know how grieved you are of their loss
Keep in touch with your loved one
Listen to your loved one and help them work things out
Independent Living In Arizona
There comes a time in many people's lives where having a little extra help around for when you need it, allows for welcomed peace of mind. Peace of mind isn't just for the residents either, independent living means having trained staff available to help with whatever residents need eases the worry of family and friends. Having comfortable apartment like living combined with highly trained staff and the opportunity to socialize enriches the retirement years for all residents. If the time has come for a change in living arrangements contact SLS Communities about which of their locations would be the best fit for your loved one.  For more information about independent living please call 928-284-1021.