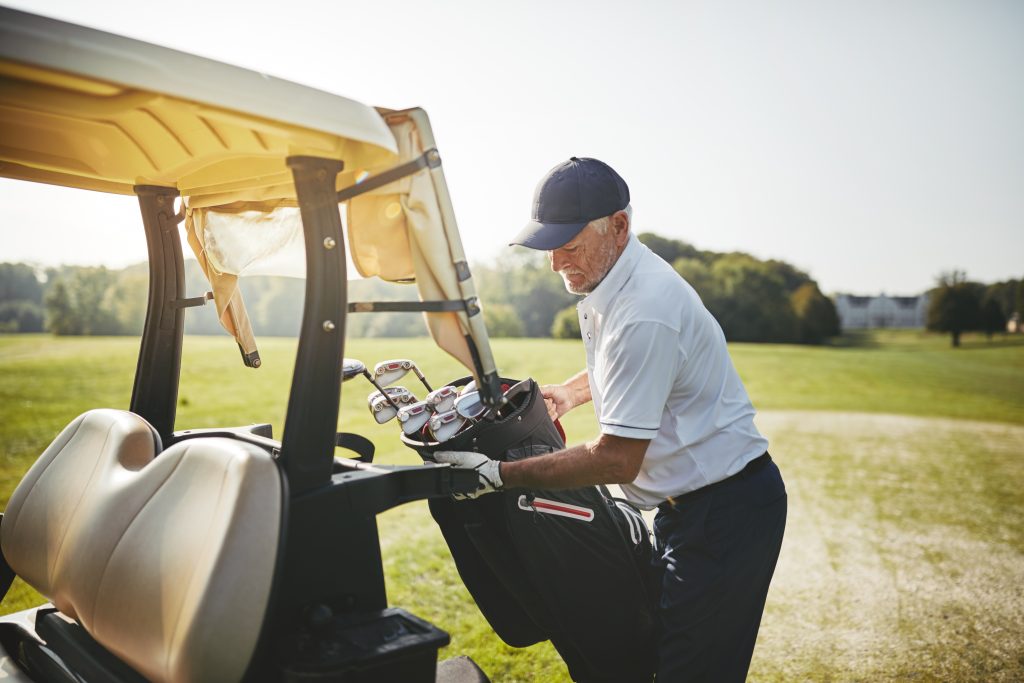 Golf truly is a game for a lifetime and modern advances in golf equipment have kept seniors playing the game they love for longer. But whether you are a beginner or a seasoned player, it is a game where the appeal never fades. In this article, we are going to talk about the various categories of clubs. Although we will not be recommending particular brands, the information will be very useful in making your next golf purchases.
Senior Does Not Mean Senior Or Does it?
Just because you are getting on in years it does not mean you automatically need senior flex shafts in your clubs. But if your clubhead speed has lessened over the years, how you assemble your set of clubs may be the key to lower scores. Known as "set make-up" – it really comes down to putting the clubs in your bag that give you the best chance of playing well. The late Arnold Palmer played golf against the kids on the PGA Tour well into his seventies as well as playing senior golf. One of his secrets was he adapted his equipment. He put more flexible shafts in his clubs, increased the loft on his driver, added some fairway woods and hybrids as well as oversized cavity back irons, wedges he felt comfortable with and rocked the modern putter for many years. Let's look at each category of equipment for some ideas. By the way, although you can buy new and get totally custom fitted, there is now a burgeoning used golf club market, especially online. You can save money and still get great playing golf clubs!
Driver
The USGA (United States Golf Association) has set rules regarding the flexibility of driver faces so any top make driver made after 2010 or so should have a similar amount of face flexing. The 4 things the senior should look for are these:
1. Loft. Loft is your friend in golf. The Chances are you do not hit the ball as far as you used too. And yes, you may still be able to hit it out there 250 yards, but it is a fair bet the average is a lot less. A way to pick up some additional yards is to improve the "carry" distance on your tee shots and more loft helps you to do that. A lot of manufacturers offer Drivers in the 12-15 degree range of loft and they are definitely worth checking out if you can leave your ego alone!
2. Shaft length and weight. Many drivers are 46 inches long, yet the average driver length on the PGA Tour is 44.5 inches long. If you try a shorter driver, you will surprise yourself how much easier it is to hit the sweet spot and gain yardage by trimming an inch to an inch and a half off the grip end. It will not really impact the shaft flex but you can always add a little lead tape to the head if you like (one of Arnold Palmer's tricks!)
3. Face Angle. Nowadays many drivers come with adjustable face angles to help counteract a tendency to hook or slice the ball. If you are a slicer, some manufacturers offer drivers with offset heads to reduce the slice and improve the launch angle of the ball.
4. Head size. There are some seniors who are just not comfortable with the 400cc to 460cc head size on modern drivers. Although you will give up a little distance on all but the purest hits, looking at some old school titanium club heads in the 250cc to 350cc range may help you find some confidence you can square the club up at impact. This may be especially the case if the shaft is also shortened and the loft is at least 11 degrees. Another bonus is these clubs are often less than $20!
Fairway Woods And Hybrids
Much of what can be said for drivers can also apply to fairway woods. Unless you can hit a 3 wood higher than a one level house, it is a club you probably do not need unless you play in a climate with very firm fairways where you may be able to eek out some yardage because of the roll. A 5 wood (hugely popular on all tours these days) will probably work better for you. Look for one with 18 or 19 degrees of loft and for the average sized person, a shaft of no more than 42 inches. A 7 wood and or a 9 wood (with between 21 and 24 degrees of loft) is also a great club for the senior to use as they work very well out of the rough as well as the fairway and tee box. The 5 wood can replace a 1-2 iron, a 7 wood, a 3-4 iron and a 9 wood a 4-5 iron. If you are looking for additional height, a shallow faced club may help, if you are using them more off the tee and from the rough, a slightly deeper face may help. Hybrids are iron replacements and are usually slimmed down looking hollow headed clubs designed to replace the longer irons. For most seniors a 1,2, or 3 iron is not a user friendly club but adding a 5 or 7/9 Wood combo and starting with a couple of hybrids in the 4 or 5 Irons can make the game a lot easier. You can even buy iron sets entirely made from hybrids. These are not "cheater clubs." Lot's of top notch players of all ages often have two or more in the bag.
Irons And Wedges
Assuming you have added a wood or a hybrid or two, your longest iron will probably be a 5 or a 6 iron. Cavity backed irons that spread their weight around the perimeter of the club is the way to go. Buying new or used, one of the most important things to get right is the lie angle (how the club is soled at impact with the ball.) Most golf clubs can be bent a couple of degrees in the neck area and with the help of a professional club fitter, this small adjustment to your irons may make shots a lot more accurate. Modern golf clubs are lofted stronger than clubs from the past. a Pitching Wedge in 1995 had around 48 degrees of loft, today 44 or 45 is commonplace as most sets now come with a Gap Wedge, an additional wedge of around 50 degree of loft before you get to the sand wedge (usually with around 56 degrees of loft.) Looking at some of the super senior professional golfers, it is notable, Gary Player, Jack Nicklaus, Tom Watson, Hale Irwin, Lee Trevino and many others do not carry a 60 degree wedge (also known as a Lob Wedge) so although you may want to carry one if you have a lot of hills and carries over sand traps around the greens on your home course, it is not by any stretch mandatory. A good sand wedge needs "bounce" on the sole (the number of degrees the back of the leading edge sits lower than the front of the leading edge.) If you play in wet conditions with a lot of fluffy sand in the bunkers, a sand wedge with 12 to 15 degrees of bounce is ideal. If you play on a course that is firm under foot with less sand in the traps, a sand wedge with 9 to 12 degrees of bounce will be a better weapon.
Putters
There is so much personal choice among putters. But whether you choose a traditional blade or centershaft putter, a Ping style heel to toe putter or one of the large and fashionable MOI putters, two things to look for. Most putters are too long for the user. You can cut it down and add weight with lead tape but take your putting stroke, see a professional and make sure your eyes are comfortable over the ball and then the right length of putter can be fathomed for you. Whatever design you choose, you will find a head weight that just feels ideal. Have fun trying different putters out and remember there are plenty of great putters on the used market!
Shafts And Grips
Modern graphite shafts do not have the performance issues of graphite from the 1980's but it is amazing to hear experienced golfers still say silly things like: "Graphite turns the club into a hook machine" or "It has too much torque." From a scientific viewpoint, that is simply not the case any more with decent quality graphite shafts the major manufacturers use. With its lighter weight, graphite should be a must for a seniors in their woods and hybrids and probably their irons as well. Most off the rack wedges come with "Wedgeflex" shafts, these are inevitably stiff shafted. Throughout his career, Jack Nicklaus used a sand wedge with a soft flex shaft and even if you keep steel in the wedges, having them reshafted with a more flexible shaft can help a great deal. You do not have to go with senior flex but it is a fact most american male amateur golfers use stiff flex because of their ego, when a regular or even senior flex club may help them better. Try out different shafts with a competent club fitter and you may surprise yourself.  Whatever grip you like the feel of can be assembled to suit your grip. If you have arthritis in your hands, the grip can be built up – many top senior pros do this to eliminate the grip taper on the lower half of the grip and to help with the vibration of the club at impact if they get sore and stiff hands.
Putting It All Together
Let's take the example of Tom. Tom is a 65 year old male golfer with a swingspeed of 84 mph with a driver and 67 mph with a 6 Iron. His handicap is 12. He does not hit the ball as high or as far as he once used too. But he uses good course management and hits the ball pretty straight. He carries a 12 handicap and is capable of shooting 81-83 on a regular basis on a 6,100 yard par 72 golf course. Here is a suggested set make-up for him using senior flex shafts in the clubs:
Driver: 300-460cc (based on personal preference) driver head with 12-14 degrees of loft.
Wood: 5 Wood with 18 to 19 degrees of loft.
Hybrids: 4 and 5 Hybrids to replace the 4 and 5 Irons.
Irons: 6,7,8,9, Pitching Wedge and Gap Wedge – same model, same shaft.
Sand Wedge: 56 degrees with 12 degrees of bounce with a shaft, be it steel or graphite, of a similar flex profile to the other clubs.
Putter: Whatever he chooses!
That is only 12 clubs! The rules allow you 14 and you may find you do not need them but this set up gives you the room to add an additional fairway wood, maybe a 6 Hybrid Iron or a 60 degree wedge!
If you're looking for the very best assisted living in Phoenix; SLS Communities can help!  We have 5 locations in the Phoenix Valley that seniors and their families can choose from. With great amenities such as meticulously manicured landscaping, swimming pools, theater rooms, on-site salons, and much more! SLS Communities delivers today's seniors the very best assisted living care services in the Phoenix, Arizona area.
Check out our locations below
For more information about assisted living and senior living services please call 480-348-0300