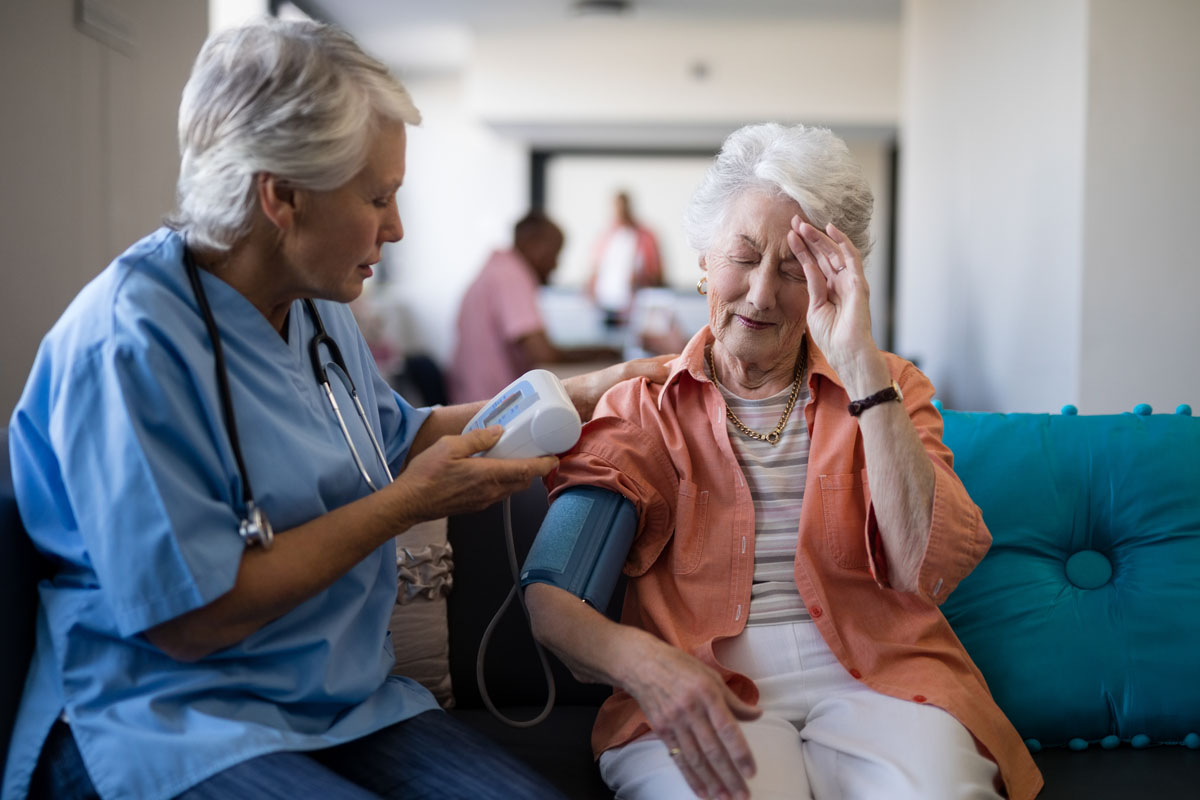 Do you want to find out more about "what are some benefits of assisted living?", if you are, keep reading to learn more about the benefits of assisted living. When you are making the decision to move your loved one into an assisted living facility, it is usually hard for everyone involved. Today's loved ones are met with a ton of choices when it comes down to finding new living arrangements.
Making a move to assisted living can feel scary, overwhelming, and just plain difficult. It can mean rifling through decades of household items, saying farewell to a family home, and the end of a chapter in life.
It is also is the start of a brand-new journey with brand new opportunities and new adventures awaiting today's seniors each day.
8 Benefits Of Assisted Living
Prevent Social Isolation
Seniors living that are alone face a higher risk for social isolation and increased feelings of depression and loneliness. In an assisted living facility, seniors live in community-like surroundings with friends and staff encouraging involvement in social events. Our communities have lively and diverse activity calendars that allow residents to start new hobbies, join fitness classes, and possibly even travel to destinations they've never been before.
Around The Clock Professional And Compassionate Care
Residents in assisted living usually need help with activities of daily living, like dressing, bathing, taking care of their hygiene, medication assistance, and more. Our communities offer 24/7 care to ensure that needs are being met and each resident is getting the attention they need and deserve. Each staff member is trained to provide the care residents require in a way that protects their privacy and encourages dignity.
A Focus On Independence And Fun
Although these communities are wonderful places to receive personalized care, assistance is provided with a focus on independence and fun – making sure residents are doing what they can when they can do it. We are always here to extend a helping hand by providing assistance or maybe joining residents for a meal or an afternoon stroll.
Extended Free Time
It's time to put away the house cleaning, yard work, and home upkeep. Assisted living communities are designed to be hassle-free. Residents won't have to worry about cleaning, cooking, the mopping. It satisfies us to work for each of our residents, letting them catch up on a book trilogy, plan a trip across the state, take an interest in a new hobby, or invest more time in a lifelong dream.
Appetizing Meals
Meals in assisted living are specially created to benefit our senior's health. With nutritious meals prepared by highly trained chefs, residents in these communities enjoy savory meals that are not only good at promoting their health, but they taste good too. Additionally, elegantly designed dining rooms promotes mealtimes with friends, making each dinner, not just another meal but a fun social occasion.
Readily Available And Safe Transportation
When driving starts to become unsafe, or owning a car becomes too much of a bother, assisted living communities offer dependable transportation to local shopping, outdoor concerts, social events, and doctor or dentist appointments. Reliable transportation helps our residents get to where they need to go, as they need it.
An Investment In The Future
When moving into an assisted living, it is a move into a lifestyle that encourages healthy senior living and opens an abundance of options for the future if needs should ever change. Each of our residents has a personalized, custom care program that is regularly assessed by a medical team, making sure that any change in health is observed when it happens, resulting in early diagnosis and, in the long run, better treatment.
Peace Of Mind
All of these benefits work collectively to create the most significant benefit: peace of mind. Friends and loved ones of residents can rest easy, knowing their loved one is being well taken care of in a home-like environment where their needs are being met. Seniors themselves can rest easier too, with the understanding that they have a family in their community who is there for them, cheering them on, and helping them make the most of each day.
Find Quality Assisted Living Care With SLS Communities
If you're looking for the very best assisted living in Phoenix; SLS Communities can help!  We have 5 locations in the Phoenix Valley that seniors and their families can choose from. With great amenities such as meticulously manicured landscaping, swimming pools, theater rooms, on-site salons, and much more! SLS Communities delivers today's seniors the very best assisted living care services in the Phoenix, Arizona area.
Check out our locations below
For more information about assisted living and senior living services please call 480-348-0300.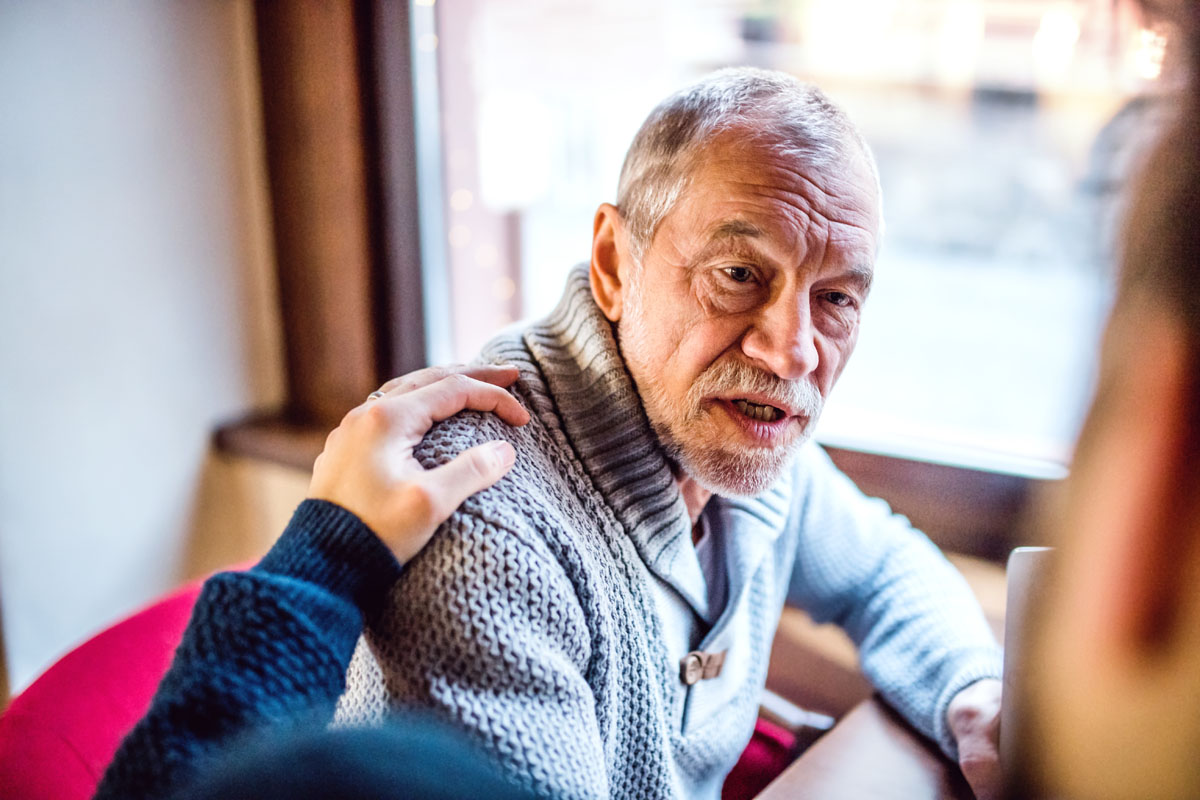 Understanding how to communicate and interact and with our loved ones through this time is vitally important. Read more about these communication strategies for communicating with someone with dementia.
Communication Techniques For Those Suffering From Dementia
Many people use the expression, "empty shell of a person" when describing a loved one in the later stages of dementia. Unfortunately, dementia does transform people, but those that are living with dementia are far from "empty shells." The shell may become challenging to open, and some days it might not open at all. But don't forget there is still a beautiful, loved one within.
Knowing how to "open the shell" gives us the opportunity to significantly connect with our dementia-stricken loved one — even if only for a short-lived moment. But there are techniques and artistry involved with connecting emotionally or communicating with a loved one who is afflicted with dementia.
Here are some tips on how to communicate effectively with someone who has dementia:
Realize what you're facing. Dementia does get worse over time. Those with dementia will gradually have a more challenging time understanding others, as well as communicating normally.
Stay away from distractions. Find a good place and time to talk when there aren't a lot of distractions around. This will allow your loved one to focus all their mental energy on communicating.
Speak naturally and clearly in a warm and calming voice. Avoid 'baby talk' or any other kind of disdain.
Try and refer to them by their name. Avoid "he," "she," and "they" during your conversations. Names are also significant when greeting a loved one with dementia. For example: "Hi, Dad. It's me, Tony," is to be preferred over, "Hey. It's me."
Avoid talking about too many topics. Someone with dementia might not be able to engage in the mental back and forth involved in keeping up with a conversation with numerous threads.
Try using nonverbal cues. For example, keep eye contact and smile. This will help comfort your loved one and will establish understanding. When their dementia is very advanced, nonverbal communication may be your only option.
Listen attentively. If you can't understand something your loved one is telling you, kindly let them know.
Don't over think your talks. Your conversations usually will not go very far if you try to correct every little statement your loved one makes. It's alright to let misstatements and delusions go.
Be patient. Give your loved one some time to think about what you are saying. If you need to ask a question, give them a moment to respond. Try not to get frustrated.
Be aware that there will be good days and bad days. While the common trend of dementia sufferers is a downward decline, people with dementia will have their ups and downs just like everyone else.
Find Quality Independent Living, Assisted Living, & Memory Care In Arizona
If you're looking for the quality assisted living, memory care, and senior living services in Phoenix, Mesa, Surprise, Peoria, or anywhere else in ARizona; SLS Communities is here for you!  We have 5 locations around the valley that seniors and their families can choose from. With excellent amenities such as beautifully manicured landscaping, swimming pools, theatre rooms, on-site salons, and much more. SLS delivers today's seniors the very best retirement care services in the Phoenix, Arizona area.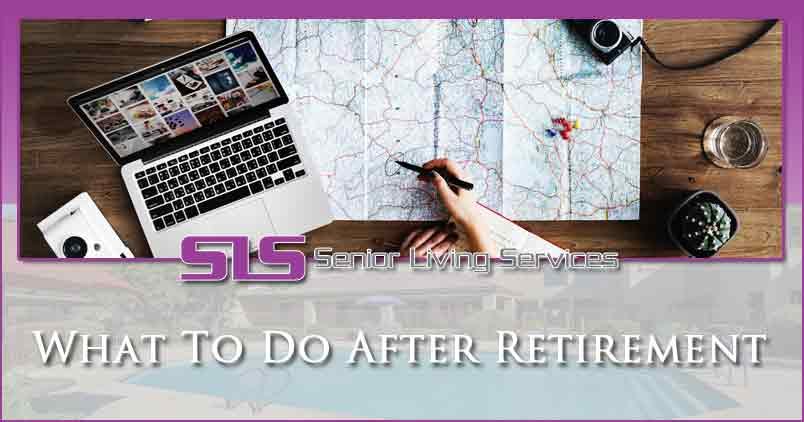 You've worked your entire adult life and now you're retiring and getting absolute control over what you do, when you do it, and how to spend your time.  Whether you're looking for things to do when retired and bored or activities for retired couples we have what you're searching for in this post.  Read through our list of things to do after retirement to enjoy all the opportunities that are waiting for you!
1. Travel
Retirement is a great time to get out and travel the country and the world.  Even if your work took you on the road you likely didn't have a lot of time for sight seeing and taking in culture.  Revisit some of your favorite spots or fulfill dreams of visiting exotic far flung places.
2. Plan & Budget
Whether you've saved up a nest egg or you're living off a pension it is important to plan head and make it last.  Most retirees have a fixed income and it is critical to firstly make a budget that you'll stick to and obey the withdrawal rate and any tax rules.
3. Move To A New Place
For a lot of retirees a move is in order to shake things up.  Adults who have spent their lives in the hustle and bustle of the city many times love the idea of moving to a quieter small town community.  While the reverse is true of people who lived their adult life in the country.  They may well love moving into more culture, restaurants, and options for shopping.
4. Remodel Your House
A project that improves your home's comfort and gives you the satisfaction of seeing your work is home remodeling.  Some retirees go for home add-ons or full kitchen or bathroom remodeling while some are happy to just reorganize.
5. Purchase An RV
Whether you're a hunting and fishing fanatic or you want to visit all the national parks an RV gives you the freedom to head out with the comforts of home.  You'll be able to cook your own meals and sleep with your own bedding, pillows, and a mattress you're comfortable on.  With the addition of RV solar power systems you're free to explore.
6. Volunteering
Giving back gives huge rewards and spends your time improving the lives of others.  There are many opportunities to volunteer with charities or even church groups in your area.  VolunteerMatch.com can help you find great volunteering opportunities near you.
7. Find A Fun Job
A lot of retirement age Americans today like to keep a part time job at companies where the work is fulfilling and fun.  Find a industry or company you love and find a part time position.  You might enjoy having coworkers to talk to and the extra income will give you greater spending power.
8. Retirement Hobbies
While working a full time job and raising children there was probably limited time to start or enjoy your hobbies.  Now that you have some time on your hands you can get out and garden, play cards, jump into photography, or go fishing, hunting, or hiking more!
9. Teach What You Know
You've likely spent your life learning and now you can pass that knowledge along to others. Many community centers or libraries will allow you to start a free course to help enrich the community.  If your knowledge is specialized enough your local university or college may have a spot for you.
10. Start Your Own Business
If you didn't own your own business, or even if you did, you can start a business now that's part time and connects you to people.  Offer up your talents, skills, and knowledge through an exciting business and utilize the years of experience to start something new.
11. Jump Into Fitness
One of the great things you can give yourself is fitness.  As we age regular exercise is one of the most useful pass times we can have.  It keeps us healthy and has a huge impact on warding off depression and a myriad of other ailments.   If you choose to do this with a fitness group it also helps ensure you're getting out and socializing.
12. Learn To Play An Instrument
Many of us drudged through learning an instrument in high school but can find a new love for playing music.  Whether you love the sound of the drums, guitar, flute, harp or other you've now got the time for lessons, practice, and delving into the world of music.  Best of all you can entertain and impress your friends and family with your new skill.
13. Spend Time With Friends & Family
Your family and friends have likely moved of where their careers took them.  Retirement is a great time to go visit and reconnect.  You can also make new friends where you're living by getting our and seeing people weekly or a few times a week.
14. Consider Public Service
Many retirees choose to get involved and make a difference in their communities.  You can look for openings in school boards, or even become a representative in your local community.  You'll be able to help people, possibly shape policy, and influence your community for the better.
15. Learn A Language
Truth be told most of us didn't take our French, Spanish, or German classes very serious in high school, so we probably don't remember much.  Learning a language makes it easier to travel to new exciting destinations and also keeps your mind active.
16. Become A Writer
You've live a life full of experiences and have knowledge to share.  Whether you're creative and want to write a novel, share your recipes in cookbook, or just want to share your life's experiences you have the time to put pen to paper.
17. Write A Blog
Whether it's your career, favorite destinations, or recipes you can share your experiences by learning to blog and adding pieces of interest as they happen.  It's a great way to share with your friends, family, and if you're lucky gain a loyal following of readers.
18. Catch Up On Reading
There's not a lot of time for reading series or many books while handling careers and families.  Retirement offers you a golden opportunity to read all of the biographies, fantasy, or sci-fi you've been missing.  Joining a book club adds a social aspect and debate about the book's contents.
19. Enjoy Freedom
You've had an alarm clock hounding you for decades.  Enjoy your freedom to do as much or as little when you want and how you want.  You worked hard your entire life, enjoy the time to do what you want now, even if that's not much!
Senior Living Services in Arizona
If you're looking for great independent living, assisted living, or memory care services SLS Communities offers the very best care for retirees in Arizona.  From Sedona and Mesa to Surprise, Peoria, or Youngtown we have the apartment living style communities that seniors are searching for.  Allow are team to take care of the cooking, cleaning, laundry and more while you make the most out of your retirement in Arizona!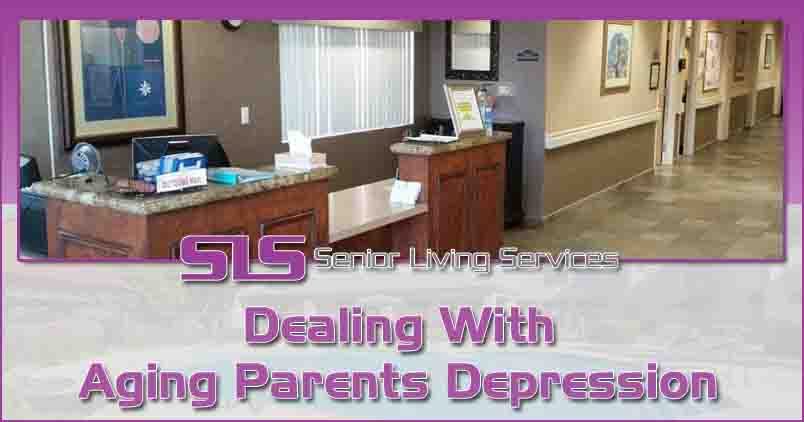 To deal with aging parents depression it's important to ensure they're taking medications, getting enough activity, sleep, social interaction, good nutrition, and they have a sense of purpose.
8 Best Ways To Deal With Depression In Seniors
We all go through upsetting changes in different stages of our lives.  However seniors have a tendency to experience more depression.  This is typically due to being retired and not having a daily rhythm that helps them stay active.  See to it that your parent or parents are following these guidelines to prevent or to recover from depression.
1.      Taking Prescriptions
If your loved one has sought treatment for depression and has medications to help cope with and defeat depression it's important they are being taken. In addition any other medications that are prescribed should be monitored to ensure their health is in tip top shape.  A lack of energy can also lead to depression.
2.      Get Them Moving
Physical activity is important at every age, including when we retire.  Not only does physical activity help with depression but it also helps seniors live longer.  Great exercises for seniors include things like doing Tai Chi, walking, or climbing stairs.  To maximize the benefit of exercise it's a great idea to get the senior into a group who gets regular activity.
3.      Quality Sleep Is Key
The first step to great nightly sleep is not taking naps in the daytime.  While this is temping for just about any of us, it will make it harder to go to sleep and stay asleep at night.  Lots of seniors get off their sleep rhythm whenever they retire.  Knowing there's no alarm that's going to sound to get to work at 8 makes it seem ok to stay up all night watching TV.  This type of habit aggravates depression and should be avoided.
4.      Staying Social
It's all too easy to isolate when we retire.  But as social beings we still need to have interaction.  Being around other people, especially peers, helps us feel connected.  It also helps us eat better, avoid depression, and simply live better. Great ways to stay social for seniors are community events, visiting family and friends, along with taking part in group outings through communities and church groups.
5.      Eating Well
Diet has an impact on how all of us feel, and it's still true for seniors.  Eating foods that are excessively starchy, full of sugar, or contain saturated fats feed depression.  Offer seniors foods that are rich in fiber such as lean proteins, whole grains, vegetables, and fruits.
6.      Having Purpose
Having something to get up for is a big part of living.  When we retire there's not always a job to go to or chores to take care of.  It's important for us to feel like there's a reason to get out of bed, groom ourselves, and get out the door.  Doing so makes us more resilient to feelings of depression.  For seniors great ways to have purpose is to volunteer, get involved in hobbies such as yoga, tai chi, or even playing cards.  Another great approach is giving them a plant to take care of.  It gives them a chore that offers responsibility and meaning.
7.      Talk To Professionals
Living with depression is no way to live.  If your parent or parents are suffering and none of these tips are helping, talk to doctors and other health professionals. Mental health professionals understand strategies and medications that can promote a better quality of life.  Keep an eye out for changes in behavior and decreased appetite.
8.      Consider Assisted Living
Your healthcare professionals may suggest that your parent consider moving into an assisted living community.  These communities help monitor prescriptions, have loads of social activities, promote an active lifestyle, and provide well balanced meals.  Staff also has the ability to help monitor changes in appetite and mood.
Assisted Living Services
If your parent isn't sleeping, eating, or getting out there's a good chance they are suffering from depression.  It can be a big job for adult children of seniors to manage their jobs, children, and homes and take care of their senior parents.  Assisted living communities offer the care they need and a chance to overcome feelings of isolation to beat depression.  In addition the activities, well balanced meals, and help with prescription medications all help support a better mood and minimize depression.  Call to find out more about assisted living communities we operate in Arizona.
Call 480-348-0300 or Contact Us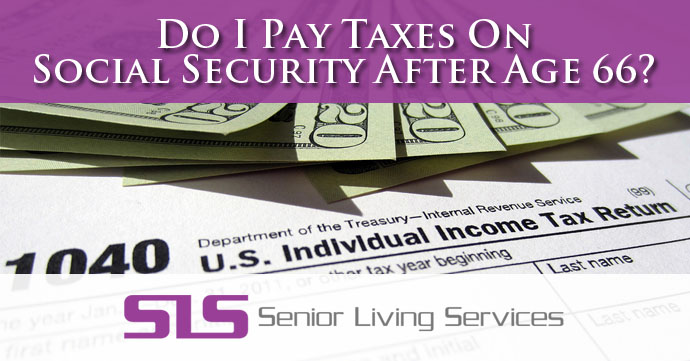 Have you been searching "Do I pay taxes on social security after age 66" or "do you have to pay tax on social security"? If you have, then this article will help you to find those answers.  Paying taxes on social security depends on a number of income factors that we will explore below.
To inquire about any benefits from Social Security, you will need to make a statement of your personal account that will state what benefits you have or what the benefits will be. It can also show you a list of contributions of your benefits which allows you to check for accuracy.
Simply go to http://www.socialsecurity.gov/myaccount/ in order to create a personal social security information site where it can track your earnings and even verify them each year to get an estimate of future benefits if you are working.
Do You Have To Pay Tax On Social Security?
Americans that are working in retirement, and are making an income when combined with Social security can complicate a tax return.
If you have managed to retire before your actual retirement age and have begun collecting Social security early, the benefits are subjected to a reduction for beginning early and as your earnings increase. The recipients will have to deal with taxes on some of their benefits if the income exceeds certain amounts.
Being an early retiree, you have to decide if you should begin getting benefits early. Social security benefits will be reduced if they are started before normal retirement age. If you work, then you are subjected to more reductions. Social security may reduce some of your benefits once you earn over $15,720 in a year. You will lose $1 for ever $2 over this amount. A higher limit will apply to your benefits once your reach full retirement age. If there are any months in the year of your normal retirement that the benefits are reduced more due to the income earned during your early retirement, then your benefits will be increased in later years to make up for the reduction due to those earnings.
If you have income in excess of the base amount
You will be subjected to a tax on 85% of those benefits. If this income exceeds the base amount of $32,000 for a single filer or $44,000 for a joint filer, at least 85% of the benefits will be subjected to tax. The tax rate will depend on your tax bracket but it can be no higher than 35%.
If you receive Social Security benefits and work
The work limit for these earnings are $1,310 a month or $15,720 a year. If you collect Social Security before your full retirement age of 66 or 67, your benefits will be reduced by $1 for ever $2 that you make over that limit.
In the year that you reach your full retirement age, your benefit will be reduced by $1 for ever $3 made above that limit.
Note: For retirees that make high income, the benefits that you receive will be taxed; but this is a separate issue from a direct reduction of your benefits.
Your Social Security benefits and taxes that you may need to pay
Social security payments are going to be the main income for most retirees. You will need to check for other income to ensure that your taxes will be at a minimum amount.
In order to estimate if you may owe taxes on your benefits, you will need to add your adjusted gross income, one-half of your benefits, and tax exempt interest. If you happen to be married and your joint income is less than $32,000, you will not be taxed on your benefits; but if your joint income is above $32,000 but below $44,000, then up to 50% of your benefits may be taxed. If you have an income over $44,000, then 85% of the social security benefits may be taxed. If you are single filer, then those amounts will be $25,000 – $34,000.
This tax does come as a surprise for most.
If you are receiving benefits, and want to have taxes taken out of your benefits, then go to http://www.ssa.gov/, and simply download the W-4V, which is a Voluntary Withholding Request. This form will give you a choice of holding 7, 10, 15, or 25% of your benefits. Sign the form and then mail it to your social security office, which you will find on your website.
After reaching age 66, you can earn any amount and still collect full benefits
In order to maximize the after tax income if you are single, or the head of household, you will want to keep your earned and unearned income as well as half of your social security benefits to under $25,000. If you are married, then you will want to keep the same figure under $32,000. This will keep your Social Security benefits from being taxed.
Once you reach the retirement age
Your benefits will not be reduced, but up to 85% of social security benefits can taxed if your income is above the base amount, which depends on if you file jointly or as single. In general, your benefits will be taxed up to 50% of 85% of the benefits.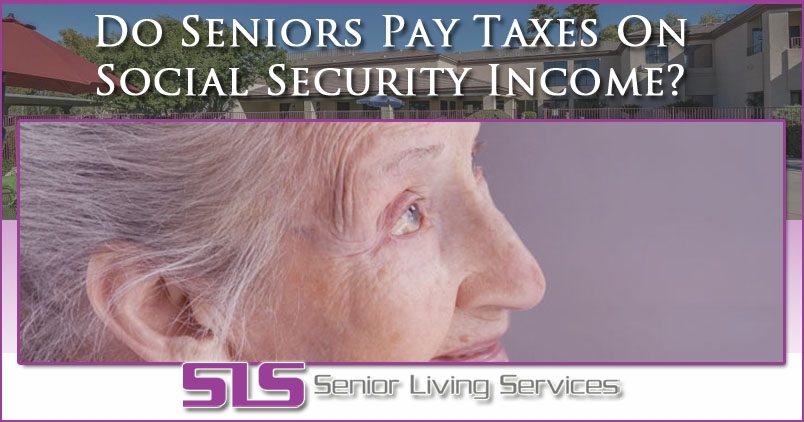 A lot of people who are preparing for retirement, or have retired are asking the question "do seniors pay taxes on social security income?" or "do senior citizens have to file taxes?".  Understanding tax laws for seniors is an important issue whether it's you retiring or a loved one.  Whether you have to pay taxes while on social security varies from situation to situation.
When Seniors Must File Taxes On Social Security
The Internal Revenue System requires taxes to be file for individuals where their gross income exceeds the standard deduction for their specific filing status, adding 1 exemption amount.  These tax laws include seniors receiving social security.
Do You Count Social Security Toward Gross Income?
Social security is not added into calculations for gross income.  This means that the only income that must be considered for taxation is income aside from your social security benefit.
If All I Get Is Social Security Do I File A Tax Return?
If a senior's only source of income is their social security it is no necessary to file a tax return.  This saves seniors and the federal government time and the trouble of going through unnecessary paperwork.
Does Social Security Become Taxable When Filing Joint Taxes?
For seniors who are over 65 which have a combined income of over 23,100 must file income taxes.  If one of you that files jointly is under 65 the limit is $21,850.  Add up the total income including the social security benefits and if it is over these amounts, file taxes for that year.
Taxable Percentages Of Social Security Benefits
The amount of your social security taxes will be calculated on depends on your situation.  If you are filing as an individual, jointly, or married and filing separately.  The percentage you'll pay varies from 50% to 85%.
Taxable SS For Individuals
For seniors who file taxes individually the percentage of your social security income that is taxable depends on your income.  For seniors who make below $34,000 the percentage is 50% of the income that will be taxable.  For seniors who make over $34,000 the percentage is 85%.
Taxable SS For Joint File
For seniors who are married or file jointly the limits are higher to accommodate more income.  For couples filing that make less than $44,000 the percentage that is taxable is 50%.  If your joint income is over $44,000 your taxes will be based on 85% of your social security income.
Easy Combined Income Tax Calculation
To calculate your adjusted gross income or AGI you will need to add your non-taxable interest to 50% of your social security benefits to get your combined income.  This is if your income is under the two cut offs of $34k and $44k based on your individual situation.
Senior Tax Credits
Even if you need to file your taxes due to your own source of income in addition to social security there are ways to lower the taxes you'll need to pay.  If you're over 65 or have additional sources of income past social security you might be able to use the senior tax credit.  This tax credit lowers the taxes you'll need to pay on combined income. Individuals that owe money to the IRS are not eligible to receive the senior tax credit.
Senior Living Services
If you're a senior and are looking to maximize your budget and get the best housing and care available, SLS Communities can help.  Seniors typically have limited income or are smart with their money and want the best living conditions available.  SLS Communities provides full services for senior living including: independent living, assisted living, memory care, and home care.  No matter what your needs are our team has a way to accommodate you with a tailored approach that is as compassionate as it is professional.  If you'd like to experience the best senior living services please call 480-348-0300.