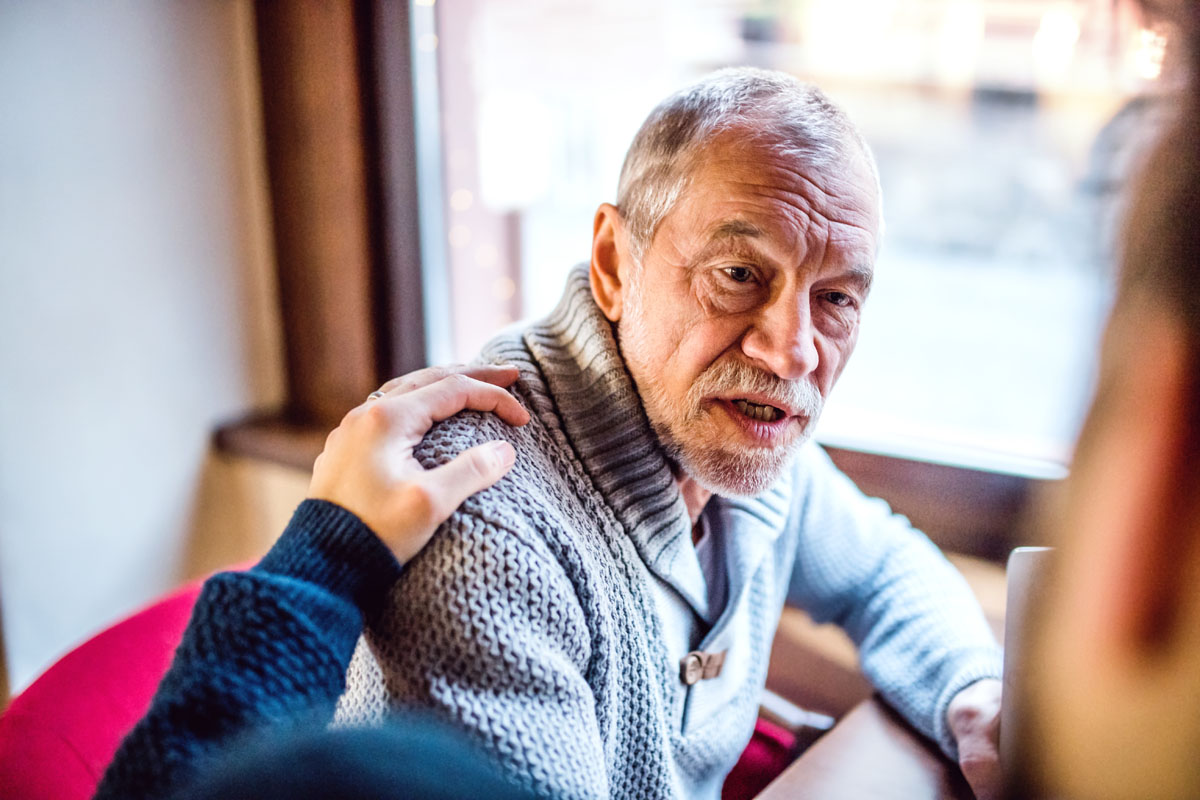 Understanding how to communicate and interact and with our loved ones through this time is vitally important. Read more about these communication strategies for communicating with someone with dementia.
Communication Techniques For Those Suffering From Dementia
Many people use the expression, "empty shell of a person" when describing a loved one in the later stages of dementia. Unfortunately, dementia does transform people, but those that are living with dementia are far from "empty shells." The shell may become challenging to open, and some days it might not open at all. But don't forget there is still a beautiful, loved one within.
Knowing how to "open the shell" gives us the opportunity to significantly connect with our dementia-stricken loved one — even if only for a short-lived moment. But there are techniques and artistry involved with connecting emotionally or communicating with a loved one who is afflicted with dementia.
Here are some tips on how to communicate effectively with someone who has dementia:
Realize what you're facing. Dementia does get worse over time. Those with dementia will gradually have a more challenging time understanding others, as well as communicating normally.
Stay away from distractions. Find a good place and time to talk when there aren't a lot of distractions around. This will allow your loved one to focus all their mental energy on communicating.
Speak naturally and clearly in a warm and calming voice. Avoid 'baby talk' or any other kind of disdain.
Try and refer to them by their name. Avoid "he," "she," and "they" during your conversations. Names are also significant when greeting a loved one with dementia. For example: "Hi, Dad. It's me, Tony," is to be preferred over, "Hey. It's me."
Avoid talking about too many topics. Someone with dementia might not be able to engage in the mental back and forth involved in keeping up with a conversation with numerous threads.
Try using nonverbal cues. For example, keep eye contact and smile. This will help comfort your loved one and will establish understanding. When their dementia is very advanced, nonverbal communication may be your only option.
Listen attentively. If you can't understand something your loved one is telling you, kindly let them know.
Don't over think your talks. Your conversations usually will not go very far if you try to correct every little statement your loved one makes. It's alright to let misstatements and delusions go.
Be patient. Give your loved one some time to think about what you are saying. If you need to ask a question, give them a moment to respond. Try not to get frustrated.
Be aware that there will be good days and bad days. While the common trend of dementia sufferers is a downward decline, people with dementia will have their ups and downs just like everyone else.
Find Quality Independent Living, Assisted Living, & Memory Care In Arizona
If you're looking for the quality assisted living, memory care, and senior living services in Phoenix, Mesa, Surprise, Peoria, or anywhere else in ARizona; SLS Communities is here for you!  We have 5 locations around the valley that seniors and their families can choose from. With excellent amenities such as beautifully manicured landscaping, swimming pools, theatre rooms, on-site salons, and much more. SLS delivers today's seniors the very best retirement care services in the Phoenix, Arizona area.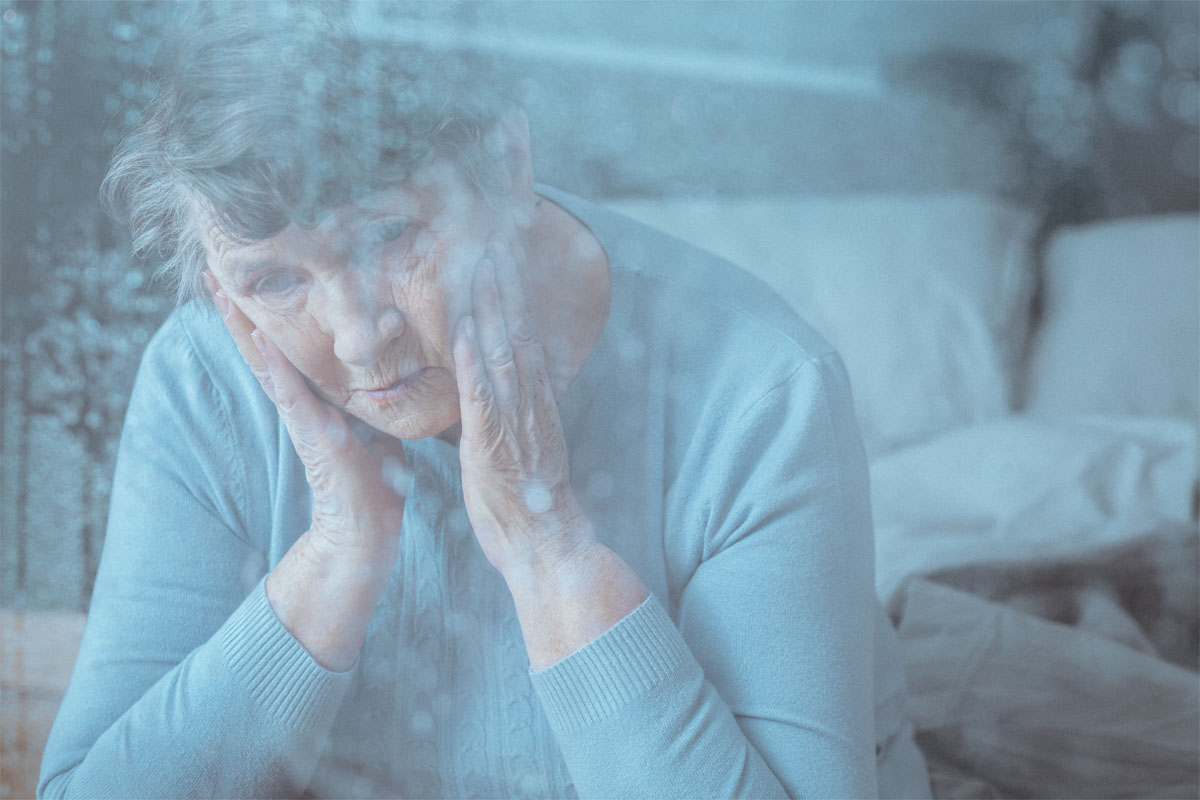 If your loved one's dementia is progressing, it may be time to shift from assisted living to memory care. The decision can be a difficult one, since there is no single guideline for deciding when it's time to make a change.
Transitions can be hard, particularly for those with dementia. You need to think about financial considerations, too, as the higher level of care at a memory care community usually comes with a higher price tag.
Selecting a community that helps residents make the change can make the decision easier. Families thinking about a senior living community for their loved one should consider what might happen if the loved one ultimately needs memory care. Continuous care in the same community offers great comfort to seniors and the people who love them.
The Difference Between Assisted Living and Memory Care
An assisted living community caters to seniors with a wide range of needs and conditions. In a memory care community, the community as a whole is designed around the individual needs of those with dementia. This means that memory care is a little more comprehensive. Your loved one will spend their days with highly experienced people at managing dementia and will soon become friends with other seniors living with the disease.
Other factors that make memory care unique include:
A focus on safety: Seniors with moderate to advanced dementia may wander or lose their ability to think acutely. Memory care communities are intended to keep them safe, without compromising their independence too much.
A more proactive method to socialization and activities: Dementia often means a loss of flexible thinking and socialization skills. Elderly living in assisted living usually can manage their own social lives. Those that are in memory care communities might need help socializing, choosing how to spend their days, and controlling their relationships.
Sharp awareness of sensory issues: Seniors with dementia can be overwhelmed by strange sights and sounds. They can also find great comfort in getting senses stimulated. Memory care communities work to keep seniors engaged and busy without making them seem overwhelmed or in danger.
Highly experienced team familiar with dementia: Dementia is more than simple memory loss. It can make it difficult in decision making, thinking clearly, and maintaining relationships. It can cause mobility issues and grooming difficulties. People who have an understanding of dementia know how to assist seniors facing these challenges.
Essential Questions and Considerations
There may not be a single time when you recognize the senior you love requires more thorough care. You may also be concerned that making the transition too soon will put your loved one in surroundings that are too restrictive or stressful. How do you make the decision? Think about some of the following:
If your loved one is living in assisted living already, talk with the people who interact with them on a daily basis. Inquire about your loved one's behavior. Has it changed? Is he or she still taking part in activities? Or is confusion starting to overwhelm your loved one?
Is your loved one happy? If your loved one is showing signs of depression, becomes isolated, or has stopped making friends, he or she may need additional support of memory care.
Does your loved one's dementia include symptoms other than their memory loss? If your loved one has started having trouble making decisions, behaving appropriately, or talking with others, a memory care community can certainly help.
Memory Care: A Way to Enjoy Your Relationship
The decision to transition to memory care comes down to one major concern: whether your loved one is content and leading the life they have earned. If your relationship is strained or they are lonely, they may need additional care.
Choosing the right memory care community will not cure your loved one's dementia. But it can assist your loved one in having a more normal life. Memory care communities support people with dementia by providing assistance with the skills dementia takes away from them. This can make life better for everyone, specifically caregivers. If you're feeling a little stressed and overwhelmed, know that memory care may be the answer.
Find Quality Assisted Living  And Memory Care With SLS Communities
If you're looking for the very best assisted living, memory care, and senior living services in Phoenix; SLS Communities can help!  We have 5 locations in the Phoenix Valley that seniors and their families can choose from. With great amenities such as greatly manicured landscaping, pools, movie rooms, on-site salons, and much more SLS delivers today's seniors the very best retirement care services in Phoenix, Arizona.
If your searching for the cost of memory care in Phoenix, AZ this post will help.  The average cost of memory care in Arizona mirrors the cost to get memory care in the Phoenix Valley.  Some premium services, locations, and areas do cost more.  Luxury memory care facilities will cost more than standard memory care facilities.
Low Cost: $1,500 per month
Average Cost: $3,960 per month
High Cost: $11,669 per month
Popular Queries include: average cost of memory care in arizona, memory care tucson cost, canyon winds retirement cost, phoenix memory care, cost of memory care in arizona, cheap memory care facilities.
Learn more about the cost of memory care in each city of Arizona
Phoenix Arizona
The average cost of memory care in Phoenix is $3,960 per month in 2019. Although prices can vary depending on the location, amenities and services at individual facilities. Memory care costs in Phoenix currently rate nearly $2,000 less per month than the national average cost for memory care according to retirementliving.com
Tucson Arizona
The average cost of memory care in Tucson is $3,774 per month in 2019. It is possible to find an inexpensive shared room for around $1,500 per month all the way up to $10,045 for a one bedroom luxury model according to retirementliving.com
Mesa Arizona
The average cost of memory care in Mesa is $4,256 per month in 2019 according to caring.com
Chandler Arizona
The average cost of memory care in Chandler is $4,460 per month in 2019 according to caring.com Costs range from $1,500 to $7,050 per month according to aplaceformom.com
Scottsdale Arizona
The average cost for memory care in Scottsdale is $5,363 per month. Memory care ranged from $2,310 to $11,669 per month in 2019 according to senioradvice.com
Glendale Arizona
The average cost for memory care in Glendale is $5,061 per month in 2019 according to caring.com
Gilbert Arizona
The average cost for memory care in Gilbert is $5,363 per month. Memory care ranged from $2,310 to $11,669 per month in 2019 according to senioradvice.com
Peoria Arizona
The average cost for memory care in Peoria is $4,150 per month in 2019 according to caring.com
Surprise Arizona
The average cost for memory care in Surprise is $3,325 per month in 2019 according to caring.com. Memory care ranged from $1,500 to $9,000 per month in 2019 according to aplaceformom.com
Sun City Arizona
The average cost for memory care in Sun City is $2,805 per month in 2019 according to caring.com. Memory care ranged from $2,192 to $5,700 per month in 2019 according to alzheimers.net
Sun City West Arizona
The average cost for memory care in Sun City West is $5,363 per month. Memory care ranged from $2,310 to $11,669 per month in 2019 according to senioradvice.com
Sedona Arizona
The average cost for memory care in Sedona is $5,685 per month. Memory care ranged from $1,620 to $9,750 per month in 2019 according to aplaceformom.com
Youngstown Arizona
The average cost for memory care in Sun City West is $5,363 per month. Memory care ranged from $2,310 to $11,669 per month in 2019 according to senioradvice.com
Find Quality Memory Care With SLS Communities
If you're looking for the very best assisted living in Phoenix; SLS Communities can help!  We have 5 locations in the Phoenix Valley that seniors and their families can choose from for memory care services.   With great amenities such as meticulously manicured landscaping, pools, theater rooms, on-site salons, and much more SLS delivers seniors the very best memory care services in Phoenix, Arizona.
Check out our locations below
For more information about memory care and senior living services please call 480-348-0300.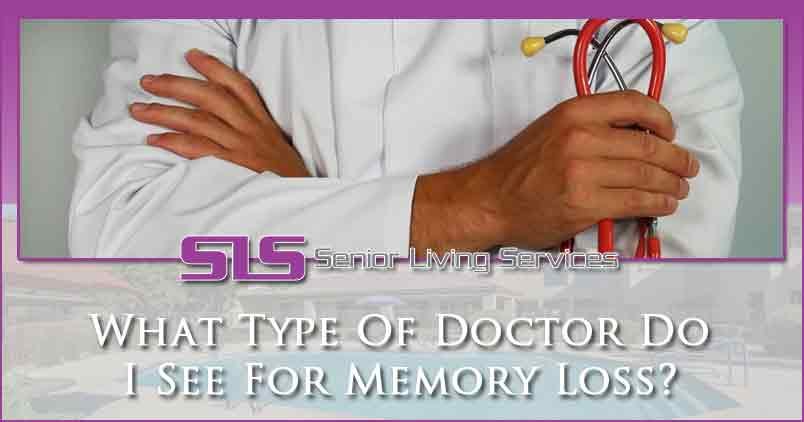 The type of doctor you see for memory loss is usually your general practitioner. Your doctor will ask some questions to evaluate if there is or is not a problem.  It's helpful for a lot of people to have a friend or family member along to offer insight as an observer.
Examples of questions that may be asked include:
When did you start noticing memory loss problems?
Have you recently been ill?
Have you recently started any new medications?
Has there been any major life changes recently?
How often and how much of over the counter, dietary supplements, and prescription medications do you use?
Do you drink, If so how much and how often?
Do you find any task problematic?
Do you struggle with anxiety, depression, or feel sad?
Have you recently injured your head in an accident?
In addition to questions the doctor will likely order tests of your blood and possibly tests that show the condition of your brain.  These can either show or rule out issues that may contribute to memory loss.  In some cases, patients are referred to specialists such as psychiatrists, psychologists, neurologists, or geriatricians.
A Diagnosis Is The Start To Healing
As hard as it is for us to find out that we have any type of health challenge; facing it head on is key.   Whether it's diabetes or memory loss the sooner we are open to getting tested the sooner we can be treated.  In both cases there are reversible conditions that affect our bodies and minds.  While it's normal to try to compensate for a lack of memory with post it note to hide memory problems it delays diagnosis and treatment.
Like most things the longer you wait the harder it gets.  The sooner you go and receive testing the more that can be done to reverse or minimize the affects of memory loss.  Some of the benefits to treating memory problems include:
Starting memory loss treatments
Understand symptoms and learning to manage them
Decide on which types of care fit best for the future
Choose when home care starts or when to move to assisted living
Plan for and handle legal or financial situations
After talking to your doctor about your memory loss he will likely have resources such associations and organizations to help with the symptoms of dementia or memory loss.
Types Of Reversible Memory Loss
There are some fairly common memory loss causes that are reversible.  While a person might exhibit dementia like symptoms, they are not a definitive sign that there is Alzheimer's.
Some of the reversible causes of memory loss are:
Hypothyroidism – When your thyroid isn't working right it can result in mental cloudiness and forgetting things. It is treatable with inexpensive medications.
Alcoholism – While occasional drinking has little affect heavy chronic alcoholism will cause a loss of mental abilities. In addition medications can react to alcohol causing memory loss.
Head injuries – If you receive a blow to the head it's possible to have some memory issues.
Medications – There are some medications or combinations of meds that cause memory loss.
Emotional disorders – Problems such as anxiety, depression, and stress make it hard to focus and remember.
Diseases of the brain – Infections and tumors can also cause symptoms that mirror dementia.
These disorders are reversible and with treatment can restore greater memory function.  Talk with your doctor about these potential conditions to help nail down what's happening in your life.
Normal Memory Loss vs. Dementia
It's normal as we age to have some memory loss that doesn't affect quality of life.  We often can't remember a name but recall it later.  Or we misplace our keys and find them after some searching.  These are the types of memory challenges most of us face and can be managed with lists and habits such as key hooks.
In contrast dementia includes less manageable memory loss symptoms.  These will include things like using the wrong words for things such as couch and car.  Other symptoms include forgetting common works, asking the same questions over and over, getting lost in familiar places, taking a longer time to follow simple instructions, or changes in behavior and mood without a cause.
Memory Care Communities
We proudly offer Arizona's best memory care services to provide a safe and comfortable environment to seniors with memory challenges.  To learn more about how you can take advantage of our memory care services in Arizona please give us a call at 480-348-0300.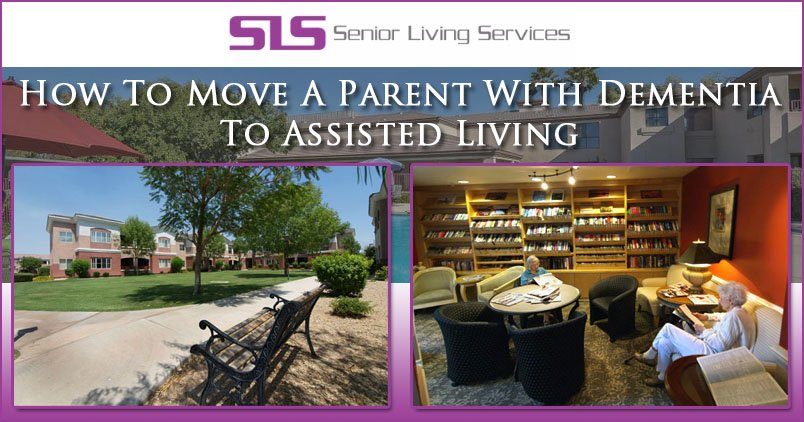 To move a parent with dementia to assisted living smoothly involves a few key steps. These steps are knowing when it's time, and introducing the new home in stages.
We all know that moving a loved one into a assisted living can be stressful for everyone.
It is possible to make this change without excessive stress, discomfort, or drama.
This post will give tips on how to move a parent with dementia into assisted living smoothly.
There are some signs which will help you decide when it may be time for assisted living.  Dementia assisted living or memory care as it is commonly known is a safe environment for seniors with memory challenges.  The grounds are restricted access and also help keep seniors from wandering and getting lost.  In addition to helping keep seniors safe staff assists with taking medications, personal care, and all other tasks that a senior might need.
Steps To Move A Parent With Dementia To Assisted Living
When it's become clear that your parent has reached a point where they need assisted living or memory care use these steps to researching the best option.  Caring.com maintains an extensive directory of care facilities who provide specialized care for dementia.  There are additional steps you can take to help manage your parent's memory care.
Step 1. The Alzheimer's Association
Most cities and towns have local Alzheimer's resources that'll help both you and your parent. Visit their site to learn more about how they can help you with emotional and social support during this time at Alzheimer's Association.
Step 2. Learn About Dementia
Without knowing what dementia is, what the stages are, or what symptoms to watch for you'll have no idea if your parent is safe.  It's important to understand the disorder and provide care when it is needed but respect their autonomy until they cannot care for themselves. Read about the seven stages of dementia.
Step 3. Start Looking For Care Early
If you've noticed signs that your parent has dementia it's a good idea to start looking for potential assisted living and memory care communities early.  It's always less stressful to do the searching and visits when there isn't a crisis.  This way when the time comes you've already got a great place picked out and can move forward when needed.
Step 4. Find A Geriatric Care Expert
These specialized care coordinators understand the needs of seniors with dementia and can help find the best communities for them.  When there's an unbiased expert in the room seniors won't be as focused on if their child is "trying to put them in a home".  Instead they'll likely see that there's a legitimate need for the move and accept it more easily.
Step 5. Hire A Lawyer
When your parent has dementia and enters care facilities many times children will need to have power of attorney rights.  Lawyers can produce the needed paperwork for you to take care of your parent's estate and see that their finances are taken care of properly.  Seniors should be involved in this process to ensure they feel in control of their care.
Step 6. Take A Quick Tour
It's important that the senior see the new home they'll be moving to.  You should schedule a time for them to visit the community but not stick around too long.  It's important that the first visit not feel like you're getting ready to drop the senior with dementia off.  Try to maintain a positive element in conversation and point out the praiseworthy elements of the community that you know your loved one will like.
Step 7. Introductions & Making Friends
If your senior agrees to a meal or activities at the community you're considering ask the assisted living staff to pair you with some of the most outgoing and friendly seniors in their community.  Introduce your parent for who they are and what they do best, not that they are considering living there.  When people start making friends, new places become less intimidating.
Step 8. Provide A Temporary Reason
Virtually all seniors would rather stay home and it is even harder for seniors with dementia to understand why a move would be necessary.  A great technique is to introduce a practical reason living at home isn't possible, temporarily.  Temporary reasons you give might be along the lines of the house needs to get fumigated, painted, or needs extensive construction. This will be a logical reason for them to move temporarily and give them time to enjoy an active and compassionate community.
Staff in these situations are typically informed of the reason the senior is living with them.  This makes a more cohesive transition into assisted living and even the most resistant seniors many times realize the benefits of assisted living after having given it a "test drive" and accept it as a permanent solution.
Step 9. Keeping It Positive
During visits it is normal for loved ones living in assisted living communities to ask about when they are going home. It is important to avoid talking about how they are living there now.  Instead it is much more constructive to focus on asking questions about their new experiences such as food, new friends, and activities.
Step 10. Personalize The Room
It's easier to make a change to a new home when it resembles a place you're already comfortable.  Families can personality, decorate, and work with staff to ensure the new living arrangement is as much like home as possible.  These efforts go a long way in helping seniors with dementia feel comfortable in new surroundings.  Some family members have some doubt about making an assisted living room look like a senior's home.  While it might seem less than honest when it comes to dementia the truth isn't always constructive.
Step 11. Quick First Visit After Move
Once your parent with dementia has moved into the assisted living community make your first visit short but positive!  It's common for seniors to ask when they will be returning home.  It's important to avoid discussing that their new living arrangement is permanent. Redirect conversation if possible to the positive attributes of their dining, activities, and even new people they've met and made friends with. After your visit you might call and ask if your parent was excessively upset by the visit.  If so plan a little more time until the next visit to allow them to accept their new surroundings.  Then you can set up a more regular schedule for visiting them in their assisted living community.
Knowing When It's Time
Caregivers are best served by watching for legitimate signs that dementia is setting in and avoid using arbitrary guideposts to make decisions.  It is a confusing and difficult decision to move a loved one or parent into assisted living or memory care.
There are situations where people say that it is time to move them if a spouse or parent forgets how to use the toilet, or forgets names of loved ones.  There is a chance seniors will never experience these signs yet still be living with dementia.  That means there is a chance that you and your loved one might be holding on and trying to care for a love one with dementia.  Moving the spouse or parent with dementia to assisted living will benefit everyone involved.
Signs Assisted Living May Be Needed
Read through the headings and see if you recognize any behaviors or signs that assisted living and memory care might be the best living situation for your spouse or parent.
1. They are no longer safe at home
The main reason that many families choose to move a parent to assisted living is when the senior is no longer safe.  This happens when there simply aren't enough resources to guarantee the senior's safety.  This is typically caused by memory deficiency and you should use the following list to evaluate their safety.
There are a number of questions you should ask yourself when evaluating your senior loved one's safety.  Ask yourself the following questions to gauge if assisted living or memory care is needed.
Is the senior able to take prescriptions according to directions?
Are they able to prepare and store food safely?
Do they leave oven or burners on after cooking?
Are they eating regularly and not losing or gaining weight?
Have they fallen recently? Have they fallen repeatedly?
Is there any physical aggression towards people or pets?
Do they wander away from home, or get lost?
Is there a chance that the loved one is being abused?
Do they drive without a license or against doctor's orders?
Have they been victimized by scams or likely to be?
When you start realizing that your loved one might not be able to safely care for themselves it is time to consider how assisted living might be the very best living condition for them, and for the people caring for them.
2. When Seniors With Dementia Are Bored
One sign that your loved one might be suffering from dementia is if they are following you around, asking what you are doing or are going to do.  This is clear sign they are lacking stimulation. Everyone needs some kind of daily activities which entertain, challenge, and offer us creative outlets.  Assisted living facilities specifically choose the best types of activities which cater to groups of seniors with dementia to stimulate them in meaningful and engaging ways.
People want purpose in their day.  They want something to get up for that is for them and about them.  Seniors not provided with activities and meaning decline much faster than their counterparts and it can be a major undertaking for a caregiver to provide the necessary stimulation.
3. When Caregivers Are Burning Out
Caregiver burn out is a serious issue for the quality of care seniors get, and for the mental health of the caregivers.  "Burn out" is an term that covers a lot of different difficult situations for care partners.  Burn out can be emotional, physical, or both.  Some caregivers become socially isolated, emotionally exhausted, and might feel like they are losing themselves.  Other caregivers are simply exhausted by the physical exertion of caring for their loved one.  This is common among spouses and with physical exhaustion comes a cost at the caregiver's own health.
Caregiver Guilt & Stress
Seniors and families never ask for dementia but it is a reality for many people.  Feeling burdened by the workload of caring for the senior and resenting it will leave caregivers feeling guilty, especially when they are unable or poorly equipped to do the job.  Guilt is a feeling which is normal when something is done wrong.  When a caregiver is upset that they aren't able to go be social and they must fulfill their caregiver roll they might feel guilty for having these thoughts. It isn't something to feel guilty about.
Find Affordable Assisted Living Services in Arizona
Find affordable assisted living in Arizona with SLS Communities.  We proudly operate assisted living facilities in the Phoenix Valley in Mesa, Surprise, Peoria, and Sedona.  Ultimately the ball is in the court of spouses, children, and doctors when it comes to deciding the right time to move a senior into assisted living or memory care.  There are a lot of signs that can be watched for and there are seven stages of dementia that can be used by doctors and families to know when the time is right.   For more information about our Assisted Living Communities or Memory Care Communities please give us a call.  We make every effort to ensure that the transition for seniors with dementia into our communities is welcoming and positive.
Call for more information or a tour of our facilities today – 480-348-0300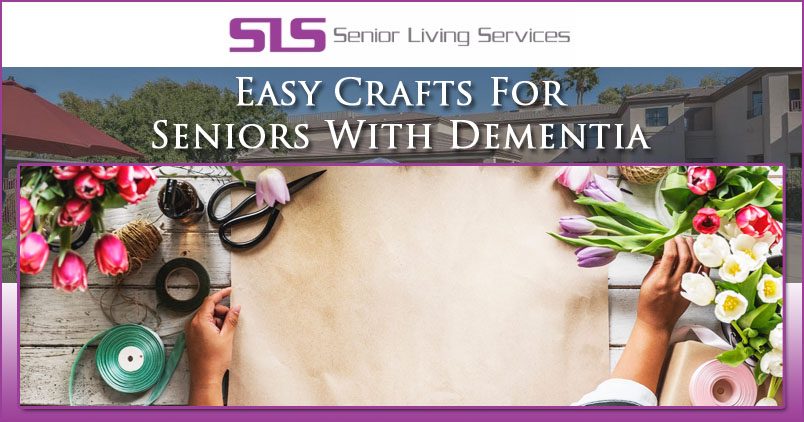 If you're searching for "Easy Crafts For Seniors With Dementia" this article will help.
Browse activities that will be fun and engaging for your loved one, spouse, or the senior you're caring for.
Although you may have someone with Alzheimer's, it is important to have them engage in life, and still have fun. However, there are many Alzheimer's patients who don't have the ability to enjoy the activities that they once did. Yet, with the use of your imagination there are different activities one can create themselves, they are the DIY (do it yourself) activities.
Easy Crafts For Seniors With Dementia
For starters, try different activities which do not have a specific (right or wrong way) of doing them, but yet, they have to be satisfying, filled with fun, and help to encourage self-esteem. In fact, using activities such as this can sometimes be the best alternative to taking medications that are intended for behavioral issues, depression, or to reduce agitation.
Safety Comes First
It is also important that the activities you come up with will not be harmful to anyone. You yourself should be able to judge what will work the best for you are probably the one that knows them the best. For instance, some seniors may have the habit of putting things in their mouth or even eating them. In cases such as this, the best route to take would be to eliminate things that can be a choking hazard or things that may damage their teeth.
Remember to take into consideration those who may be in the habit of tying strings around their fingers, for it could end up being their neck at some point (cutting off their circulation). Here are 10 activities that are filled and are sure to satisfy your loved one who has Alzheimer's, which you yourself will be able to make. With only your imagination and a bit of creativity, simple household items can be made into safe and fun activities.
1. Clip some clothespins (colorful ones)
Mini clothespins or full size either can be used. Simply give your loved one something like a wire clothes hanger, basket, or anything that is safe that they can clip the clothespins to and watch them amaze themselves with all the wonderful colors.
2. Flower arranging
Arranging flowers is a good activity for seniors who previously enjoyed making flower gardens, etc., so take them back in time by letting them create beautiful arrangements. All you need is some florist foam, plastic vase, and artificial flowers.
3. Attaching pipes & fittings
There are a lot of seniors who enjoyed the handyman work they used to do around the house, and an activity consisting of something they once enjoyed can do wonders for their morale and their self-esteem. That is why letting them participate in an activity that holds a chance of bringing back a memory, or memories makes the perfect kind of activity for them.
All you need are several different lengths of PVC piping and some fittings (all of which, doesn't cost much at all), get a few of the elbows and a few T-joints at the hardware store, and if you ask them, they will usually cut them for you.
4. Sorting coins and/or parts from the hardware store
Another great activity for seniors is to give them several different hardware parts, such as washers, bolts, and nuts, and ask them to sort them up for you. They may also get interested in sorting large amounts of loose coins, this may take them back to a time when they had to manage their own finances.
5. Let them enjoy homemade play dough
Any age groups can have fun and relax playing around with play dough and modeling clay. Pick-up a few cookie cutters and play dough and just watch how much fun your senior has. Here is a recipe to make your own non-toxic play dough, just remember not to store it in your refrigerator.
Try mixing in a few drops of essential oils (there are many different scents you can purchase), this can be a very relaxing activity.
6. Keeping a beat, using a homemade shaker
For this activity all you need is a plastic container with a good fitting lid. Put several dry beans or pasta in the container and you have a music shaker. You can either play some music for them or make one for them to shake with you.
7. Use picture cards for sorting
This calls for two copies of each picture you think your senior would enjoy, they can be laminated with clear tape if you want. Then you will have your senior mix and match or sort them, giving them tons of entertainment.
However, they should be about the size of playing cards, so they can hold them in their hand.
8. Let them make a scrapbook
For this activity you will need a notebook (can be bought for very little), magazines, catalogs, newspapers, scissors (the safety kind), and glue stick. Have your senior look through and cut out the pictures that interest them and then help them to glue them in their new scrapbook.
9. Party (paper) cups make for fun stacking
Pick-up some of those inexpensive party cups or fancy paper cups if you want, then have your senior help with cleaning up by asking them to stack or sort the cups.
10. Fun with magnetic letters
Use magnetic letters on a metal baking sheet and see what fun words you and your senior can come up with together. Another way to use magnets is to just have fun matching up the different shapes and colors of various magnets.
Benefits of Social Activities for the Elderly
Taking the time to do these crafts in groups where seniors can be social offers many important benefits.  Some of these benefits include healing more quickly, delaying or even preventing some diseases, and the psychological benefit of having continued interaction with other people.
Better Emotional Health
By spending time with others doing crafts it gives seniors a chance to make new friends or tend to existing ones.  These interactions help improve our mood and therefore helps avoid dipping into depression.
Better Physical Health
When humans interact together they are generally more physically active.  This physical activity, however lite in nature, does help keep us healthier than surfing the sofa watching TV.   In addition if refreshments or meals are served we tend to make better decisions for what to eat, and eat more of it in social settings.
Improved Cognitive Functioning
When you interact with others and especially if you're using your mind to be creative you're improving your overall cognitive functioning.  Mental activity keeps the mind sharper and helps delay or even prevent dementia and Alzheimer's.
More Restful Sleep
Studies have shown that people who spend more or extended periods of time in isolation tend to have more trouble sleeping.  Social activities tend to help us sleep more easily and get more restful sleep.
Improved Immune System
Those who socialize tend to have better immune systems.  This is in part simply from being more active but also is better from getting better rest and making better dietary choices.
Longer Healthier Life
With better dietary habits, better sleep, improved cognitive function, and physical health we live longer and more healthy lives.  Social activities and craft projects keep our minds engaged and help tend to our social needs.
SLS Memory Care Services
The professionals at each of our memory care facilities is trained to care for seniors with dementia compassionately and appropriately.  Our team understands intimately the challenges that seniors face when dealing with dementia and can help keep them engaged with activities that stimulate the mind yet are safe.  If you're interested in what SLS Communities memory care services can do for your spouse, parent, sibling, or loved one please give us a call at 480-348-0300.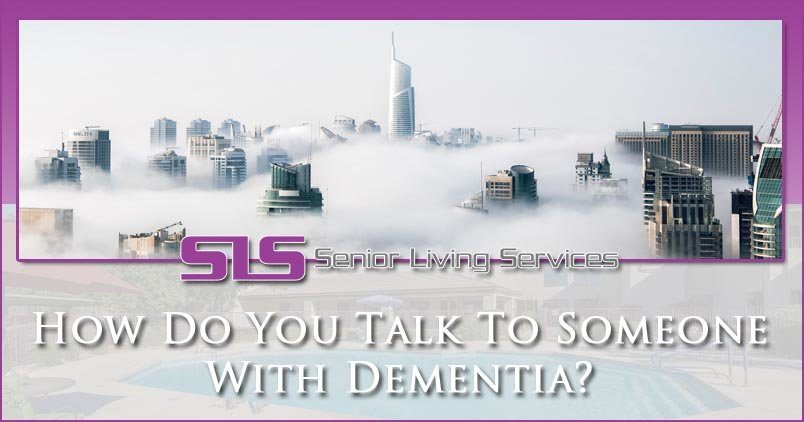 To talk to someone with dementia choose a quiet location, go early, have topics, speak calmly but clearly, avoid excessive questions, laugh about misunderstandings, and show interest with body language.
---
It is heartbreaking to see loved ones struggle with dementia.
You can still have positive interactions with the right approach.
We will show how to talk to someone with dementia in this post.
---
How To Talk To Someone With Dementia
Learn how to speak, what to say, active listening, and communicate better with someone with dementia.  Whether it's a parent, grandparent, aunt or uncle being able to enjoy a visit with better communication benefits seniors and their visitors.
Preparing To Talk
Plan enough time to have a relaxed conversation that's not rushed.

Try to choose a time of day that is best for the senior.  For many this is early in the day when they have better clarity and energy.

Make sure their needs for food, medications for pain, or other needs are met before starting to talk.

To have better talks with someone with dementia choose a location without excessive distractions.  This means away from TV and radio.

It's important to make sure you have the senior's full attention before you launch into your conversation.

Sit close enough that you're easy to hear but not so close you're invading personal space.  Ensure you're making and maintaining natural eye contact.

Show your mood through relaxed body language that's open and non-threatening.

Consider what topics you bring up.  Having some uplifting topics in advance may help.  Also choosing things to talk about from your surroundings can help encourage conversation.
How To Listen
Be an active listener.  While you've likely heard a story or two before; remember that you're visiting them to enjoy time together.  Be encouraging about what they are saying and listen with intent.

Be mindful of how they are feeling as you're listening.  If they're struggling to find a word or complete a sentence encourage them to find a different way to tell you about their story or idea.

When or if you're confused about what they are saying try to state as much of what you have understood.  Watch carefully as you paraphrase what you've heard to see if they feel understood or frustrated.

Don't shut down sad feelings or thoughts.  If you dismiss them they feel uncared for and alone.  There are times where simply listening is the best thing you can do.  It validates them as a person and makes them feel heard.

Give them time to collect their thoughts and respond.  While the back and forth with younger people is lightning fast people with dementia take longer to sort out what they want to say and find the words that best express their thoughts.  Try not to interrupt while they work through how they want to respond or express themselves.
How To Talk
Speak more slowly and allow them to process between sentences.  Wait for them to respond to show respect for their contribution to the conversation.

You're bound to have a few misunderstandings in the conversation.  Ensure that you keep the mood light and laugh at these. Make sure you are laughing at the misunderstanding and they don't get the feeling you're laughing that them.

Get the senior speaking with more than just you.  By including others in conversation with them you reengage them in social interaction.  This helps reduce feelings of isolation or exclusion.

Use a calm and clear voice to communicate.

Speak simply and try to use short sentences.

Try not to raise your voice or be aggressive.

Have a conversation instead of asking question after question.  Allow them to speak and steer the conversation towards positive topics when possible.
What To Talk About
Try to ask questions that are easy to answer.  Instead of open ended questions such as "what would you like to do today?"  Try to suggest an activity such as "Would you like to take a walk in the garden?".  This makes it easy for them to answer with a "yes" or "no".

Avoid questions that are complicated or asking too many questions. If the senior cannot come up with an answer it puts their limitations in the spotlight and can make them feel depressed and frustrated.

Wait for answers to questions you ask.  Don't overwhelm them with too much at one time.  If you ask about a walk in the garden, wait for an answer.  If they didn't want that suggest another activity and wait for a response.

Overcome confusion by breaking down a subject into smaller concepts.  Follow through the conversation slowly by discussing each point that leads to a larger idea or conclusion.

Be aware of if they are tired from the exertion of conversation.  Adjust the duration of your visits to match the ability level of the senior you're visiting.

Redirect confused thoughts to discover unmet needs.  For example, if a senior with dementia talks about needing to get ready to go to work they might not feel a sense of purpose.  This means they need more activity or stimulation to feel active and involved.
Mind Your Body Language
As dementia progresses how you look as you say things becomes increasingly important.  In later stages it becomes a larger part of the conversation than the actual words being shared.

Ensure that your facial expression and body language matches the emotions you're trying to exhibit.

When it feels like a good situation putting an arm around someone or holding their hand can convey your intentions to comfort more than any words you could offer.

Ensure you don't stand over someone or too close.  This can feel threatening or intimidating. This will shut down their desire to have an interaction.  Instead try coming down or lower than their eye level to put them at ease.

Avoid exhibiting strained facial expression or quick movements.  Both convey a sense of distress, pain, or discomfort that a senior with dementia will not likely miss.
Phoenix Valley Memory Care Services
When you've got a loved one with dementia you want to know their needs are being met.  SLS Communities offers Memory Care services that see to the needs of seniors with dementia in comfortable and safe surroundings.  Our highly trained and compassionate staff sees to daily hygiene, prescription medications, meal preparation,  and strives to keep seniors engaged with activities.  For more information about our Memory Care services in the Phoenix Valley please call 480-348-0300 or click here.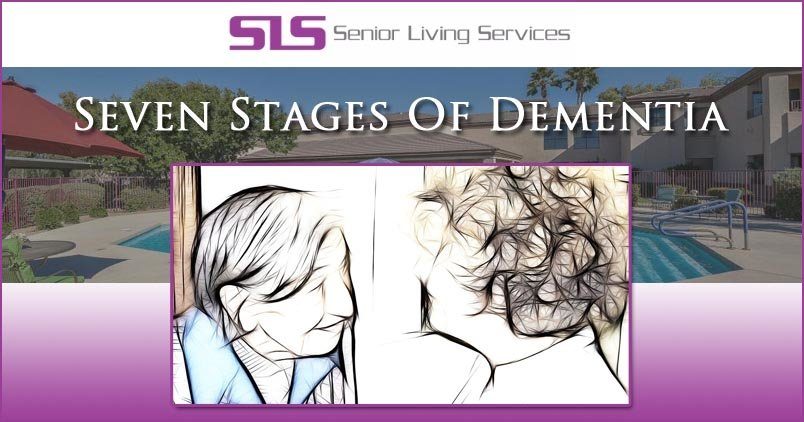 If you're searching for "dementia stages" or the "stages of dementia" this article will help you understand this condition better. From the early stages of dementia through the end stage of dementia you'll learn about how you can tell and what actions might be considered.  Most people have heard of dementia but don't realize there are seven stages of dementia or know what the signs of symptoms of dementia are.
Seven Stages of Dementia
There are seven stages of dementia under the global deterioration scale which are all characterized by different levels of memory loss and ability to function without assistance.  Families and physicians are able to tailor their approach for care of these individuals by identifying which stage they are in.While many times it is simplified into "early stage", "middle stage", or "late stage" dementia there are finer points that change the way doctors care for these seniors.
The stages start with 3 stages which are categorized as "no dementia" and include healthy.  This scale is most applicable for seniors suffering from Alzheimer's disease, as other types of dementia will not always include memory loss.
Stage 1 Dementia
Stage 1 dementia is characterized by healthy people with no signs of any dementia, no memory loss, and are functioning normally.
Stage 2 Dementia
Stage 2 dementia includes people who normally forget things and is usually caused by natural aging. These people will forget where they put things and names of casual associations.  Symptoms are mild and rarely noticed by doctors or even loved ones.
Stage 3 Dementia
Stage 3 dementia is described as increased forgetfulness, decreased performance at work, and slight difficulty concentrating.  Stage 3 individuals will have more trouble finding words and may get lost more often.  This stage is usually noticed by loved once as marked cognitive decline.  Stage 3 lasts about 7 years before the onset of early stage dementia.
Stage 4 Dementia – Early Dementia
Stage 4 is considered "early dementia", and is described as having trouble remembering recent events, increased difficulty concentrating, trouble traveling alone, and problems managing personal finances.   Many people who are struggling to handle complex tasks correctly or efficiently might be in denial about their decline.  This leads to decreased perceived self worth followed by decreased social interaction.  Physicians are able to clearly diagnose this stage through interviewing patients in exams.  This stage lasts about 2 years.
Stage 5 Dementia
The fifth stage of dementia includes people who have major memory deficiencies and need some help with their daily activities.  These activities may include preparing meals, bathing, and dressing. Memory loss in stage 5 is more pronounced and will likely include major relevant aspects of life.  People in stage 5 may forget their phone number, home address, and might not know where they are or what time it is.  This stage lasts usually about 18 months.
Stage 6 Dementia – Middle Stage Dementia
As the second stage of "middle stage dementia", stage 6 is describe as people who need extensive help to carry out daily activities.  These seniors will not likely remember recent events and will start to forget the names of close friends and family.  These people may only be able to remember details from their earlier life.  Finishing tasks becomes more difficult and they also might not be able to count backwards from 10.  Incontinence is also a common issue at this stage.  Additional characteristics of stage 6 include: compulsions, anxiety, agitation, personality changes, diminished speaking, and having delusional beliefs.  The average duration of stage 6 is 2.5 years.
Stage 7 Dementia – Late Stage Dementia
The final stage of dementia is stage 7.  This is when seniors have no ability to communicate or speak.  They require round the clock assistance for activities including eating, using the restroom, and bathing.  Loss of psychomotor skills is common which includes the ability to walk.  This stage typically lasts about 2.5 years.
Phoenix Valley Dementia Care
If you have a loved one who's suffering from dementia it can be a stressful experience to provide care for them.  As seniors progress through the stages of dementia the task can become a full time, round the clock job.  Our staff cares for dementia residents in our Memory Care Facilities in the Phoenix Valley.  Staff is on hand 24 hours a day, 7 days a week, and takes care of all of the various needs associated with the stages of dementia.  Residents are compassionately cared for and their ability levels are respected.  Click here for more information about our Memory Care Communities.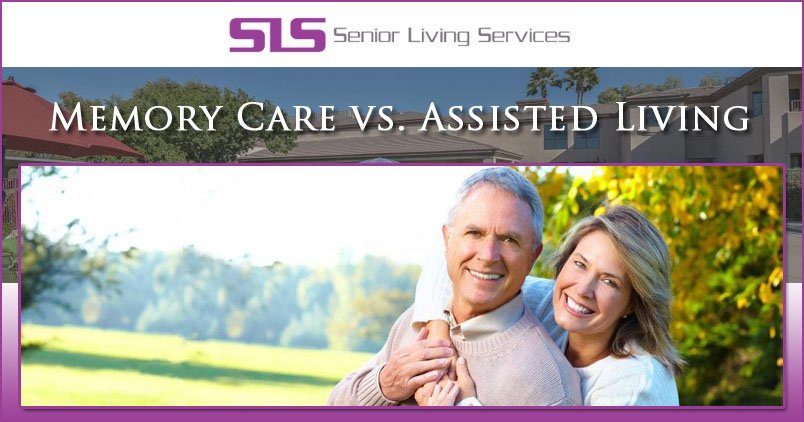 If you're searching "Memory Care vs. Assisted Living" you're likely a family member trying to find out what option is best for your beloved senior family member.  Making the right choice for your mom, dad, aunt, or uncle is important as you want to make sure they are getting the care they need in a compassionate and friendly setting.
When it comes to long-term senior care, assisted living and memory care are options that are quickly growing. Discover the main differences between these two forms of care, including the expenses, types of services provided, and how to determine the best community.
Defining Long-Term Care and Assisted Living
According to the U.S. Department of Health and Human Services, at some point in life, nearly 70% of adults aged 65 or older will require long-term care.
As loved ones become unable to live independently, that is when the caregiver must face the challenging decision of which form of care to use, as long-term care options are not all the same. The two quickest growing forms of residential senior care include memory care and assisted living facilities, but do you know the differences in the two, or the main factors in determining which is best?
Assisted living is an available option if your loved one is still vital and active, but simply is unable to live independently and require help with daily activities, such as eating, dressing, or bathing. The Assisted Living Federation of America defines assisted living as "long-term care which combines support services, health care, and housing as required." It is common for assisted living to provide personal care services, such as medication management, transportation, and around the clock care. Generally, seniors within assisted living communities also have options of a shared apartment or private room, depending on budget and preference.
As loved one's age, they may need some added assistance with daily tasks, or require nursing care that I more specialized if they are suffering from age-related health conditions that affect mobility, such as dementia. In this case, assisted living communities are limited in the type of services that they can offer, but some are equipped to offer memory care services, commonly within a dementia special care unit (SCU).
Furthermore, assisted living facilities are not regulated by the government, but they must be licensed by the state of their location.
Memory Care vs Assisted Living
While memory care units may be available on the premises of assisted living communities, they are two different forms of care.
Memory care is a more distinct and focused type of long-term care requiring medical staff that is skilled and experienced in specific types of patients with dementia, Alzheimer's disease, or other memory issues. Memory care units are also referred to as special care units (SCUs), and generally offer supervised care 24 hours a day that is located in a separate wing or floor than residential communities.
Similar to assisted living, if loved ones are not able to care for themselves because of progressive impairments, memory care is a residential option. Beyond offering help with daily activities, such as with assisted living, skilled staff are trained to help those with impaired cognition or dementia. In addition, the overall security and physical layout of memory care facilities are designed for patients with dementia and Alzheimer's to minimize wondering behavior, while providing a pleasant environment that is simple to navigate.
Furthermore, memory care facilities also require a generalized state level license, as well as being regulated within 23 states by special care unit disclosure laws that require the care provider to disclose any special services provided. Although, due to these laws not being universal yet, it is important that the caregiver carefully researches a facility prior to deciding on a location.
Long-Term Cost Comparison
Both memory care and assisted living are subject to many of the same factors: size of apartment or rooms, geographical location, shared or private space, and required services. However, when it comes to the overall costs, these are calculated a little differently for each form of care.
Usually, assisted living communities will charge a base monthly rate that covers two or three meals per day, and room and board. On average, the costs of a 1-bedroom apartment in an assisted living facility is $3,300 per month, depending on location. There are facilities that provide housekeeping or laundry within the base rate, while others will charge additional fees for these services. Because of this, it is important thatyou obtain a breakdown of the cost from each facility you look into.
Due to memory care providing more specialized care and round the clock nursing services, which regular assisted living facilities do not provide, it results in costs being higher. On average, it is $5,000 per month, but this can vary greatly. Luckily, there are options that assist in paying these costs for senior care to lower out-of-pocket expenses, including Medicaid, Medicare, and veteransbenefits.
Services Provided in Assisted Living and Memory Care
The regulations on what services should be offered at senior care communities vary by state. However, both assisted living and memory care usually offer basic supervised care, medical monitoring, and daily assisted with activities that include bathing, mobility, and dressing. The following are other services commonly offered by both forms of care:
Emergency call system
24-hour security and supervision staff
Housekeeping and laundry
Three meals per day
Exercise and health programs
Transpiration
Social activity programs
Access to medical care
In addition to the base monthly rates, some of these service may be an additional cost.
In addition, memory care facilities will commonly include more structured activity programs that are designed to help nurture residents with dementia or Alzheimer's. For example, "Reminiscence neighborhoods" is a program offered by Sunrise Senior Living with indoor and outdoor space that's designed to provide a soothing and safe environment, with trained staff and a variety of familiar activities available.
Assisted Living or Memory Care, Which Should I Choose?
If you are not immediately concerned about dementia or Alzheimer's and your loved one is still able to be independent, but needing assistance with some activities, assisted living would be the best option.  Although, if your loved one is in need of more detailed care due to memory impairment, you might want to begin considering a memory care facility, or at least an assisted living community with a special care unit for those suffering with memory issues.
Memory Care & Assisted Living in Arizona
Senior Living Services offers Memory Care Services in Gilbert, Mesa, Peoria, Sedona, Sun City, Sun City West and Surprise, Arizona. If you have a family member that would live better, safer, and more healthy is a memory care or assisted living setting SLS Communities has multiple locations in Arizona to serve you and your family.
Our compassionate staff removes the burden of daily chores and worry for seniors to allow them to enjoy activities and social experiences.  Staff tailors the level of care to each resident of our assisted living and memory care living communities to offer residents the level of care they need and want.  If you would like more information about which type of care would fit best, a list of our locations in Arizona, or want to schedule a visit please visit slscommunities.com or call 480-348-0300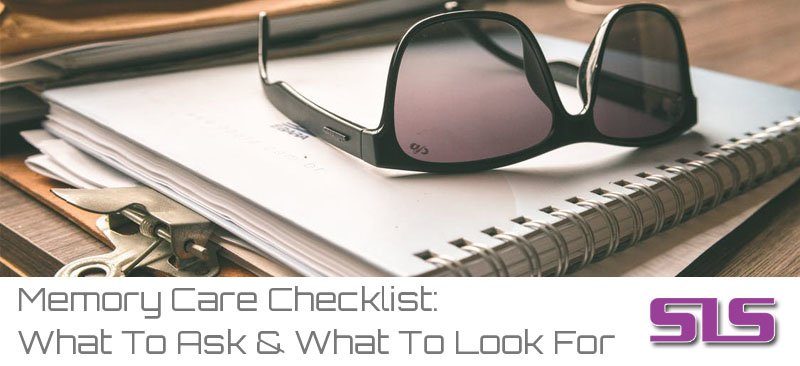 To determine the best option for your loved ones who suffer from dementia and Alzheimer's, visiting different communities and homes that provide care for these diseases is important. With choosing assisted or independent living communities, it commonly involves service and amenity availability. Whereas, choosing a memory care location needs to focus on the care quality and interactions viewed when your visits. This provides confidence that your loved one gets treated as you expect.
To help guide you, the following checklist are things you should remember during the tour and after the tour. It will enable you to make the best choice based on the different options, while remaining organized.
Care Provider Name: ______________________________________
Date Visited: ______________________________________________
Atmosphere, things to look for
Is the community layout simple to navigate? Will the hallways lead residents into public areas? Are hallways identifiable by color or art to help recognize their living area or hallway?
Is adequate privacy provided to residents for toileting, bathing, and personal hygiene? These are significant aspects to maintain the residents' dignity and understanding personal boundaries and space could become compromised from frequent wandering.
Is furniture kept maintained? Do they use special upholstery to avoid stains due to spills or incontinence?
Do they keep exterior doors locked, do they have alarms to make sure wandering residents are safe?
Are residents provided an outdoor walking area and/or patio that's simply accessible, but enclosed for preventing them from wandering off?
Questions for the Care Team and What to Look For
What are the licensure requirements of care team key members? How many hours is a licensed nurse (RN or LPN) staffed? Is the Director licensed as a nurse?
Is specialized training provided to caregivers to help effectively communicate and care for the residents suffering from dementia or Alzheimer's? Do caregivers go through a state/national background screening?
Is the staff professionally dressed or wear appropriate uniforms with name tags that make them easy to distinguish from a visitor?
Are residents interacted with by caregivers in a professional and comforting manner? Do residents maintain respect and dignity?
The Residents: What to Watch For
Do residents participate in activities which are interesting and/or appropriate to those with dementia or Alzheimer's? Do residents have the opportunity to contribute to the community, in an appropriate manner, such as folding towels, clothing or placing napkins?
Focus on residents' hygiene, is their hair brushed/combed, cloths matching, clean-shaven, free of incontinence or other orders?
Does it appear other residents have a similar dementia level that's consistent with the level of your loved one's needs and behavior? Usually, a community will specialize in specific levels of acuity, and may not be the appropriate stage when searching options. When resident is unable to interact and relate well with the other residents, it can lead to depression and isolation.
Other Considerations
Is the community's location convenient to friends and family members, encouraging frequent visits?
Is there a positive rapport associated with the care team and management? Do you feel comfortable they have the ability to offer the needs required by your loved one?
Are the rates of the community affordable for the foreseeable future? Lifestyle changes commonly result in further decline in seniors suffering from dementia or Alzheimer's, this makes it important to choose a community that will allow them to stay as long as possible.
Click Here for a printable PDF
Find Memory Care Services Near You In Arizona
Senior Living Services offers Memory Care Services in Gilbert, Mesa, Peoria, Sedona, Sun City, Sun City West and Surprise, Arizona.
Browse the highly compassionate and quality memory care communities offered by SLS Communities in Arizona.  Seniors living in our memory care communities enjoy the care of staff specifically trained for memory care.  There are also more staff members per resident in our memory care areas.  Residents living in communities enjoy a safe environment where they can keep active and have fun.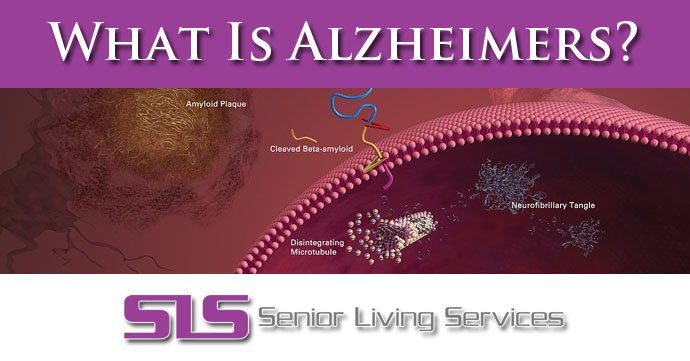 Causing problems with memory, behavior, and thinking, Alzheimer is a type of dementia.The symptoms will usually develop at a slow rate, worsening over time, causing severe interference with normal tasks.
Dementia & Alzheimer's Basics
Accounting for up to 80% of dementia cases, Alzheimer's disease is considered the most common form of dementia. It is a general term for memory loss, as well as causing serious issues with other cognitive functions that interfere with day to day life.
Though increased age is viewed as the greatest risk factor for Alzheimer's, it is not a normal part of aging. A majority of individuals, with Alzheimer's, are 65 or older, however, around 200,000 Americans under 65 suffer from early-onset Alzheimer's disease. This is not a disease of old age alone.
Surviving with Alzheimer's disease is varied in time, from 4-20 years in range depending on other health conditions and age. The average of years lived after Alzheimer's symptoms are made apparent is only 8 years, making it the 6th leading cause of death in the United States. This is a progressive disease, worsening over time. The memory loss is mild in the early stages, with the later stages, the ability to respond to their environment and hold conversations diminishes. Dementia symptoms, over a number of years, gradually worsen.
Today, there is an effort across the world to help battle the disease. There is research underway to help treat, delay onset, and prevent development of Alzheimer's. However, there is no cure. Currently, there are only treatments that help temporarily slow the worsening dementia symptoms, also to improve the quality of life for both the caregiver and the one who has Alzheimer's. The current treatments cannot stop progression from happening, but the research shows no signs of ending until a cure is found.
Alzheimer's Symptoms
Difficulty remembering newly gain information is the most common early sign of Alzheimer's disease.
Most of us notice some sluggish thinking, as well as problems remembering things on occasion. This is normal because as our bodies, our brains change as we grow older. However, serious loss of memory, confusion and disorientation, as well as major changes in the workings of our minds could be a flag that brain cells are beginning to fail.
Alzheimer's advances through your brain, leading to some severe symptoms, but the earliest symptom that makes and appearance is trouble remembering information newly learned. The reason this happens is because Alzheimer's begins in the part of your brain the manages learning. Later symptoms include, behavioral and mood changes, deep confusion about past events, locations and time confusion, suspicions of those in your life, disorientation, difficulty speaking and with motor functions, as well as more severe memory loss.
Though experiencing these symptoms yourself may prove difficult, possible signs of dementia or Alzheimer's may be more recognized by loved ones. If you feel that you are suffering these dementia-like symptoms, it is advised that you see a doctor as soon as you are able. Finding the right doctor can be challenging, so to find one with the experience in evaluating these memory problems you can contact your local Alzheimer's Association chapter. Diagnosing and intervening with these symptoms early on with the available methods proves dramatic improvement that can support and better the quality of your life.
The Brain & Alzheimer's
There can be many different reasons to why memory loss can be caused, it isn't always Alzheimer's. Many people suffer from memory loss, and if a loved one or yourself is experiencing this or any symptom of dementia, it is recommended that you visit a doctor.
The brain undergoes microscopic changes long before memory loss is apparent, the brain has 100 billion different neurons (nerve cells). Each of these neurons are connected with others to form a network. Nerve cell groups have specific jobs such as, thinking, remembering, learning, sight, smell, and sound.
Working like a factory, brain cells receive their supplies, construct equipment, remove waste, and produce energy. They also create and house information as well as communicate with other cells. This mental factory requires large amounts of fuel and oxygen in order to keep it running properly.
Alzheimer's creates the same road blocks that cause factories to shut down, backups and breakdowns. When one system starts to become slow or unresponsive, the other systems begin to experience the backups as well. Over time, the backups will begin to spread, and cells can no longer do their jobs. This causes irreversible issues in the brain.
The Role Of Tangles & Plaques
There are two major suspects in the killing and damages of the nerve cells, Plaques and Tangles, these are abnormal structures.
Plaques- Is a protein deposit of Beta-Amyloid (BAY-tuh AM-uh-loyd), which builds up in the gaps between nerve cells.
Tangles- Twisted fibers that build up on the inside of the cells composed of another protein known as Tau (rhymes with 'wow').
Alzheimer's patients develop these tangles and plaques in greater numbers, with more distinctive patterns, while the development of these structures is common in most people as they age. Alzheimer's patients find these abnormal structures most commonly in the areas important for memory before they spread to other regions of the brain.
Though the true effect that these cells have in the process of Alzheimer's disease is unknown, most of the experts strongly suggest that this effect is critical in preventing the communication among the nerve cells, stopping the processes needed for these cells to live.
Along with many symptoms of Alzheimer's disease, memory failure, problems following through with daily life, and changes in personality are a direct result of the death and destruction of nerve cells.
Progress & Research
Leading at the forefront of bio-medical research, Alzheimer's disease is a prime focus for many researchers and experts as well as related dementia. A better understanding is a hope for new treatments in the future, as many approaches are currently being investigated across the world. 90% of our knowledge about Alzheimer's was learned in the last 20 years, shedding light on the effects in the brain in remarkable progress. In addition to research assisted care facilitates are incorporating memory care services to better care for patients with Alzheimer's.
Find Memory Care Services Near You In Arizona
Senior Living Services offers Memory Care Services in Gilbert, Mesa, Peoria, Sedona, Sun City, Sun City West and Surprise, Arizona.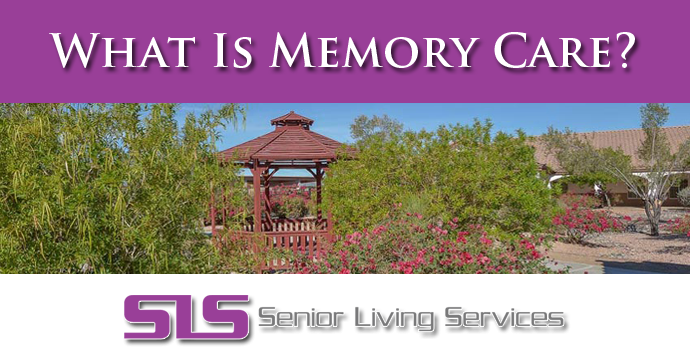 Are you searching "What Is Memory Care?" to better understand services offered by quality retirement and assisted living communities? If so this article helps you understand the the memory challenges people face and how memory care enriches and improves their lives.
Most of us normally associate old age with having a frail physical body: failing eyesight, wrinkling skin and arthritis in your joints. Even the mind will begin to show its age with forgetfulness, it doesn't matter if you forget where you put your glasses or the date of your anniversary. What happens when the mind begins to age in ways that has disrupted the memories or personality?
This can be quite heartbreaking and normally the effects of dementia or Alzheimer's. Although it is easy to have stronger reading glasses prescribed or get medication for arthritis, healing the mind that has dementia or Alzheimer's isn't possible which leaves families the only choice of just to adapt to the condition of the loved one.
If you want to know more about memory care communities after reading this article, or you want to find a community that would be best for you or a loved one, call us today. Our team is dedicated to helping you find the best community for you, in the perfect location, with all the right services and at the price you want and do so for free.
Basics of Memory Care
Dementia and Alzheimer's are the most common memory loss conditions that are included in memory care. This type of specialized care spans through a large availability of services that depend on the severity of the symptoms that a person has such as requiring secure settings to prevent elopement.
Memory care will go beyond what is normally offered in assisted living. Housekeeping, meal prep, laundry services are given but the level of assistance that is needed with daily activities will be increased. Often times, daily activities are created to allow the person to reconnect with favorite interests of hobbies.
In recognition of the care challenges for dementia or Alzheimer's, these communities may only give memory care, or with cases of continuing care communities, have neighborhoods just for residents that require memory care. Often times it is these communities that have design elements that research has shown to lower the stress in those who have dementia or Alzheimer's. These elements may include memory boxes outside of the room, circular neighborhood designs that allows safe wandering, and natural lighting. Because 6 out of 10 people that have Alzheimer's will begin to wander, the community will be designed to lower the risks of elopement, and whether it is doing more safety checks or adding security alarms on doors.
Demographics of memory care communities
Although there is data that is available for the demographics of assisted living as well as nursing homes, the same isn't the same for memory care communities. According to the Alzheimer's Association, in 2014 5.2 million Americans had Alzheimer's. 5 million were over 65, and 3.2 million of those cases were women while 1.8 million were men.
Community life
Amenities that are found within a memory care community aren't really that glamorous as living within an assisted living or independent living community like having ice cream parlors or indoor swimming pools, but that is by their designs and not an oversight. Research has shown that people who have dementia and Alzheimer's can become easily disoriented and stressed, and these communities are created to develop a relaxing setting.
Communities will normally have a secured courtyard that will let residents garden or walk outside without there being a risk of elopement. There are gathering places like libraries, TV lounges that are common. To create a really intimate setting for their residents, memory care communities could be designed around neighborhood settings with apartments that have been clustered around shared areas. Hallways are bright colored and in a variety of colors to help residents find their way.
There are apartment suites that are available in companion and private options, and there are some communities that offer a one-bedroom apartments. These types of suites will not have kitchenettes that have been found in assisted living facilities because the amenities are minimal to help reduce stress. In order to help residents find their ways, most communities will have a memory box that is filled with mementos from their lives outside of their apartment.
The dining rooms are normally set up like a family style dining, so that residents are able to gather for meals. Some of the memory care providers like Autumn Leaves, have specially designed menus that help with the lack of appetite from dementia and Alzheimer's. The dining rooms have tropical fish tanks, which studies have shown that watching fish help to increase appetites, and the attention is made to create a contrast before the plate and food color to help the residents see the food better.
There are also activities that have been created around the past interests of the resident, so that they can reconnect with their memories; games, art classes, and music is normally offered, as well as exercise classes. There are even some communities that will give residents an escorted outing.
Services offered
At memory care communities, the staff will handle all the responsibilities of life from the laundry to housekeeping to transportation to meal prep. Assistance with daily activities is also part of the standard service.  Advanced healthcare services such as nursing services are not usually offered unless the community is part of a larger facility.
Cost of memory are
Because Dementia and Alzheimer's need higher levels of care, the cost of memory care will be higher than assisted living.
The monthly rates for many communities will include services and rent; utilities may be included with the phone and cable being extra. There is normally a one-time community fee, and there may also be an assessment fee. The care costs are calculated based on the needs of the person. There are some communities that have various care packages that range from hands on assistance to minimal cueing, which will let the family select the level of care that will meet the needs of the loved one. There are other types of communities that will give care points to your loved one  for the level of support that a person needs and then charge a monthly fee and a fixed amount for each care point.
Selecting memory care communities and what you should expect during assessment
Because of the high costs that come with memory care, there are some families that may go with the less expensive alternative of assisted living for their loved one. The news is that most assisted living facilities are offering memory care light for those who aren't prone to wandering or need an enhanced environment. For those who are used to wandering or need constant attention, a memory care community is best.
Although, it may be hard to find a community especially in the rural areas that will offer memory care. Out of the senior living providers that offer memory care services, according to the National Study of Long Term Care providers of 2012 has found that 26% only serve residents that have dementia or have just a portion of the community to provide dementia care. There are some companies that only provide memory care at their community while others will provide this with assisted living.
With larger communities being the ones that often only do memory care, you could be reluctant to sign up your loved one, as they may not get 1-on-1 care or be completely overwhelmed by being around too many people. Although, most memory care communities are created around a neighborhood styling, where there are common areas that are duplicated all over. This allows a resident to have homelike atmosphere in a bigger setting.
Once you have found a community, your loved one will begin the assessment process to see if they will fit in the community, such as seeing if the community will be able to provide the care that they need. Depending on the assessment policy of the community, a nurse may visit the home to assess your loved one. It is vital that you be honest about the behavior of your loved one, and whether they have difficulty walking, wanders off, etc. so that they nurse will be able to create a care plan that will address all of their needs.
Finding the inspection records of memory care communities
Unless the services, like medication management and daily living assistance are provided by a home care agency from a third party, most memory care communities will be licensed and inspected by the state agency that has been charged with long term care facilities. These type of inspections are on record and you can get them from the state either through public records request or online. If the memory care community is part of a larger community, the community may be listed by the name of the community instead of the campus name.
Many states also require these communities to post or have their inspection results made available upon request. Viewing several years of records will let you see if there are any patterns of failing to follow procedures and if the violations were minor or life threatening.
Touring a community
It is also vital that you visit the community to see if your loved one will fit. Touring a community at various times is really recommended, that way you can view the staff and residents throughout the day instead of just during activities or lunch. Touring can be quite overwhelming to start with, so bring a check list to note certain features that you are looking for. Also ensure that you are using your senses to study the community. If you see the building needs repairs or you smell urine, it is a red flag.
Ensure that you are asking if the staff is certified or have received memory care training because this helps to make sure that your loved one will be cared for by the staff who understand how dementia and Alzheimer's affects the mind as well as body. Ask if the community has a specialized memory care program. Due to the unique caring challenges that are posed by dementia and Alzheimer's, there are some communities that have developed unique programs that will guide how residents are cared for to make sure that every aspect of their lives are handled properly – from being nurtured spiritually to physical well being.
Moving to a community and the life after moving
Once a community has been picked, you could dread the trauma that this transition may cause. Although, there are plenty of steps that you can take to make the moving less traumatic. One of these types of steps is establishing and then sticking with a story is vital. This could be simple like telling your mother that your father is visiting a family friend. Having the room of your loved one ready and decorated will help with the transition and reduce the stress of moving. There are some communities that may help in escorting  your loved one to the community.
Once your loved one has moved, they may not want to jump into community life and ask to leave. In this type of situation, be prepared to have a story why they can't come home, such as the house is being repaired. Eventually they will settle down in to a routine and accept the community as a home.
Find Memory Care Services Near You In Arizona
Senior Living Services offers Memory Care Services in Gilbert, Mesa, Peoria, Sedona, Sun City, Sun City West and Surprise, Arizona.
Take A Look At Our Communities