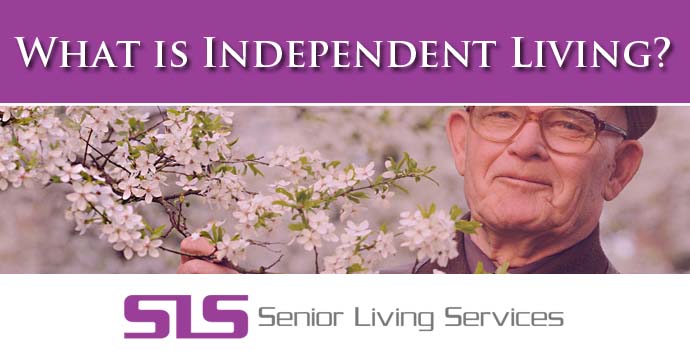 Independent living is living arrangements in communities for individuals or couples who are 55 and older.  The communities are characterized by lots of activities and apartment style living.  Each unit is typically a studio, single, or two bedroom floorplan and care consists of meal preparation, and resort style living.  This gives our residents the comfortable active lifestyle they want with plenty of opportunities to be social and stay connected.
After retirement; adventure awaits.  SLS Communities Independent Living offers seniors a place to live where the details are taken care of for them.  We take care of the cooking, cleaning, and laundry while our residents go out and enjoy life!  Our communities feature fitness centers, theater rooms, beauty salons, pools, spas, and chef prepared meals served in our restaurant style dining rooms.
Exactly what does independent living consist of?
Independent living is nothing more than a housing arrangement for seniors who have reached the age of 55 and up. However, there are a few exceptions to this. Housing for seniors vary in types, such as apartment living to free-standing homes, including retirement communities. Independent living housing has a friendly atmosphere, allow seniors get around with ease, are more compact, and any maintenance and/or groundwork is taken care of.
Nearly all communities for living independently offer their residents various programs and activities, amenities, and various other services.  Housing for independent living usually include clubhouse and/or recreational centers allowing seniors a chance to interact with others in the community. Independent living also offers community participation in arts, crafts, gatherings on holidays, educational classes, movie nights, among many other community activities.
The housing for independent living might even offer other facilities like fitness centers, golf courses, swimming pools, interest groups, a variety of clubs, and tennis courts. There are many other services that independent living communities may offer, such as: beauty & barber shops, on-site spas, basic housekeeping, daily meals, and laundry services.
After all, independent living facilities are usually focused on those who have reached the age of 55 and up, created and designed to give an atmosphere of living independent, but with assistance available in areas where it may be needed. Hiring in-home help is an option for those who feel they need it.
Some other housing names for independent living
Congregate care
Retirement communities
55+ and/or 62+ communities
Retirement homes
Senior apartments and/or senior housing
Active adult communities
Continuing Care Retirement Communities
Different types of facilities for independent living and retirement homes
With several different choices in what type of independent living facilities to choose from, such as, separate houses and apartment complexes, it will depend on the cost range and the services one is looking for:
Low-income or subsidized senior housing
The United States offers senior's subsidized housing complexes that are provided by the United States Department of Housing and Urban Development (HUD), that are for senior's that are on a low-income budget.
Housing for senior's, apartments or congregate care
Apartment complexes for senior's are usually restricted and intended for those who have reached the age of 55 and up. Included in the rent are community services, which generally include things like transportation services, recreational programs, and the serving of meals in the communities dining room.
Retirement homes and retirement communities.
Housing units that are used as retirement communities are usually restricted for seniors 55 and up. Housing units for senior's may be duplexes, townhouses, condominiums, and even single family homes. Those who make the decision to live in housing units like these may have added fees, depending on other services they would like to be included, other services such as the use of recreational centers, yard work, maintenance, and/or clubhouses.
Continuing Care, Retirement Communities (CCRCs)
Those who anticipate having significant health problems later down the road may wish to consider a CCRC. Facilities for independent living have a wide variety of health care, and many of them will have nursing home care within their community as well. Residence that start feeling as though they could use a little extra help with their regular daily activities can be transferred from the independent living units into the assisted living housing or into the facilities with skilled nursing on hand. CCRC's benefits the resident by letting them relocate only once, and by letting them continue living in the same community, most importantly, letting them live as independent for a little longer.
How is independent living any different than other senior living?
The difference between independent living and other senior housing has to do with the level at which the resident need assistance. If the residence needs assistance 24 hours per day with activities like eating, bathing, going to the bathroom, getting dressed, or certain medical needs, this might be saying that they are candidates for the assisted living housing.
To learn more, read Senior Housing Options
Independent living, is it right for me?
When seniors have to make a change in their living arrangements it can feel as though their world is caving in on them, thus, as though they were losing their independence. However, independent living is just that! About making it easier to carry on being independent. Acknowledging that one's limitations are keeping them from living their regular independent life and facing that they could have a quality life with a little assistance will let them have an independent life a bit longer.
Would independent living be right for me?
Find out by answering these four questions:
Am I keeping my home up as good, as I use to or is it getting harder for me to do?   
Keeping a home up and going may be a piece of your pride, but as age sets in it can also be overwhelming, becoming a burden that is dragging you down. Let's say your home has a yard that is in constant need of attention or those extra rooms that are no longer needed still are in need of cleaning, at least dusting now and then. Maybe there are difficulties in accessing the home due to stairs or steep inclines, such as driveways, keeping you from getting out and/or around as much as you would like, leaving you isolated.
There is even the possibility that the neighborhood safety isn't as safe as it used to be, preventing you from walking as you once did, or preventing you from getting out at all. Of course, you could eliminate several of these challenges by hiring help, such as home remodeling, even a few of the family members might be willing to help out. In any case, if it is independent living you seeking, without all the stress of up-keep – then what you are needing may be a means to independent living, more time and freedom, with the flexibility to enjoy your senior years.
Have I been connecting with my friends and family as much as I would like too? 
Those that find themselves more and more isolated have a much greater risk of having depression and/or problems with their mental health. This can happen for many different reasons, such as becoming mobile, which is making getting around very difficult and/or not being able to drive as you once were able to do.
Maybe your friends and/or neighbors do not have as much time anymore to come around, or you just don't feel safe in your own neighborhood anymore. Although being able to chat and send messages using the internet is very helpful, it can never replace actual face-to-face contact with others.
The facilities at an independent living housing unit will give you that network of peers that your social life is has been lacking in, as well as offering structured activities such as arts and crafts, field trips, sport, and many others.
Is getting around getting harder for me?
You're are now living in a home that is located where driving is more difficult for you to get out and socialize in activities or visiting friends and family, even to do your shopping. If driving is giving you trouble and you now rely on using public transportation or it is hard for family and friends to get to your home. Even having difficulties in getting to those doctor's appointments.
They even offer on-site amenities, and many will offer options in convenient transportation needed for outside activities.
Is my health declining (and/or my spouses)?
Taking into consideration the condition of your health at this time and understanding what the condition of your health in the future may be like is an important measure that needs to be taken. For instance, the current condition of your health can let you know what you can expect later on, such as a health condition that is expected to get worse and not better with time.
Under these conditions, planning a head might be the wisest thing to do. It's not just your health to be thinking about however, your spouse will also need to do the same thing, the both of you should plan your future living arrangements together.
Ask yourselves the following questions:
Do you (and spouse) still manage to get through your daily living activities, like washing clothes, cooking meals, and taking bathes?
Do one or both of you have the ability to manage finances as well as you once did?
Are the both of you managing your medications and keeping up with any doctor's appointments you may have?
Housing for independent living is for those who may need a small amount of assistance with daily living activities. Understanding this will help you in deciding what is best for you.
How to deal with your move to independent living 
Picking-up and moving your home is definitely a major event in one's life, as well as stressful. Although the advantages of independent living are well known to you, decision making on it can be a hard one to make. There is no doubt, going to be regrets, such as feeling depressed or even sometimes embarrassed that you are no longer as capable as you once were to keep up your own home.
Sometimes many seniors will be looking forward to having the opportunity to be social again and have companionship, which is a part of what independent living has to offer. Regardless, grieving the loss of your long time home and the neighbors you have come to trust is a natural process, and to be expected now and again. You may even have feelings of feeling vulnerable and anxious.
It is a part of the natural process to miss the way it used to be, and though there are sometimes feelings of not being in control anymore, that will pass for you are in fact, in control when you choose independent living facilities. These feelings will also pass as you start feeling more alive with your new living arrangements. It is alright to spend a little of your time to ponder on your thoughts, thinking about the memories you have is a good way to cope with your feelings. Reaching out and talking to a family member or finding a new friend or a staff member in your housing of independent living that you can share how you feel with is also medicine for the soul.
Keep in mind that you are not alone. Nearly everyone at one point or another will need a little assistance with their everyday activities and/or long care services, after reaching the age of 65, this is certainly nothing to feel ashamed of. When one gets older they are naturally going to run into times where there will be adaptions to be made, as well as, to changes and it is significant that one takes time mourn the past, but the past should be something you have as memories, not something one needs to forget.
However, it is time to except the fact that a move may be in store. Almost all of the senior's that move into housing for independent living find it an exciting and interesting new chapter in their lives, with new experiences and friendships.
Follow these tips for an easier transition to independent living
While adjusting to your new living environment you will get to meet your new neighbors, and invited to join in on new activities. In the beginning, this may be a bit stressful. The following are a few things to make the transition a little smoother. You will be able to make your new home comfortable and to fit you by painting it, and hanging all those important photos. Bring your favorite chair with you and whatever else you have that is important to you.
Get a head start on things and start packing earlier. Instead of putting things off until the last minute, adding extra stress by having to make decisions quickly on what to keep and what to get rid of.
You should research independent living facilities and be absolutely sure to choose one that has everything you're looking for. Asking questions will help you to know what to expect later.
Get out and about meeting new people and joining in on various activities offered. Socializing will make you feel more at home.
Don't make things harder on yourself. Everyone is different and everyone adjusts to changes differently. When you are feeling down about something talk to someone about it.
When choosing retirement or independent living, choose according to what you want and what services you feel you will need.
The people in the community
Make connections with others in the community, start conversations and visit with them.
Are any of the people someone you think you want to get to know more about?
Did you find the staff to be friendly?
Spend time with the other residents and test out one of their meals.
How large was the community? What is its location?
The size of a community and what you are comfortable with will depend on what you are looking for.
What type of housing will you feel more comfortable with, apartment living or a detached home?
Take into consideration the location
Help support your loved one's decision to move
Let your loved one's know how grieved you are of their loss
Keep in touch with your loved one
Listen to your loved one and help them work things out
Independent Living In Arizona
There comes a time in many people's lives where having a little extra help around for when you need it, allows for welcomed peace of mind. Peace of mind isn't just for the residents either, independent living means having trained staff available to help with whatever residents need eases the worry of family and friends. Having comfortable apartment like living combined with highly trained staff and the opportunity to socialize enriches the retirement years for all residents. If the time has come for a change in living arrangements contact SLS Communities about which of their locations would be the best fit for your loved one.  For more information about independent living please call 928-284-1021.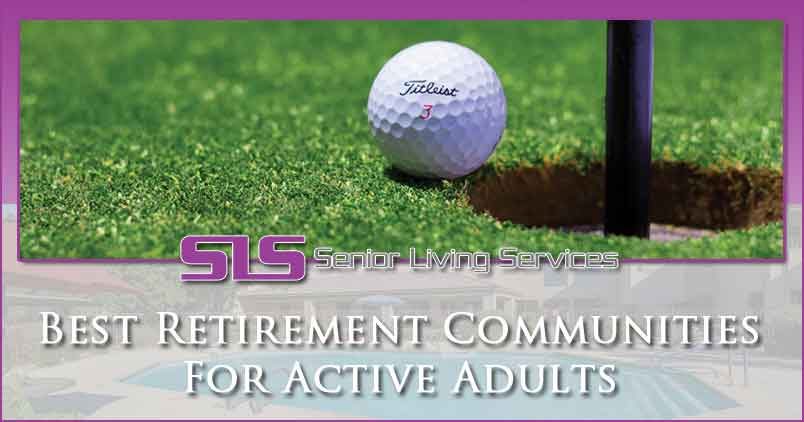 The best retirement communities for active adults have great floor plans, a strong sense of community, wide variety of activities, and easy access to entertainment, medical care, and recreation.
---
As an active adult you're looking to stay active but also enjoy a low maintenance lifestyle.
Independent living communities are the perfect solution for many active seniors.
In this post we will explore what you should expect and how to choose the right community.
---
Best Retirement Communities Include
The very best retirement communities for active adults have some hallmarks which you should watch for.  Ensuring there are these things will help you find a place that you fit into and can stay active.
Active Adult Communities Should:
Have plenty of activities to choose from to get out the door and get moving.
The apartments and floorplans should be laid out well and comfortable.
Foster a sense of community that's very strong and draws seniors into the fun.
The location is a reasonable distance to entertainment, recreation, and medical care.
The community provides you with a low maintenance lifestyle to free up time for fun.
The best options are those that include resort options like pools, theaters, and more.
Some prefer communities that are 55 and older while others like a mix of ages.
These are the key things to consider when visiting retirement communities.  Ensuring they have these thing will help you choose a place you'll love to live in and stay active.
Selecting The Best Retirement Community
Retirement communities dot the map and exist in every region of the country.  Some active seniors want to have more days of sun and warmth a year and head south to places like Florida and Arizona.  These warmer places give seniors a snow free winter that's got loads of days for outdoor activities.  The first step is to decide which region of the world you'll be most comfortable and get as many days of fair weather to bike, golf, kayak, or any active outdoor activity.
Keep in mind your favorite activities and ensure that the community you choose is close to places you can stay active.  If you're an avid cyclist you'll want plenty of roads or trails which are bike friendly.
Bike Trails, Golf & Entertainment
The Phoenix Valley is full of amazing opportunities for cyclists, golfers, and entertainment for any taste.  Parks are full of bike lanes and well-manicured landscaping.  And with nearly 300 days of sunny weather it is a haven for the golfer.  The valley is packed with world class golf courses and driving ranges.
When it comes to entertainment in the state of Arizona, you'll be spoiled.  There are many movie theaters, art galleries, sporting events, and other culture events and museums.
With this variety of options for active adults there's no surprise that Arizona is quickly becoming America's favorite retirement destination!
Tour Active Adult Retirement Communities
The best way to judge if you'll love a retirement community is to visit it!  Taste the food, walk around the property, get a feel for what is close by that you'll enjoy seeing and doing.  While you can narrow down some of your options online the best way to get a feel for community is face to face.  Consider a few of the following active adult retirement communities below.
1.      Canyon Winds
Located in the vibrant and active city of Mesa, Arizona; Canyon Winds Retirement Community is the newest and one of the most exciting opportunities for active seniors.  The upscale retirement living community offers independent living that fits the needs of the most active seniors.  With resort style dining, spacious apartments, a fitness center, theater room, swimming pool, spa, and housekeeping services you'll have plenty of activity while staff sees to your cooking, cleaning, and laundry.
2.      Sedona Winds
Nestled in the mountains of Arizona Sedona Winds Retirement Community is one of the premier locations for active adults to enjoy retirement. In addition to stunning views of wildlife and nature Sedona Winds is close to cultural centers, medical offices, golf courses, restaurants, shopping and much more!  Your independent living apartment is outfitted with a full kitchen, balcony or private patio, and there's a hair salon, barber shop, heated pool, and much more.
3.      Chaparral Winds
With many golf courses close by, loads of shops, and plenty of restaurants there's no shortage of activity to be had at and near Chaparral Winds Retirement Community.  Living in this community will include chef prepared meals, access to a swimming pool, hot tub, billiards, computer room, transportation, and the help with laundry, cooking, and cleaning you expect from your retirement community.  Allow us to take care of the chores and details while you stay active and enjoy what Arizona has to offer!
4.      Desert Winds
Desert Winds Retirement Community is located in Peoria, Arizona.  Peoria is home to great festivals, arst and culture, plenty of golf courses, public parks, baseball spring training, loads of outdoor activities, shopping, restaurants, and access to quality medical care.  Active adults love this community as it provides the resort style comforts of a swimming pool, hot tub, loads of activities, fitness room, and much more.
Schedule A Tour at An Active Adult Retirement Community
When it comes to choosing a retirement community, seeing is believing.  It's important to go and see the condition of the communities you're considering, meet the staff, taste the food, and get a feel for where you're considering living.  SLS Communities offers an active retirement lifestyle for seniors at 4 of their Arizona retirement community locations. 
For more information about scheduling a tour please call 480-348-0300.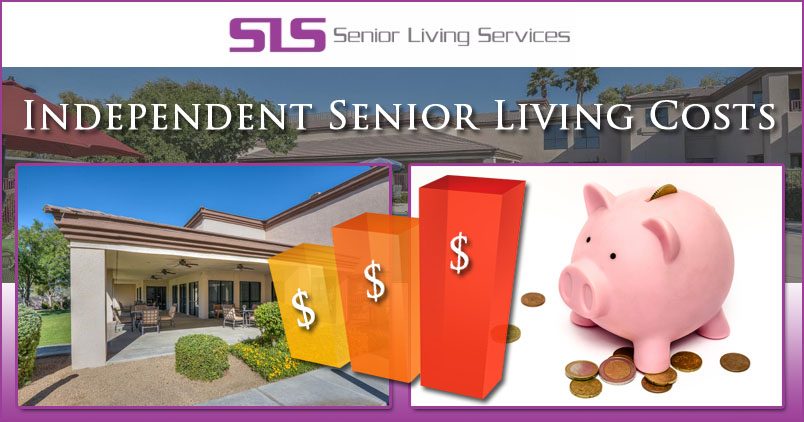 If you're searching for independent senior living costs you're not alone.  Thousands of seniors and their families are looking for the same information each year.  The cost of independent living varies by location, region, and provider.  Below you'll find average costs for independent living.
Independent Senior Living Costs
When you're preparing to move into an independent living community you'll likely be thinking about your living expenses and budget.  The average for independent senior living cost in $2,900.
The basic 'Service Rate' per month runs between $1,000 and $10,000, with the average being $2,900.
Most apartments run between $2,300 and $3,500.
The one-time fee charges which includes the admission and apartment preparations runs between $500 and $1,500.
The prices listed are for information purposes only, for educating those interested in senior housing's typical cost. A community's specific price range could vary, and may differ to the typical costs listed above.
Independent Living Value
Finances are usually the first thing that comes to mind in those that are considering independent living. The rate of seniors who are worried about their retirement benefit lasting throughout their retirement is 15%. With another third of seniors worrying about what long term care is going to cost. Reading this will help in letting you know what to expect when it comes to the price tag, as well as what you're going to get and/or save.
Independent living is closely related to investment purchases, whereas, to a person that does not fully understand the value in it would think of it as being too high of an investment, so don't let the initial sticker price of independent living comes as a shock to you, research and be prepared.
Independent living is not the same as assisted living, whereas there is continuous nursing care available. You pay for the apartment you live in, among other amenities, which includes peace of mind.
However, all independent living communities may offer a little something different, that is why it's important to be prepared with many different questions before deciding anything.
Independent living communities, what to expect:
An engaging lifestyle that's active. The things that is needed close by and at hand, which includes social engagements and opportunities, and transportation. You can leave your worries behind regarding having to drive for long distances or asking a loved one if they will drive you, or about scheduling activities.
It will give you a chance to grow and to learn about new things. Communities for independent living offers a broad range of activities and even classes. Many of them will offer access to their local events, as well as other opportunities that help to keep your mind alive and active.
Its set-up to give you a worry-free life that's amenity-rich. You deserve to live your golden years without the worries of dirty dishes, laundry that seems to always needs to be done, and/or leaky roofs. Communities for independent living are willing to handle most of those tasks you have for you. Also, most of them will be offering on site assistance with other things, such nutritional planning, cooking, and even self-care.
It's an opportunity to give something back. Communities for independent living that are considered good quality will also offer different volunteer opportunities that are match to individual's interests, ability levels, and of different ages.
You want to have to concern yourself with juggling the utility bills or any other bill for that matter, it will be worry free of finances. Most all expenses will be covered by the fees you pay in an independent living community.
If you are one of those people who enjoy cooking, independent living will let you continue doing what you love. However, when you feel you are ready for a break you will find that communities for independent living offers a wide range of delicious foods. Arbor offers expert chefs that serve crafty and healthy meals each and every day.
At any time, you begin experiencing issues with your health, independent living communities are able to transition you into the comfort that offer more assistance. There is no need for you to worry about what to do should there be an emergency for an independent living community makes sure that there are always others invested in your wellbeing, with people standing by anytime you need them. Which means that you will never have to worry about being alone and falling or if you are having problems with your health.
There is option for apartments
All new residents at the time of joining in an independent living community has the option of choosing a floor plan of their choice from those offered, which includes studios, one bedrooms, two bedrooms, and yes, even three-bedroom apartments. Including how big their apartment will be and what features it will offer, even in the location of the apartment in terms of its outside views and the proximity to the elevators, and the public areas that are offered.
Generally, independent living communities either offer one-year leases and/or month-to-month leases, which may be renewable.
Amenities and service fees
Monthly rent will usually include numerous services, such as the following:
All utilities except telephone services or expanded cable.
They keep a full calendar of different activities, scheduled transportation for things like medical appointments, activities that are off site, and shopping, among others.
Housekeeping comes on a regular weekly basis, which includes washing up bed linens and towels.
They provide 1 to 3 meals per day that are prepared by a chef and served in a dining area restaurant-style.
They provide maintenance for different incidentals, such as filter changes repairs on appliances, and more.
Emergency systems in place and the provide several security features.
Any additional charges will generally be the entrance and/or community fees (which are non-refundable), and may range between $750.00 – $1,500.00 on the average, which covers the administrative expenses and apartment renovation expenses. A fee for a second person, if there is going to be someone else living there, this fee is generally between $500.00 – $1,000.00 per month, which can be assessed for couples.
Other fees can be charged for the following:
Concierge services
Usage of guest apartments
Unscheduled transportation
Any activities that require tickets, and expenses for other things
Meals for guests
It would be beneficial to compare the costs that are associated with both, living in a home as a single family and moving to a community for independent living, search out the financial implications of each before making any decisions. Remember the post that our blogger Joan came across during her recent posting, "Small Expenses do make an Impact on Seniors Lifestyles." So, don't take for granted or under estimate expenses that is spent on dining out, and also the expenses put towards the purchase of discretionary items.
Below are some examples of household costs:
Entertainment
Groceries and eating out
Utilities, such as sewer, water, electric, garbage, etc.
Mortgage or rent
Cable and Internet
Property taxes, which does not apply to independent living
Automobile expenses, whereas independent living provides scheduled transportation
Home security features and other safety measures
Maintenance of yard/landscape
Maintenance of home
Anytime you find that you need help searching for the perfect community for you, contact us, we are the Family Advisers, and we can help you in your search for a community located within your area.
SLS Independent Living Communities
If you're looking for the highest quality independent living community for yourself or for a loved one SLS Senior Living Services can help!  We proudly operate 4 locations for independent senior living the in state of Arizona in the Phoenix valley and Sedona.  You can schedule a tour of our facilities and choose the location that works best for you.  To schedule a tour or find out the cost for you to join one of our independent living communities please call 480-348-0300.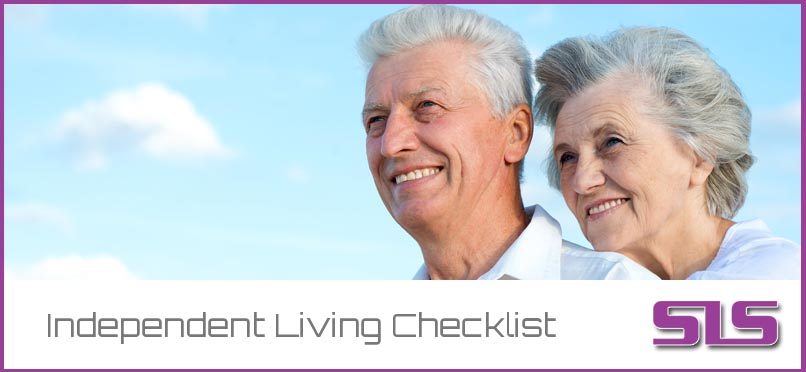 If you have been looking for an independent living checklist that could help you to figure out what you need to look for and to ask about in an independent living facility, then this article will help.
Selecting the right independent living community can be quite stressful, so how will you know what community is right for you? What could seem great for your family and friends, may be too lively or stuff for you and vice versa.
If you spend plenty of time visiting the communities and asking enough questions, then you will know what feels right. In order to get started, there is a checklist below of what you should ask on the phone, what you should research, and what you should look for whenever you visit.
Independent Living Checklist
Below is a thorough independent living checklist for you to know what you should ask and what you will need to look for when you visit a community. You can download this checklist in a PDF, so that you can print it out and take it with you when you visit.
Narrow your search by community and region:

Is it gated or an open community?
Is the community within a community or a town that you have heard good things about?
Is it convenient for family and friends to visit?
How far is it to the nearest airport? Does the airport have reasonably priced flights?
What is the cost and is there a buy in fee?
Is it part of a regional/national chain or is it locally operated?
If it is part of a chain, is it a well respected name that you can trust?
Are there age restrictions at the community?
Is it a safe area that has a low crime rate? (use sites like Trulia, Neighborhood Scout and Crime Reports to check crime and safety records.)
What are the housing options and how will they fit your needs?
Is there a meal plan? Is it flexible? If so, what are dining facilities like?
Is it close to medical centers, shopping centers, restaurants, as well as other services?
Is it a continuing care community? Will other care levels be available like assisted living if it is needed?
Check reviews: What comments and reviews are from Area Agency on Aging, Caring.com, and the BBB?

Ask when you call:

Are you accepting new residents?

If not, is there a wait list? How long is the average waiting time? (Be aware that many people will join a wait list for several communities, so it may be shorter than it actually seems.)

What type of payments are accepted?
Are their transition process programs?
What services are included in the price?
What services are available for additional fees?

Ask when you visit:

About the Community:

How many rooms are available where you can visit with residents and family?
How extensive are the areas for outdoor activities, exercise and recreation?
Are the buildings and grounds well maintained, clean and spacious?
Are common spaces pleasant and appealing?
Is there covered parking? Is it an additional charge or free?
Is it easily accessed to public transportation?
Is the neighborhood quiet and pleasant?

About the living arrangements:

How are the views? Do the windows face a garden or green space?
Do the accommodations include a variety of housing options if you want to downsize?
Are pets allowed? If so, is there a limit on type of size?
Are there handicapped equipped apartments, if you may need them at some point?
Is there plenty of storage space or is additional storage provided?
Were you invited to look at various units that were available?
Are the homeowner rules about upkeep and decorating?
Are there homeowner's association membership fees?
Which maintenance issue are you responsible for and which are included in the apartment?
Are you allowed to have visitors at any time and overnight or is are there rules and a curfew?
Are you required to have renter's insurance?
Are housekeeping services available and what is the cost?

About cooking food:

Are visiting family and friends allowed to join you for meals?
Do the residents like the food?

About social life and activities:

Are there religious services in the community or nearby?
Is there a barber shop or beauty salon nearby or in the community?
Is there a gym or fitness center?
Is there a community center and how well is it equipped and large is it?
If you enjoy sports such as golf, tennis, or swimming is it offered?
What types of additional recreational facilities are offered?
Are there computer and media rooms available?
Are there evening events such as dances, movie nights, or music performances by groups?
Is there private dining or a community room available for large or family events?
Is there extensive but varied schedule of classes and activities including those that interest you?

About the Staff:

Is there an activity director or staff that is in charge of organizing and leading activities?
What is the staff turnover rate?
Are background checks done before staff is hired? If so, when and how?
How much training does the staff have?
Does the community work with an agency that provides in-home care if you need assistance in the future?

About medical care:

Is there a medical clinic or unit in the community?
What services are available from doctors, nurses, physical therapists, etc.?
Is the community affiliated with a nursing home or hospital if more care is needed?
Does the community work with an agency that will provide medical and nursing assistance if it is needed in the future?
Is the a LVN, CNA, or RN on staff?
Forms to ask for:

Copies of contracts, lease, etc.
Copy of the resident bill of rights
Copy of recent weekly menu of meals and snacks
Recent list of weekly activities and events
Copy of the most recent survey results from state inspectors
Keep Track Of Answers
Be sure to write down your answers as you go and keep a checklist for every community that you visit or are interested in. If you schedule a visit, it is wise to just drop in to see if the experience was just as nice. It may be a bad sign if you are not allowed to have an unscheduled visit. Once you have narrowed your selections down, you can schedule to do a few in-depth visits and dig much deeper for more information.
Independent Living Services in Arizona
If you are looking for the best independent living services in Arizona SLS Communities has 4 locations to serve seniors and their families.  Our staff understands the balance between offering assistance and respecting resident's independence.  Our communities are clean, well appointed, have loads of activities along with great amenities and well manicured landscaping.  Independent Living is offered with two floorplans that include kitchenettes, individual heat/AC, and private balcony or patio.
For more information please call 928-284-1021 or visit independent living services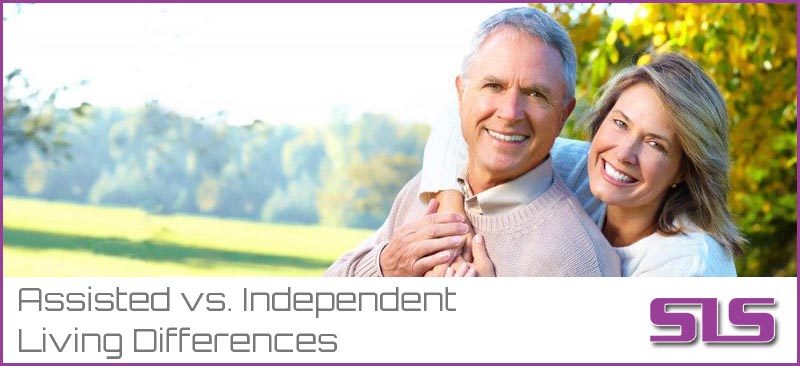 If you're searching for Assisted Living vs. Independent Living Differences this post will help you understand the benefits of both types of retirement living services. It can appear the difference between assisted living and independent living can be non-existent for people that are not familiar with the variety of nuances with care and housing options that are available for seniors. To choose the best possible living situation for seniors requires understanding what makes these two community types different.
Living Space Layouts
There is a range of housing arrangements that is encompassed by the independent category, from communities with apartment style structures, to housing co-ops. Typically, residents will live within their own space and have a space to gather, referred to as the common area. This allows socializing with other community members. Another terms for independent living include, active adult community, retirement community, senior apartments, retirement home, 55+ community, or Continuing Care Retirement Community (CCRC).
With assisted living, the general arrangement is apartment-style. Depending on the location, units may have full kitchens, but some may not. For assisted living communities which specialize in seniors that require memory care, security is usually increased, including added surveillance, ensuring doors are always locked, etc.). Also, cognitively impaired residents may not be allowed to have apartments with a kitchen, for safety reasons.
Amenities and care services
The goal of independent living communities is to enable residents to have an easier day-to-day routine. This enables seniors to remain independent for as long as possible. It is common for independent living to provide housekeeping and landscape services, security surveillance, meal preparation, and various other events and activities. However, the majority of independent living communities do not staff full time nursing or medical care providers. "The top advantage of an independent living community is receiving assistance with housekeeping and meal tasks, and a centralized hospitality service building for seniors to socialize" said Regina Wallace, Hebrew Home at Riverdale's director of independent senior apartments and assisted living program. Hebrew Home is an organization providing geriatric service in Riverdale, New York. "Within these type of communities, the focus is not really with hands-on care."
Assisted Living Details
The focus of assisted living is more aimed at assisting older adults that require help with certain activities, such as laundry, taking prescription medications, and bathing. These type of communities have round the clock staff, including some form of medical professional, often a certified nurse practitioner. In addition, some facilities have special units designed for memory care, for those with mild to moderate dementia. Although, assisted living communities do not offer an intensive amount of hands-on care that is required for seniors with physical or more serious mental ailments.
Shared Benefits of Both Retirement Community Types
Both assisted living and independent living communities offer scheduled recreation unique to specific facilities. Some of the more common activities include field trips, game nights, discussion and support groups, exercise classes, holiday celebrations, and continued education courses. In addition, transportation services are provided for shuttling residents to grocery stores, doctor appointments, and additional errands.
Ways to pay and other finical considerations
With independent living, rent is the primary cost for representing residents, according to Wallace. For seniors that live in Continuing Care Retirement Communities (CCRCs) or a community which providesspecialize recreational activities, such a private golf course, could have extra expenses, such as a joining or membership fee.
Assisted Living Finances
With assisted living communities, seniors that require special are that is not covered under the standard rent contract will have additional expenses if a professional caregiver must be hired for assisting the resident.
In addition to differences in the health-related level of help residents are offered, the largest disparity between assisted living and independent living is the access of finical resources that both seniors and families may use to help with covering cost of living within the communities.
Independent Living Finances
Because residents are not provided a medical care service in independent living communities, government healthcare programs, such as Medicaid or Medicare will not cover the expense. Rather, seniors have to use their Social Security, retirement savings, pension income, or other personal funds for paying the cost of independent living communities.
Meanwhile, with assisted living expenses, seniors may use personal funds and savings. Specific long-term care insurance, life settlements, Aid and Attendance benefits of Veteran's Administration, annuities and reverse mortgage funds can be used as well. Assisted living care coverage with Medicare is limited, typically only covering short-term stays, such as temporary illness or surgery recovery. Some financial assistance is offered by Medicaid as well, but guidelines vary between states.
Assisted Living & Independent Living in Arizona
If you or someone you know is considering the benefits of assisted or independent living the state of Arizona is one of the best places in the United States to do it.  SLS Communities has multiple locations in Arizona for assisted living and independent living in the state of Arizona.  Our communities are geared to be welcoming, friendly, and compassionate to residents living in any of our retirement living communities.
For more information about either assisted living or independent living
please contact us by calling 480-348-0300.
 The Choice of Retirement Home or Facility


When we have grown to a certain age, we find that the normal routines of our day to day life can become quite challenging. Maybe getting out and trying to socialize with others of your age has become more of a chore than it used to be. If you are feeling stranded and unable to commit to your usual lifestyle, maybe it is time for you are consider a retirement home or an independent living facility. It can be overwhelming to handle the stress of relocating your life, but this can be easily done by planning ahead and ensuring that you have the time to come to terms with the change so you can fully appreciate your new home while you maintain your independence.
Independent Living
Targeted at aiding individuals who are 55 years of age or older, independent living is, simply put, housing locations design specifically for seniors. These housing locations can vary from the apartment-style set or even freestanding homes. These arrangements are developed to ensure that older adults are met by an environment that is not only friendlier, but more convenient. Often compact, these environments require no yard work or maintenance, as well as being independently livable. These communities offer services, activities, and amenities, as well as social events and facilities. Often with recreation centers or clubhouses on site, you are able to participate in multiple group activities such as arts and crafts, movie nights, holiday gatherings, you are even able to find information on furthering your education. Some sites even offer onsite spas, golf courses, swimming pools, tennis courts, and more.
Even though these independent facilities are aimed for the older adults who need little to no help with assistance in their daily lives and activities, many sites do not offer a nursing staff or medical care. However, you are able to hire in home care as required separately.
Commonly Used Names For Independent Living:
Retirement communities

Active adult communities

Senior apartments

Congregate care

Senior housing

Continuing Care Retirement Community

Retirement homes
Different Types of Retirement and Independent Living Facilities
Ranging in cost and provided services, there are several types of independent living apartments and houses.
Subsidized/ Low-income Senior Housing – For older adults who are in need of low-income living in the U.S., the U.S. Department of Housing and Urban Development has subsidized senior housing complexes.
CCRs (Continuing Care Retirement Communities – CCRs is a wonderful option from older adults who are anticipating serious health problems in the future. These communities provide care from while allowing you to remain independent, as well as nursing home care in the general location. If it becomes a hassle to maintain your independence or your health begins to affect your ability to maintain your activities, you are able to relocate from independent to assisted living. With CCRC you are able to maintain your independence for as long as possible while only having to move once.
Retirement Communities/Homes – Often restricted to older adults 55 years of age or older, retirement communities are single-family homes, mobile homes, condominiums, townhouses, and duplexes that are grouped together for convenience in everyday living. With an option to buy, you are able to pay monthly in order to cover outside maintenance services, clubhouses, and recreational centers.
Congregate Care or Senior Apartments – These apartment-style complexes are age restricted for older adults 55+ whose rent can include the community services. These community services are meals served, transportation, and recreation programs.
Difference of independent Living Compared to Other Senior Housing
The main difference between independent living and the other senior housing options is the amount of assistance that is offered. Older individuals that require around the clock care with eating, using the toilet, dressing, or medical assistance would find more comfort in assisted living communities. To learn more, read Senior Housing Options.
Is the right choice independent living?
As an older adult, you may find that moving will cause you more stress and less independence. However, independent living is about creating more ease in your lifestyle while you keep your independence.
At a certain point, we have to acknowledge our limitations. Especially when it comes to managing the aspects of your current home. Accepting the assistance now could help you hold on to your independence longer. If you are unsure still as to whether or not independent living is right for you, ask yourself these four questions.
Is it easy for me to get around?
If you find it to be more difficult to drive, and you are currently residing in an area that requires you to drive in order to attend social activities, shop, and visit loved ones and friends. You may find yourself using public transportation or others in order to get around. Many independent facilities offer the social aspects of your peers, and in many cases enable you to enjoy activities.
Am I finding it more difficult to connect with friends and loved ones?
As previously stated, many facilities provide the ability to a social life. Through various activities, clubs, and some even help with transportation if needed. When you are alone, the more isolated you become, you are increasing the risk of depression and other mental health issues. Sometimes it is due to you not being able to get out of the house, maybe it is caused by those in your life being busy with work or other commitments. Though talking on the phone and online can be helpful with this, nothing will ever replace interacting with others in person.
Am I easily able to maintain my current home?
We find a great since of pride in managing our own home. For many individuals, they have worked their entire life for the home they live in. Many factors, however, can make that same home more of a burden than a blessing. Maybe the neighborhood isn't safe or convenient for you anymore, maybe your location makes it hard for you to access your house so you don't leave as often as you'd like. Maintaining rarely used spare rooms, cleaning bigger rooms, and isolation can become a burden that are only partially answered for by hiring outside help. Independent living facilities can offer more freedom, flexibility, and require less upkeep.
How is the health of me and my spouse?
Even if the health of you or your spouse is fine now, maybe you have a condition that will make it difficult down the line. In these situations, it is best to plan for the future carefully. Can one either of you full manage the daily activities of life such as showering, washing, eating, finances, or managing your own medications and doctor visits? If only minor assistance is something that you will require in the future, then independent living may be your best option.
Independent Living and Coping With the Move
Going through a transition such as moving can be hard on anyone, and despite everything that independent facilities can offer, sometimes making the choice to relocate is difficult. You could be feeling upset that you require a little help in your day to day life, or maybe you are scared to lose the memories you have had in your home. Though you are looking forward to the social arrangements and the possibility of companionship among your peers, you could still be feeling bad for losing your home, and a neighborhood you are familiar with.
It can feel like you are giving your whole life up, which in turn will make you feel anxious or vulnerable, so it is important to acknowledge these emotions that you are experiencing. You should reach out to someone trust, sympathetic, and close to you and talk about it, or maybe share these feelings with a counselor or therapist. You are not in this by yourself, many of us with require help over the age of 60, there is nothing shameful about requiring aid.
We all experience the times of aging and change, but it is important that we recognize our past and get comfortable with the idea of moving to a new life. Moving into a facility such as these, for older adults, can create that new life full of wonderful chances, new friends, and exploring new interests.
Tips for Making the Transition Easier
Though it can feel overwhelming in the beginning, adjusting to your new home can mean meeting new neighbors, enjoying new activities, and experiencing a new chapter of life. Knowing the stress that can be created by this, there are some actions you can take to help make this move manageable to your wellness.
Decorating – Make room for your important possessions, hang familiar pictures and portraits, maybe even paint the walls to a comforting color.
Socialize – Though the comfort of sheltering yourself into your new home may seem to be the best option in the beginning, it helps to get out and socialize sooner. You find that your comfort will more quickly be met by participating in activities and exploring what your independent facility can offer.
Cope Appropriately – Every individual takes on the stress of life differently, however, no matter what you are feeling it is best to remember that it will be okay. If you feel that you are taking longer than you should to come to terms, it may be beneficial to you to approach your family, friends, or a therapist with your concerns.
Pack in Advance – Make sure you give yourself plenty of time to go through your possessions in order to know what you want to take and what you should discard. Don't make those last minute choices that you may regret in the future.
Don't be ill-informed – Make sure you have no standing questions about your independent facility. Do your research thoroughly and ask questions before you move to make sure that this is the right option for you.
Choosing Independent Living Facilities
The reasons older adults chose their facilities are differing, but it is best to choose a facility that suites your lifestyle and situation. If you feel it may be difficult to cook in the future, but you enjoy doing it while able, look for a facility that offers communal meals. If you are driven by exercise, consider a facility with a gym, pool, or fitness class you can attend.
When you visit a facility, consider a few thoughts prior to making your choice:
Accessibility – Is it comfortable to you to come and go to your facility at all times of the day. Are you able to easily travel between the outside facilities, or do you need transportation to get around? Do you find it easy to visit places you frequent such as medical facilities, library, or learning centers? Are you able to envision future changes? In your potential housing unit, do you see yourself having any issues with stairs inside or out in the future? Will ramps be needed, or able to be added? Are pets welcome if you own any?
The People – No matter how comfortable you feel with the accommodations you are met with of your potential unit and facility, you should socialize on your visit with the residents. Find out if you would like to get to know these people more. Is the staff around the facility welcoming, and support services in a timely manner? Sit in for a meal if able and spend time interacting.
Activities – One of the advantages to independent living facilities is the option of activities that can be presented. So when you are choosing the right facility for yourself, make sure your favorite activities are available to you, as well as finding interest in some offered activities on site.
Community Size and Location – There are variations of sizes when it comes to independent communities, so it falls on you to make sure that you are comfortable with the one you choose. Are you wanting a larger, more active community? Would you prefer apartment-style or detached housing?
The location is also important, as many popular retirement communities in the United States are located in warmer regions such as Florida or California. However, the downside to these locations is possibly moving long distances away from family and friends.
Support for your Loved One During the Transition
Though any major move can be stressful for older adults, it can be even harder when faced with the fear of unfamiliarity. It is important to communicate and support your loved one during this transition. Make sure they know what to expect in their new living facility or retirement home.
Be Aware of Their Feelings – There will always be some feelings of loss or uncertainty will always affect your loved one, even in the best of situations. Make sure you show empathy to their feelings, and respect them. Give them the time needed to adjust.
Call/ Visit When You Are Able – Makes sure that after your loved one has moved to their new independent living facility, or home, that you call and visit them as much as you can. It normally takes up to 90 days to fully acclimate to a new home, so make sure that in these first three months they know that you are thinking of them and love them. Make sure that you continue to include them in family events, but encourage them to find social experiences in their neighborhood.
Work it Through together – There may be many concerns when it comes to moving, or picking certain facilities, so make sure that you offer your support and opinion when your loved one is looking for the one that is right for them. Take their concerns seriously, and make sure they are getting the answers that they need.
Make Sure Your Loved One is Involved – Sometimes the best way to deal with the stressors that moving is control. So make sure that when you are helping a loved one plan to move to an independent facility, you include them and let them make decisions that are vital to the move. This helps prepare them mentally for the move while reducing stress.
Costs of Retirement and Independent Living
When it comes to independent living, the average monthly costs can range from around $1,500 to $3,500 in the U.S. Make sure that as you consider independent living, you are budgeting estimated costs while accounting for medical and other expenses.
Medicare does not cover independent living costs, and though some insurance may help contribute to the cost, most people find themselves using their savings, pensions, and the sale of their possessions or previous homes to help cover these costs. Some Things to keep in mind when making these budget plans are:
It's best to plan ahead for subsidized housing, the waiting lists can be several years in some situations.
Make sure that you consider the costs of initial investments and monthly fees to your new facility. Make sure you will be able to comfortably afford these as well as considering the services included and the costs to add on any services you may need in the future.
When you consider CCRCs, it is important to know that these generally require large entrance fees. These fees cover some of the associated costs for higher levels of care. Residents then are required to pay rent monthly, which will increase with care level.
Stay Tuned for more from the caregivers at SLS Senior Living Services.