Best Places To Retire In Arizona 2018-2019

If you are searching for the best places to retire in Arizona for 2018-2019, this guide should help! Furthermore, SLS Communities has great retirement locations in many exciting areas of Arizona. Thousands of retirees flock to Arizona each year to enjoy the moderate climate, escape the snow, and enjoy a state that has dedicated communities, towns, and cities for retirement age Americans.
We have found a wide variety of places for you to look at when considering your retirement options in Arizona. This list contains something for every senior. If you are looking for a suburban location close to all the major conveniences and facilities we've got you covered. But if you are after a more rural, country setting, where you can enjoy the great outdoors in peace, we have options for you too!
Our list looks at a number of factors, the kind of community it is, does it have a diverse population or is it more senior oriented, what is it like to live there, what can you do when you live there, how close is it to amenities and so on.
In short, we hope it will give you a snapshot of what these places will be like should you choose to live there.
Sun City
An exciting and vibrant planned retirement community just west of Phoenix, Sun City has the reputation of being perhaps the most senior oriented city in the state. It features great stores, from the well-known chains to small boutiques, a wide array of medical professionals and facilities geared for the senior. Also, in many areas licensed golf carts can travel on roads! With nearly three-quarters of the city being of senior age or above, you will feel right at home with many social clubs and sports like pickleball, bowling and golf.
Sun City West
Sun City West has grown quickly and established itself as one of the top 25 places in the nation to retire too and with good reason! Like Sun City, it was planned and built with the senior in mind. Although not quite as large as Sun City itself, it combines a cozy feel with easy access to everything in Sun City. Not that you will run out of things to do in Sun City West that offers a wide variety of sports and lots of different social clubs for various interests.
Peoria
Situated in the northern suburbs of the Phoenix metropolitan area, the popularity of Peoria continues to grow every year with seniors looking for a place to live close to all the major amenities and convenience of a major city (it's only 11 miles from Phoenix Sky Harbor Airport.) It's surrounded by some of the most beautiful desert mountain landscape in the nation. With an average low in winter of 55 degrees and an average summer high of 95 degrees, it is an ideal climate for many seniors looking to relocate!
Tucson
With a population of just over half a million, Tucson continues to grow and is a great option for seniors wanting to be part of bustling city life. The city itself is a combo of the very modern and old western charm and flavor. With over 300 days of sunshine per year, it is a favorite with outdoor lovers. The city is a popular destination for lovers of the arts with many theatres and galleries and if you are looking to for a city where you can enjoy the company of younger people, it is home to the University of Arizona!
Nogales
Situated on the Arizona-Mexico border, Nogales is blessed with a cooler summer climate that most of Arizona. An average daily high of just 77 degrees makes it ideal for seniors looking for a more temperate climate. It is a favorite place for walkers and hikers as the trails are not as extreme as other areas in the state. Being a border town, it will help if you can speak Spanish or be familiar with Mexican culture to take full of advantage of what Nogales has to offer.
Prescott
One of the most historic towns in Arizona, Prescott, less than two hours from Phoenix, yet at an elevation of nearly 5500 feet has maintained its small town feel despite a population of around 40,000. Whiskey Row (the main strip for nightlife) dates to frontier times. Increasingly popular with baby boomers, Prescott offers a cooler climate than Phoenix with older even historic, housing available downtown and modern retirement complexes available on the outskirts.
Yuma
Yuma is known as just about the sunniest and driest spot in the USA. They get less than three inches of rain per year and over 330 days of sunshine! The city predates the 1849 California Gold Rush and much of the architecture of the city reflects that era. Lying on the banks of the Colorado River, Yuma has long been a US Army base and today still has a strong military community. Many seniors love Yuma as the cost of living is reasonable and there are many top-notch RV and mobile home communities.
Prescott Valley
Prescott Valley is the younger brother of Prescott. A planned community originating in the 1960's it has now expanded and virtually joined at the hip with Prescott as suburbs creep ever closer to each other. It is slightly cheaper than Prescott for seniors to live, especially as you go further east towards Humboldt-Dewey and Mayer, but with most local amenities still in Prescott, a car is essential. Prescott Valley is very senior friendly with many activities and groups to interest the senior.
Litchfield Park
Located in the western suburbs of Phoenix, this small community (less than 6000) has an increasing senior population and may be ideal for seniors looking to permanently relocate to Arizona. Most people in Litchfield Park own their home and the community is known for embracing traditional American values. With an air force base near by, it has a patriotic vibe. Although local senior oriented amenities are fewer, everything is just a short car ride away in Phoenix.
Scottsdale
One of the wealthiest cities in the country for its size, Scottsdale is home to many rotating arts festivals and fashion shows throughout the year and many seniors call the place home. It is also home to many private golf and country club communities, as well as being the home of The Phoenix Open (now sponsored by Waste Management.) Scottsdale is also home to many corporations and small businesses. Scottsdale is not the most affordable area in Arizona but has a lot to offer if it is within your budget.
Mesa
Situated in the heart of the east valley, the growing population of Mesa (fast approaching 500,000) has made it one of the most diverse and affordable cities in Arizona with a wide range of housing options and communities for nearly every taste. Seniors enjoy having access to shopping close by from the major brand stores to independent small businesses, as well as access to nearly all forms of medical care. Mesa is a diverse community, upbeat and friendly, therefore welcoming to the active senior.
Florence
East of the east valley and nearly 60 miles from Phoenix, the city of Florence situated along US Route 60 is gradually becoming a more popular destination with seniors. A low cost of living is slightly offset by the fact you will have to drive to Apache Junction and Mesa for major grocery and big box stores. There is also a lack of dining options in the area. That said, the Sonoran Desert views are spectacular, and it is a few degrees cooler than the phoenix metro area.
Sierra Vista
Sierra Vista enjoys a great year round climate and the cost of living is below average for Arizona!. Of course, being the hummingbird capital of the United States, if birdwatching is one of your hobbies then you are going to find joy in being surrounded by all sorts of birds that are not common in other areas of Arizona.
The closest airport is a 68-mile drive, but it's still closer than some other locations on the list. But, to balance things out, there are many things to keep busy with. In warmer months, the Sierra Vista Aquatic Center is available for locals, which is known as The Cove by many. There are also the therapy spas, lap pools, and wave pool available.
Kingman
With just over a population of 28,000, Kingman offers many amenities for being a smaller place. This is the location of the International Route 66 Festival, which is an event that lasts four days with a parade, car show, and much more. Also, just off the historic road is The Roadrunner Café, which continues to provide great breakfasts to locals and travelers.
Although, if you are interest in traveling by airport, you will have a 102-mile road trip ahead of you, which will likely take you down the historic route.
Sahuarita
Just outside Tucson, Sahuarita is one of the fastest growing cities in Arizona. With Tucson only twenty minutes away there are plenty of great dining and shopping options as well as medical professionals and facilities available for the active senior.
It is ranked as one of the safest cities in Arizona and there are many festivals and attractions for fun, including the annual Fiesta Sahuarita. Because Sahuarita has a high standard of life and a rapidly increasing population the cost of living is increasing but there are no property taxes.  There are not as many retiree specific amenities as some cities but there are plenty of parks and over 17 miles of local trails.
Green Valley
Green Valley is one of the most affordable senior friendly cities in Southern Arizona. Situated just 20 miles south of Tucson, over 80% of the community is age restricted and golf carts are legal to be driven on the streets. It is becoming very popular with active seniors because there are more than a dozen recreation centers, golf courses, swimming pools, fitness centers and a thriving arts and entertainment community.
A big reason for Green Valley's increased popularity is the climate. The average year round temperature is just under 69 degrees Fahrenheit. The dry warm climate is also popular for those with arthritis. With Tucson less than a half hour drive away, there are plenty of shopping choices and medical options within easy reach.
Cave Creek
Situated in far northern suburbs of Phoenix, Cave Creek, at an elevation of just over 2200 feet is increasingly popular with seniors. People have lived in the area for over 1400 years but Cave Creek came of age in the 1950's and 60's and still has a lot of the post WW2 charm with a big helping of old west architecture and street lay outs. Seniors are moving to the Cave Creek area as it is slightly cooler than Phoenix, the landscape is more of a lush desert with beautiful views of Black Mountain. The cost of living is slightly less than Phoenix, too!
All the conveniences of the big city are just a short drive away. With low crime rates and great dining options, Cave Creek will only continue to grow in popularity.
Paradise Valley
Paradise Valley is truly one of the most luxurious but also most expensive places to retire to in Arizona. The average property price is pushing $1.5 million dollars and the average household income is approaching $200,000 per annum. There are twelve very upscale resorts in Paradise Valley offering fine dining, spas and golf. High end shopping abounds in Paradise Valley an nearby Scottsdale. With phoenix close by, Paradise Valley is also a hub for arts and entertainment and the wealthy local population ensures all kinds of medical doctors are available.
It is also very warm indeed. With temperatures often over 100 degrees for extended periods during the day in summer time and goes down to an average of 54 in January. Crime rates are about half the national average meaning it is a very safe place to live.
Cottonwood
Cottonwood is a small town located in Central Arizona, the scenery is pretty and it is geared more for the outdoor country lifestyle than towns and cities in more suburban areas. Traditional it its outlook, Cottonwood is probably best suited to independent seniors. Although it is a small town (population under 13,000) the nearby Verde Valley Medical Center is an award winning facility.
Cottonwood has the advantage of being very walk able, though temperatures often top 100 degrees in summer time. There are lots of activities geared for seniors however and plenty of music options and festivals throughout the year. The largest city of note is Prescott, nearly 60 miles away so there will be a bit of a drive if you want certain shopping options.
Golden Valley
In the heart of Mohave County, Golden Valley is a quiet town but close enough to the cities of Kingman and Bullhead City to have everything the senior needs within a short drive. It is a very affordable place to live with average house prices less than $125,000. The temperatures in winter are mild and in the summer time somewhere between the mid 70's and mid 90's with the occasional high in excess of 100 degrees.
Golden Valley is situated in the desert and there are still plenty of undeveloped areas in the city and its surroundings. if you are looking to buy land and develop it, Golden Valley is definitely worth checking out. It is definitely a place for the active senior who enjoys rural life and is not dependent on having large shopping, dining and medical facilities on their doorstep.
Locations That Still Need Enriching
Each cactus has barbs of its own, and Arizona provided some among these great havens for retirees. El Mirage was ranked at the bottom of the list, with very poor scores in both weather and amenities, with an average summer temperature of 95 degrees. Trailing close behind was Marana, with few amenities for retirees, and a higher crime rate. While Avondale is a pretty location, it also came in the bottom of the list due to extreme summer temperatures and the crime rate.
With these locations aside, there is a lot that Arizona has to offer. For those that are seeking adventure or simply wanting to relax on the pool side, this state is able to shine some light on your golden years.

SLS Retirement Communities
We have 4 locations open and another location under construction in the state of Arizona which offer a variety of services and living arrangements. From independent living to fully assisted living we compliment our services with highly sought after amenities including memory care.  See below for the locations we currently have available.
Best Retirement Communities In Arizona 2018-2019
If you are searching for the best retirement communities in Arizona for 2018-2019, this guide should help! Furthermore, SLS Communities has great retirement locations in many exciting areas of Arizona. Thousands of retirees flock to Arizona each year to enjoy the moderate climate, escape the snow, and enjoy a state that has dedicated communities, towns, and cities for retirement age Americans.

SLS Retirement Communities
We have 4 locations open and another location under construction in the state of Arizona which offer a variety of services and living arrangements. From independent living to fully assisted living we compliment our services with highly sought after amenities including memory care.  See below for the locations we currently have available.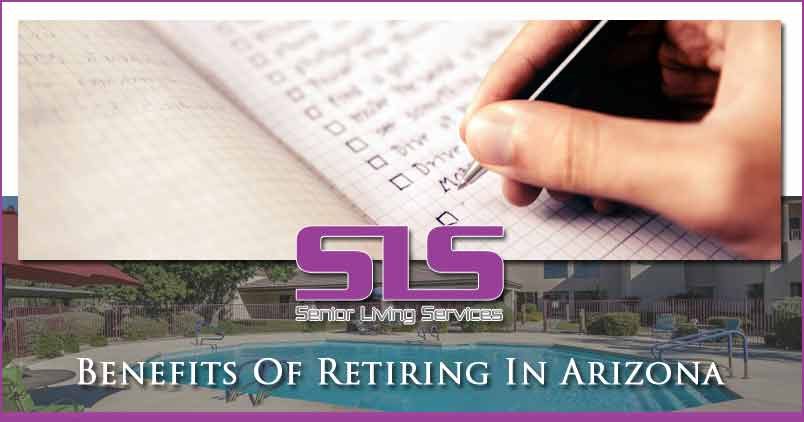 There is a good reason why for years now Arizona has been one of the most popular retirement spots. In fact, developed more than fifty years ago was the very first of its kind in the United States, an Active Adult Community which is located in Sun City, Arizona. It is more than obvious why people are choosing Arizona for their retirement years. It's not just for all the days of abundant sun it offers, or all the golf courses.  Read about some of the benefits of retiring in Arizona discover how it could be the right place for you.
One of the main reasons for choosing Arizona to retire in would be for the benefits of not being taxed on your Social Security checks by the state. Those who live on a fixed income understands the importance of making it go as far as they can, just as they know it is always better when taxes are in their favor. Arizona is wonderful for retiree's, it is a tax friendly state and they are not going to tax your Social Security Benefits, which is significant these days. Approximately half of the states within the United States do tax your Social Security Benefits.
1. Breathtaking National & State Parks
As the home of the Grand Canyon National Park, Arizona welcomes the world to one of the natural wonders.  Living in Arizona puts this amazing sight only hours away or closer depending on where you decide to live in Arizona.
Red Rock State Park which is near Sedona, AZ is a favorite for residents of the state and more.  It's a mecca for riding horses, hiking, and riding bicycles.  Surrounded by incredible red rock formations it's chalked full of history and beautiful sights.
Something not many know is that the Original London Bridge, direct from London, England was moved to Lake Havasu City, Arizona. Now how neat is that?
2. Inexhaustible Recreational Opportunities
Arizona has many outdoor activities to offer, such as hang gliding across the desert, skiing is available in Flagstaff, enjoyment of fishing up and down the Colorado River, and white water rafting.
You can have the great outdoors right in your backyard. With an abundance of wildlife, you will be able to view snakes, coyotes, javelinas (which is similar to a furry pig), roadrunners, and bobcats.
3. Championship Golf Courses
If you love to golf, you will love Arizona.  As one of the world's premier golf destinations there are over 300 golf courses in the state.  With both target courses and traditional links the state is studded with courses in attractive locations such as Scottsdale, Phoenix, Tucson, Sedona, and many more.
As the epicenter of desert golf, Arizona's Grand Canyon consists of more than seventy public golf courses and all of them are highly ranked, attracting golf enthusiasts by the millions.  
4. Excellent Equestrian Events
Back in 1955 is when Scottsdale began their Scottsdale Arabian Horse Show, which features more than 2,000 of the most beautiful Arabian horses in the world. Hundreds of thousands of people come from all around world to watch owners, breeders, and trainers that come from around the globe to compete. Where you can visit 300 different vendors and booths that are showcasing foods, having demonstrations, and various seminars.
The oldest rodeo in the world since 1888 is located in Prescott, Arizona. For those who would like to give bull riding a go or would enjoy just watching others at it.
5. Lifestyle & Affordable Housing
There is a city to fit style in Arizona. There's Phoenix, which highly livable and yet stays affordable city; Sedona, is considered to be your spiritual haven, with a visual miracle; Flagstaff, located at a higher elevation the rest of the state, making it cooler, the scenery is so beautiful that it attracts those outdoor enthusiasts, and it offers more of a liberal contingency, and it is also located close enough to Phoenix for those who would like to get away to a big city now and then.  
Housing in Arizona is affordable. The median value of a home in Arizona, according to the most up to date data, is only a little more than $178,000.00, with the median or rentals being $1,050.00. Also, there is the extra benefit of lower heating cost. Keep in mind that it is a lot cheaper to keep a house cooled down than it is to heat one.
This one's a winner! Arizona does not tax your Social Security Benefits, and there will not be any inheritance tax, estate tax, or gift taxes.
6. Incredible Sunny Weather
Arizona offers a lot of sunshine and terrific weather. In the winter the temperatures are around the same temperatures the southeast has in the summer months, only without the humidity. Arizona's average rainfall ranges from under three inches (in deserts) and in the mountains to over thirty inches yearly. Where you can find both dry and sunny days, with the nights generally being cooler. The major cities in Arizona will have more than two-hundred and fifty days of sunshine throughout the year. Flagstaff is one of the towns which offer cooler weather, for those who prefer change-ups in their weather.
The majority of Arizona will not have any snow for you to have to shovel.
Arizona is the place to be if you are one of the millions who are tormented by allergies. This is due to the dry climate and air it can offer what the rest of the country cannot, which is allergy relief.
7. Delicious Restaurants & Festivals
Created in Tucson, Arizona is the 'Sonoran Hot Dog', which is considered to be a special culinary treat and it is unique in Arizona. This treat is basically a hot dog that is wrapped up with bacon and then serve on a toasty like white bun. It is then layered with pinto beans, onions, mustard, mayo, chopped tomatoes, and jalapenos.
One of the United States longest running culinary festivals is the Scottsdale Culinary Festival and it attracts more than thirty-five thousand visitors every year. This six-day festival showcases restaurants, micro brews, gourmet foods, celebrity chefs, and fine wines.
One of the top events in Arizona is the Arizona State Fair, attracting more than a million people to the state of Arizona to be at the concerts, and watch the races, enjoy rodeos, view the livestock, and to checkout numerous food booths.
Arizona has many unique foods to offer, such as mesquite honey, prickly pear margaritas, and cactus jelly. The majority of Arizona will not consist of shoveling snow.
Tucson, Arizona has something to offer those wanting to go back in time, to their roots in the 1960's, which is the Tucson Folk festival. This festival attracts over ten-thousand lovers of folk music and it happens to be one of the top United States folk festivals, it offers over twenty hours of free live music featuring bluegrass, old country, western, and Irish music.
8. Music & Cultural Events
More than twenty Native American tribes in Arizona are represented, and Arizona represents the most percentage in the United States to have land designated to the Indians, and is referred to as the Indian Lands.
Phoenix, Arizona is the home of rock star 'Alice Cooper'.
These are just some of the reasons people love retiring in Arizona.  Share with us the reasons you've loved visiting Arizona or why you love living in the state!  If your considering retiring in Arizona don't forget to check out the senior living services we provide.  In addition to assisted living we offer independent living, memory care, and home care services in the state of Arizona.  All of our service are rendered by the highest trained and skilled senior care providers whether at one of our locations or in senior's own homes.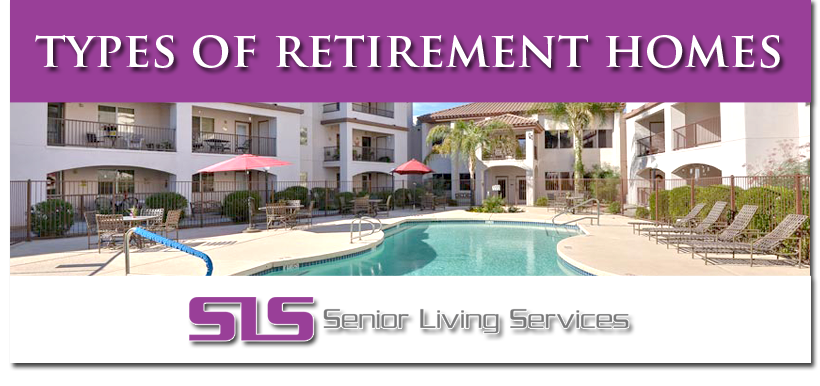 If you're searching for retirement housing options or types of retirement homes, this post is for you.  SLS specializes in providing retirement living options such as assisted living, independent living, memory care and home care. "types of retirement homes", "types of senior living facilities", or "types of retirement communities" or "retirement homes for seniors" while looking to find out which type of senior living community is right for you? If the answer is yes, this guide should help create a clearer picture of all of the different types and explain more about each.
Assisted Living – Independent Living – Memory Care – Home Care
There are a lot of retirement community living options out there, it is okay to feel overwhelmed and confused about the types and styles of care for a senior living community. It is important that you learn terminology and the differences of the senior care solutions so that you can make a good choice for your loved one. When you start your search, use this guide to learn about the various types of housing options available in the United States.
Assisted Living
Assisted living communities are for seniors who cannot live on their own safely, but do not need as much care needed for a nursing home. They receive assistance with medications, daily living activities, housekeeping and meals. There are 3 meals a day provided in a central dining room. Residents have private apartments that have a limited kitchen area. Staff is available 24/7 for additional safety. Many assisted living communities have licensed nursing services. The hours will vary, so be sure to ask about them when you visit. Scheduled transportation and social activities are available as well. There are sometimes a special unity for those with Alzheimer's but not in all communities
Also called:
Personal care home
Assisted care community
Payment:
Some take Medicaid
Mostly private pay
Price:
$2800 to $4500 for Alzheimer's care shared suite
$2500 to $4000 monthly depending on apartment size and assistance level
Find Assisted Living Facilities In Arizona
Independent Living Communities
Senior independent living communities are for seniors who are still independent with few medical problems. Residents will live in a fully equipped private apartment.
There are a variety of apartment sizes from 2 bedrooms to studio apartments. Fine dining services are also offered with a custom designed meal package. Often times, a resident can choose to pay for a certain number of meals daily. There are also frequent social outings and events for entertainment.
These are called:
Continuing care retirement community
Senior apartments
55+ Communities
Retirement villages
Congregate care
Retirement communities
Payment:
Some government funding through Section 202
Mostly Private Pay
Price range:
Find Independent Living Facilities in Arizona
Nursing Homes
Nursing homes have 24/7 skilled nursing care for the elderly who need high levels of medical assistance. 24 hour nursing services are available from a licensed nurse. Most nursing homes do provide short-term rehab stays for those who are recovering from surgery, injury, or illness. Long-term care will have high level care needs and complex medical issues that need routine nursing services. Residents will share rooms and are served meals in a central dining room unless they are too ill. There are also activities and some nursing homes have a special unit for those with Alzheimer's.
Also called:
Long term care facility
Skilled nursing center
Nursing center
Convalescent care
Payment:
Medicaid
Private Pay
Medicare
Price:
Alzheimer's Care
There are plenty of housing options for those with Alzheimer's or dementia. For those who are memory impaired, it is vital that they have 24/7 care and structured activities to ensure quality of life and safety. Many will try to care for their family at home, but it is hard given the skills that are needed to care for those with memory issues.
If you need a care community, you need to understand that Alzheimer's care is done in assisted living, as well as personal care homes, and nursing homes. Normally, the residents will have a semi-private apartment and structured activities provided by trained staff. Many of these environments will have locked or secured areas that ensure that no one wanders off. Most times within these secured areas, residents will have access to gardens and walking paths.
Also called:
Dementia Care
Memory Care
Payment:
Price:
Find Memory Care Facilities in Arizona
Residential Care Home
Residential care homes are private homes that serve residents that live together and get home from live-in caretakers. These homes have assisted care services for those who want a home like community and privacy. Assistance with daily living like dressing and bathing are provided. The nursing services and amenities will vary. Ask about their services when you visit.
Also Called:
Adult family home
Board and care home
Group home
Payment:
Price:
$1500 to $3000 monthly depending on care level and services
Find Senior Living Home Care in Arizona
Respite Care
Respite care is a place that gives caregivers a break by allowing the resident to have a short-term stay in the community that will meet their needs. Most assisted living communities and nursing homes have respite care. The resident can stay from a week to over a month depending on the situation. They will receive the services that the community offers. Respite care stays are also a good way for the elderly to get acquainted with their new residence. Most residents find that they enjoyed their stay and are willing to move in after their visit. Respite programs are also available for Alzheimer's and assisted living residents.
Also called:
Adult day care
Short-term stay programs
Payment:
Price:
Home Care
Home care will allow the elderly to stay in their home while receiving assistance that is needed to help them to stay independent. Normally, home care involves assistance with daily living activities like dressing, bathing, and meals or instrumental daily activities like making appointments, transportation, paying bills or just being there for companionship and emotional support. Home care services range from once a week to 24 hours daily depending on needs.
Also called:
In-home personal care
Home health care
Home care aide
Payment:
Medicaid/Medicare via certified home health agencies
Private Pay
Price:
Senior Housing Options Comparison
The graphic will help lay out the approximate costs for each different type of senior care and living services.  Families can use this information to better plan for their needs.  It details approximate costs, types of services included, and whether each type of care includes things like medication management, personal care, transportation, and much more.  Knowing the needs of each senior helps pick the best level of care that fits their preferences and care level.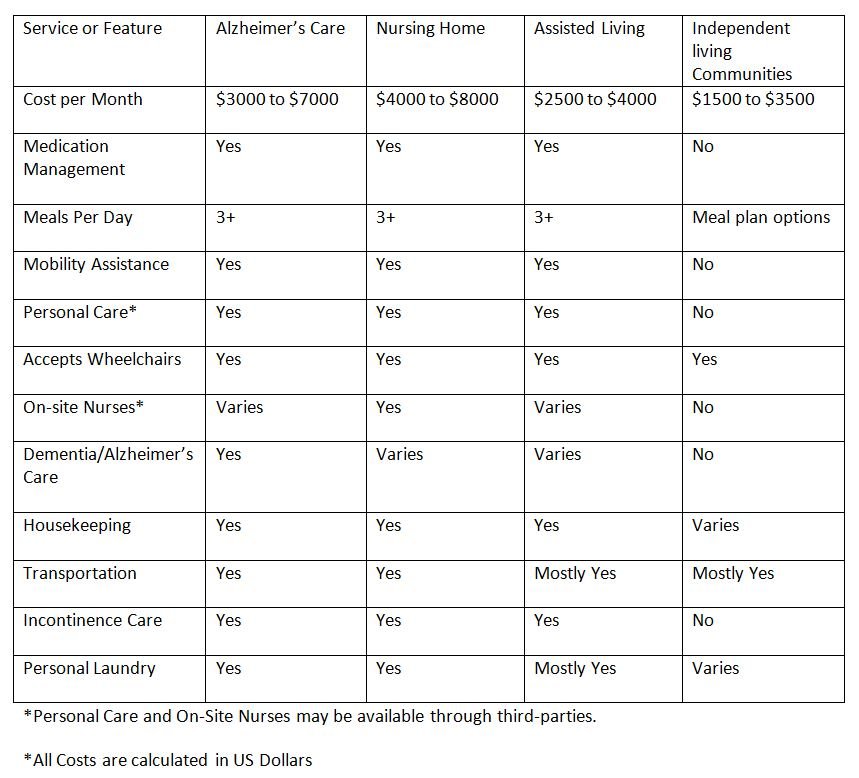 How To Find A Retirement Community
As you or a loved on is getting ready to retire it's a good time to start considering your living arrangements during retirement.  Retirement communities are fast becoming a hot spot for active retirement lifestyles for seniors of all levels of independence and health.  While traditionally retirement homes were just for seniors that needed care active retirees are joining them as the benefits go far beyond help with medications and care.  One of the most popular reason seniors are flocking to retirement communities is to stay active, stay social, and avoid becoming isolated.
Look For Resort Style Living
Retirement communities are not nursing homes and can be fun vibrant places to live.  Look for retirement communities that have amenities such as on-site hair salons, hot tubs, pools, restaurants, or craft rooms that allow you to explore your artistic side.  This makes it so your new home feels like a never ending vacation.
Look For Lifestyle
The best communities are those that give you the same freedom as you have at home.  If you have a dog or a cat you'll want to make sure the community you choose is pet friendly.  Another consideration is if you'll have the ability to have a child, grandchild, or other family member move in for more than just a few weeks.  There are also considerations for things like having plants, a garden, or even an outdoor grill on your balcony or patio.  Carefully consider what hobbies and activities you love that you'll want to keep doing at your retirement community.
Look For Actives & Recreation
In addition to having built in social interaction look to make sure your retirement community has activities and plenty of recreation close by.  The retirement community you choose should have a calendar of events, activities, and even some crafts.  In addition you'll want to make sure your favorite types of recreation are close by.  If that means you're near a golf course or a bowling alley make sure there's one nearby.
Look For Good Weather
As we retire most of us aren't excited about shoveling feet of snow all winter long.  Many seniors are moving to retirement communities in warmer states such as Arizona.  With great retirement communities in picturesque locations such as Sedona, Mesa, Peoria, Youngtown, and Surprise, AZ seniors are spoiled for choice.
Look For Hospitals & Medical Care
Quality medical care and access to emergency services is a must for all of us no matter our age.  For seniors it's a good plan to choose a retirement community that's near good doctors, clinics, and hospitals.  This makes the travel time less to go and come back from appointments and eases worry about where to go if you need some help.  If you have a need of specialist doctors you'll want to make sure some are nearby your new retirement community home.
Look For Continuing Care
While many retirement age adults have no need for services such as assisted living or memory care knowing the community offers them is a benefit.  Making the transition when or if the need arises is more simple if your community offers the more skilled levels of care and nursing.  While you likely don't need it now planning for the future makes it more simple and less stressful should it become helpful.
Arizona Retirement Homes
If you are already searching for retirement homes in Arizona you clearly already know that Arizona most likely the best place to retire in the United States.  SLS Communities has multiple locations in the state of Arizona which offer Independent Living, Assisted Living, Memory Care, and Home Care Services.  All services are custom tailored to each resident to meet their needs and respect their independence.  Our staff strives to provide the most welcoming and compassionate senior care services anywhere.  When you or a loved one is looking for a place to retire, consider SLS Senior Living Services in Arizona. For more information or to schedule a visit at one of our locations please call 480-348-0300.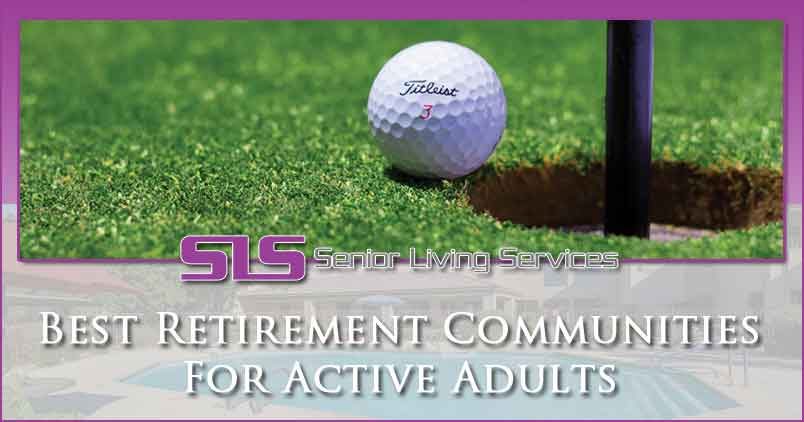 The best retirement communities for active adults have great floor plans, a strong sense of community, wide variety of activities, and easy access to entertainment, medical care, and recreation.
---
As an active adult you're looking to stay active but also enjoy a low maintenance lifestyle.
Independent living communities are the perfect solution for many active seniors.
In this post we will explore what you should expect and how to choose the right community.
---
Best Retirement Communities Include
The very best retirement communities for active adults have some hallmarks which you should watch for.  Ensuring there are these things will help you find a place that you fit into and can stay active.
Active Adult Communities Should:
Have plenty of activities to choose from to get out the door and get moving.
The apartments and floorplans should be laid out well and comfortable.
Foster a sense of community that's very strong and draws seniors into the fun.
The location is a reasonable distance to entertainment, recreation, and medical care.
The community provides you with a low maintenance lifestyle to free up time for fun.
The best options are those that include resort options like pools, theaters, and more.
Some prefer communities that are 55 and older while others like a mix of ages.
These are the key things to consider when visiting retirement communities.  Ensuring they have these thing will help you choose a place you'll love to live in and stay active.
Selecting The Best Retirement Community
Retirement communities dot the map and exist in every region of the country.  Some active seniors want to have more days of sun and warmth a year and head south to places like Florida and Arizona.  These warmer places give seniors a snow free winter that's got loads of days for outdoor activities.  The first step is to decide which region of the world you'll be most comfortable and get as many days of fair weather to bike, golf, kayak, or any active outdoor activity.
Keep in mind your favorite activities and ensure that the community you choose is close to places you can stay active.  If you're an avid cyclist you'll want plenty of roads or trails which are bike friendly.
Bike Trails, Golf & Entertainment
The Phoenix Valley is full of amazing opportunities for cyclists, golfers, and entertainment for any taste.  Parks are full of bike lanes and well-manicured landscaping.  And with nearly 300 days of sunny weather it is a haven for the golfer.  The valley is packed with world class golf courses and driving ranges.
When it comes to entertainment in the state of Arizona, you'll be spoiled.  There are many movie theaters, art galleries, sporting events, and other culture events and museums.
With this variety of options for active adults there's no surprise that Arizona is quickly becoming America's favorite retirement destination!
Tour Active Adult Retirement Communities
The best way to judge if you'll love a retirement community is to visit it!  Taste the food, walk around the property, get a feel for what is close by that you'll enjoy seeing and doing.  While you can narrow down some of your options online the best way to get a feel for community is face to face.  Consider a few of the following active adult retirement communities below.
1.      Canyon Winds
Located in the vibrant and active city of Mesa, Arizona; Canyon Winds Retirement Community is the newest and one of the most exciting opportunities for active seniors.  The upscale retirement living community offers independent living that fits the needs of the most active seniors.  With resort style dining, spacious apartments, a fitness center, theater room, swimming pool, spa, and housekeeping services you'll have plenty of activity while staff sees to your cooking, cleaning, and laundry.
2.      Sedona Winds
Nestled in the mountains of Arizona Sedona Winds Retirement Community is one of the premier locations for active adults to enjoy retirement. In addition to stunning views of wildlife and nature Sedona Winds is close to cultural centers, medical offices, golf courses, restaurants, shopping and much more!  Your independent living apartment is outfitted with a full kitchen, balcony or private patio, and there's a hair salon, barber shop, heated pool, and much more.
3.      Chaparral Winds
With many golf courses close by, loads of shops, and plenty of restaurants there's no shortage of activity to be had at and near Chaparral Winds Retirement Community.  Living in this community will include chef prepared meals, access to a swimming pool, hot tub, billiards, computer room, transportation, and the help with laundry, cooking, and cleaning you expect from your retirement community.  Allow us to take care of the chores and details while you stay active and enjoy what Arizona has to offer!
4.      Desert Winds
Desert Winds Retirement Community is located in Peoria, Arizona.  Peoria is home to great festivals, arst and culture, plenty of golf courses, public parks, baseball spring training, loads of outdoor activities, shopping, restaurants, and access to quality medical care.  Active adults love this community as it provides the resort style comforts of a swimming pool, hot tub, loads of activities, fitness room, and much more.
Schedule A Tour at An Active Adult Retirement Community
When it comes to choosing a retirement community, seeing is believing.  It's important to go and see the condition of the communities you're considering, meet the staff, taste the food, and get a feel for where you're considering living.  SLS Communities offers an active retirement lifestyle for seniors at 4 of their Arizona retirement community locations. 
For more information about scheduling a tour please call 480-348-0300.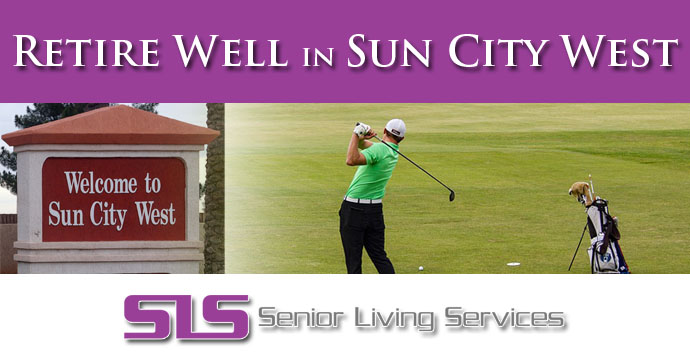 One of Arizona's great places to retire is Sun City West, AZ.  It is just 2 miles west of the original Sun City, AZ, and only 45 minutes north of Phoenix.  It was started in 1978 and has grown to more than 30,000 people.  Residents are from all over North America and enjoy the mild winters and sunny summers.
Designed to Reward Retirees
Having to run around all over the valley for the things you need isn't a lot of retirees idea of a enjoyable retirement.  Much like Sun City, Sun City West was designed from the ground up as a wonderful place for people from all over North America to retire.  The town was build with its own library, tennis courts, city golf courses, bowling alley, churches and numerous restaurants.
Housing In Sun City West
Sun City West real estate market consists of retirement communities, duplexes, single-family homes, condos, and garden apartments which range in cost from the $100k mark all the way up to seven figure territory. The city is also home to a number of retirement apartment rental companies.
What Activities & Entertainment Are Available?
The area is home to four recreation centers that have everything active retirees expect. There is bowling, swimming pools, fitness centers, softball fields, tennis, racquetball, golf, and more. With small annual fees retirees can enjoy an incredibly wide range of activities.
R.H. Johnson Recreation Center
The R.H. Johnson center provides opportunities for many types of activities, such as: Arts & Crafts Clubs, Bocce Ball, Lawn Bowling, Pickleball, Racquetball, Table Tennis, Outdoor Walking Track, Two Doggie Parks, Library, Billiards, Sports Pavilion, Tennis, and a Wii Game Center.
Palm Ridge Recreation Center
If you love to swim and exercise the palm ridge center offer 3 pools, fitness center, indoor walking track, ballroom, clubrooms, and pickleball. With wonderfully manicured landscapes the area is well maintained and enjoyable to spend time in.
Beardsley Recreation Center
If you are looking for a place to take children for a playground, a model railroad track, mini-golf, this is a great place to spend a day. The center also features an Olympic sized pool, clubrooms, and fitness center.
Kunetz Recreation Center
The Kunetz center features the same opportunities to enjoy a swim in the pool, exercise room, walking track and similar amenities as the other centers. Yet it also has a woodworking shop and Stardust Theater. This makes the Kunetz center a great place to catch a show or sharpen your woodworking skills.
Sun City West Gardening Club
Whether you are a beginner or seasoned expert gardener you can sharpen your skills by attending these meetings and events. Monthly programs are offered which cover how to grow, fertilize, irrigate, and maintain everything in your garden from ocotillo to apples. With all day bus trips a couple times a year and catered fall picnic, it is the place to be.
7 Golf Courses
One of the major activities for retirees in Sun City West is golf. There are seven golf courses in Sun City West. For the real experience 4 of them are championship length, and 3 are considered executive courses for the affluent golfing experience.
Who Can Live in Sun City West?
The same type of restrictions apply in Sun City West as the original Sun City. Those are that at least one member of the household must be at least 55 years of age. Children may visit for a maximum of 90 days but no one under the age of 19 can be a full time resident.
Who's Responsible For Yard Upkeep?
It depends on the type of housing you choose. Some communities have associations that take care of maintaining landscapes while retirement communities handle all of the details for residents.  If retirees choose to purchase their own home or property in Sun City West they can pay fees for landscaping services, or choose to enjoy keeping the yard up.
How Are The Healthcare Amenities?
With Del Webb Hospital, assisted living facilities, and numerous healthcare offices in the area there is an exceptional network of medical professionals in the area. In addition there are numerous medical research facilities in the Sun City West area, which continue to help provide longer and healthier lives.
Quality Senior Living Services
Retirement is a time where active adults should be able to choose the type of care they need, and enjoy the best years of life. SLS Communities offers independent living, assisted living, memory care, and home care at our various locations in Sun City West.