How Much Does Independent Living Cost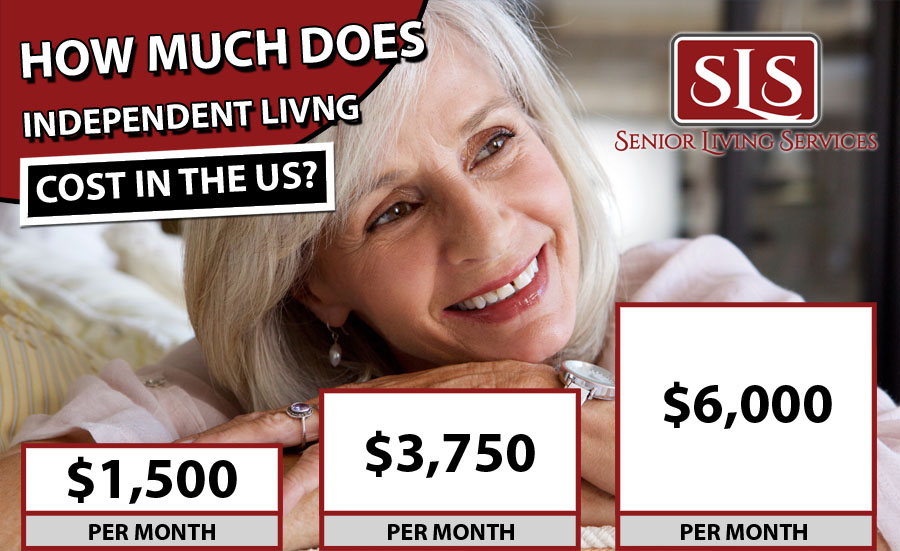 Independent senior living costs an average of $3,750 per month in the U.S. in 2021. Monthly costs will range all the way from $1,500-$6,000, depending on location and quality of facility, according to WhereYouLiveMatters.
What Is Independent Living?
Independent living is a housing arrangement for seniors who have reached the age of 55 and up. However, there are a few exceptions to this. Housing for seniors vary in types, such as apartment living to free-standing homes, including retirement communities. Independent living housing has a friendly atmosphere, allow seniors get around with ease, are more compact, and any maintenance and/or groundwork is taken care of.
Nearly all communities for living independently offer their residents various programs and activities, amenities, and various other services.  Housing for independent living usually include clubhouse and/or recreational centers allowing seniors a chance to interact with others in the community. Independent living also offers community participation in arts, crafts, gatherings on holidays, educational classes, movie nights, among many other community activities.
The housing for independent living might even offer other facilities like fitness centers, golf courses, swimming pools, interest groups, a variety of clubs, and tennis courts. There are many other services that independent living communities may offer, such as: beauty & barber shops, on-site spas, basic housekeeping, daily meals, and laundry services.
After all, independent living facilities are usually focused on those who have reached the age of 55 and up, created and designed to give an atmosphere of living independent, but with assistance available in areas where it may be needed. Hiring in-home help is an option for those who feel they need it.
Paying For Independent Living
Any senior considering a move to an independent living community can expect to pay anywhere between $1,000-$10,000 per month. Generally, there is a one-time fee that comes with independent living communities. This fee can range from $500-$1,500. Budgeting and planning must be a large part of any move to an independent community. Many seniors these days feel as though their retirement savings may not be enough long-term.
In most cases, independent living can be seen as an investment, so don't let the initial costs turn you off. Do the extensive research and compare multiple communities, then come up with a budget.
Independent Living Cost Breakdown
These are the typical costs associated with independent living:
Daily/weekly housekeeping.
Activities.
Utilities.
Transportation.
Daily meals and snacks.
Emergency systems.
Maintenance.

Independent Living Benefits
Living in an independent living community is a perfect option for seniors who can still do their daily tasks but who are looking for added benefits that are found in senior living communities. Here are some examples of the benefits independent living communities has to offer.
Maintenance-Free Living
One of the greatest upsides of independent living is freedom from the day to day tasks associated with homeownership. Your loved one will no longer be responsible for taking care of the yard or repairing a running toilet. Maintenance and housekeeping employees are available to take on these and other tasks so they can focus on other aspects of their life.
All-Inclusive Rent
Days of numerous bills are long gone. In an independent living community, every bill – think utilities, rent, and even the cable bill — are combined into one, easy, monthly payment.
The general cost of moving into an independent living community can additionally be financially beneficial. If your loved one is downsizing from their present home, independent living can help decrease their monthly spending and allow them to use their money in other ways.
Proper Nutrition
One of the greatest concerns as people get older is not eating right if it is from the food quality or from not receiving the right nutrients.
It could be for dietary reasons because they don't want to cook, or both, seniors in independent living can add on meal services. Specifically, Canyon Winds Retirement Community is staffed with a high caliber chef who prepares fresh meals every day. In addition to cooking with quality ingredients, dietary requirements – like low sodium – can also be fulfilled. A lot of independent communities also employ dietitians with an emphasis on senior nutrition and can be an invaluable resource to guarantee that they are eating healthy.
Private Living, With A Community Setting
An additional benefit of independent living is the harmony between enjoying their privacy but also participating in an active community. From joining the multiple activities taking place around the community every day to being involved in on meal service, to taking advantage of exercise rooms and other amenities, they can take advantage of everything the community has to offer as little or as much as they like.
Social Interactions
Getting older comes with uncommon challenges – One of them is making new friends. But living in an independent community means they're surrounded by others in similar stages of life. And without additional responsibilities like home upkeep or grocery shopping to be concerned about — plus a team of employees who are committed to planning daily activities — making it easy to connect with like-minded people and take in the benefits of continual social interactions.
Retirement Communities In Arizona
With independent living communities all across the valley, SLS Communities offers the very best facilities and services for senior citizens. Independent communities are currently located in Sedona, Mesa, Peoria and Surprise, Arizona. Living options include studio, one and two-bedroom apartments, all inside relaxing, resort-style communities. Enjoy weekly trips to shopping, restaurants and entertainment centers. A wide range of activities will be sure to entice all residents, as well!
More Articles About Retirement
Find Quality Assisted Living Care With SLS Communities
If you're looking for the very best assisted living in Phoenix; SLS Communities can help!  We have 5 locations in the Phoenix Valley that seniors and their families can choose from. With great amenities such as meticulously manicured landscaping, swimming pools, theater rooms, on-site salons, and much more! SLS Communities delivers today's seniors the very best assisted living care services in the Phoenix, Arizona area.
Check out our locations below
For more information about assisted living and senior living services please call 480-348-0300.