Golf Exercises For Seniors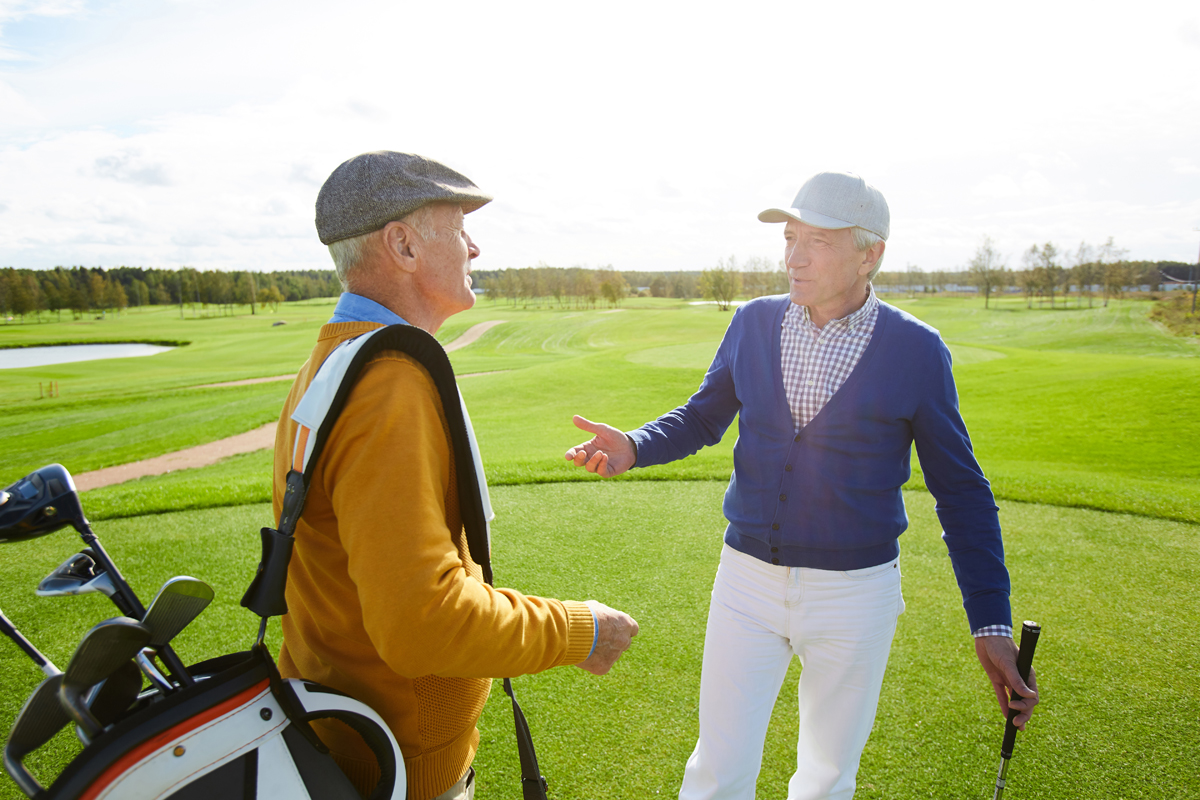 Try these stretches/exercises before heading out to the course for your round of golf!
Best Golf Exercises For Seniors
This post will focus on exercising these four areas of the body:
Back Exercise
Any senior golfer may find back pain to be the most noticeable ailment when playing the sport. Back pain can be extremely difficult to deal with while on the course. Stretching before hitting the links is essential. Try this exercise:
Lie flat on your back.
Bend your knees while keeping your feet flat on the ground at the same time.
Keep your arms flat on the ground, as well.
Your feet must be shoulder width apart.
Keep your hands and shoulders flat on the ground while raising your hips simultaneously.
Your hips should form a straight line from your knees to your head.
Slowly lower yourself back down to the ground.
Repeat the exercise 8-10 times.
Quad Exercise
Seniors experiencing cramping in the quadriceps is all too common. Here is a good exercise to use as a preventative before hitting the links:
Stand up with both of your feet firmly planted on the ground.
Use a door or large object to steady yourself.
Bend one leg and knee while holding it close to your buttocks.
Use the hand on that same side to hold the leg in position.
Hold the pose for 10-15 seconds.
You will feel your quad stretching at this point.
Leg Stretches
Every golfer knows how important it is to have strength in your legs while swinging the club. This stretch is used to keep your legs loose and strong.
Sit up straight in a chair.
Have both feet flat on the floor.
Keeping your back straight, slowly raise a leg.
Keep that leg horizontal with the floor.
Hold the pose for up to 5 seconds.
Repeat the motion with the opposite leg.
Try to perform this stretch 8-10 times on each side.
Hip Stretches
Hip strength is a crucial asset, especially for senior players. Your hips need to be loose every time you approach the tee. Try this stretch prior to your upcoming round:
Lie flat on your back.
Keep your knees in the air and feet planted on the ground.
Drop both of your knees to the left side.
Hold this pose for a good 10-15 seconds.
Return to the starting position, then repeat the exercise on your right side.
Retirement Communities In Arizona
With independent living communities all across the valley, SLS Communities offers the very best facilities and services for senior citizens. Independent communities are currently located in Sedona, Mesa, Peoria and Surprise, Arizona. Living options include studio, one and two-bedroom apartments, all inside relaxing, resort-style communities. Enjoy weekly trips to shopping, restaurants and entertainment centers. A wide range of activities will be sure to entice all residents, as well!
More Articles About Retirement
Find Quality Assisted Living Care With SLS Communities
If you're looking for the very best assisted living in Phoenix; SLS Communities can help!  We have 5 locations in the Phoenix Valley that seniors and their families can choose from. With great amenities such as meticulously manicured landscaping, swimming pools, theater rooms, on-site salons, and much more! SLS Communities delivers today's seniors the very best assisted living care services in the Phoenix, Arizona area.
Check out our locations below
For more information about assisted living and senior living services please call 480-348-0300.