Arizona does have a little bit higher cost of living (just slightly) than most other states. Once reading through the pros and cons listed below, you will see for yourself that Arizona offers more of the pros than they offer cons. Decide for yourself if the very few cons would be worth living in Arizona, we think that you will. To balance out the disadvantage of the few cons Arizona has, one could always take-up residents in one of the towns in our state which offers a much lower cost of housing, even lower than the average.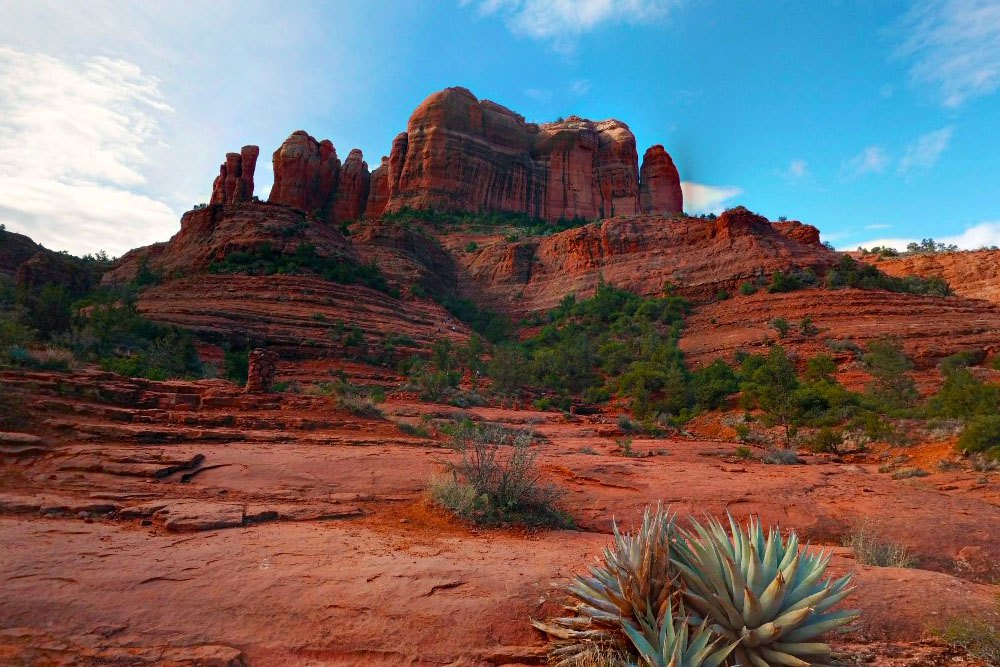 Pro 1. No Other State Offers As Many Sunny Days To Enjoy As Arizona.
Are you a person that dreads waking-up to a cloudy day? Or do you prefer waking-up to sunny days, where you can enjoy them all day long? News flash, Arizona is the only state in the entire nation that allows you to experience so many sunny days in a year, and that comes straight from the mouth of the NOAA (The United States National Oceanic & Atmospheric Administration). That's absolutely correct, if you relocate to Arizona you will be able to enjoy more sunny days than you would be living in the Sunshine State of Florida.
Pro 2. More Comfort Due To The Lower Humidity
There is a scientist who studies 'Human Conditions' that are telling us now that all humans have comfort zones that are similar to one another when the humidity is involved. In fact, they are saying that when the humidity level falls below 60%, it is when humans feel the most comfortable. Of course, that goes to say that, 'humidity levels above 60% makes humans feel uncomfortable, with a muggy feeling about them'. That's what's so great about living in Arizona, knowing that you'll not have to go through muggy days from high humidity, in fact, Arizona is known for having the lowest humidity throughout the year than all of the other states in this country, and that is according to the NOAA. Naturally, it is much easier to enjoy a ray of sunshine if you do not have to cope with high humidity at the same time.
Pro 3. Arizona Offers Their Residents Fewer Burdens When It Comes To Taxes Than Most Of The Other States
Arizona residents will also be allowed to keep more of the income they make for themselves, unlike most other states. Personal income tax is not the only means in which a state can collect money from its citizens. All states that have alcoholic beverages tax may use it differently, including the gasoline taxes, among so many other means of ranking in their revenue. For instance, the fees citizens are charged for registering a vehicle, and for maintaining the privilege of having a driver's license.
Pro 4. It Appears That Living In Arizona Makes For A Happier Life!
We base our opinion on an analysis that we have done through different studies, including polling, with that said, facts show that the residents of Arizona live happier lives than the residents in most of the other states.
Pro 5. Healthcare Quality
Arizona offers better quality healthcare than most of the other states.
Pro 6. Low Cost of Living
According to BestPlaces, Arizona is cheaper than the US average. Studios cost about $701 compared to the national average of $821. 1 bedroom cost about $806 compared to the national average of $930 per month. 2 bedrooms cost $1,011 compared to the national average of $1,148. 3 bedrooms cost $1,454 in Arizona compared to the national average of $1,537. 4 bedrooms in Arizona cost $1,668 compared to the US average of $1,791.
Pro 7. Work Opportunities
The booming industrial market in Arizona leaves room for plenty of job opportunities. Continuing to work gives a sense of purpose and helps you stay active.
Pro 8. Sporting Events
Spring training in Arizona is huge. With 10 stadiums, 15 MLB teams, and 75-degree temperatures, Arizona is the perfect place to enjoy spring training.
Pro 9. No Mowing Lawns
Arizona doesn't have as much grass as many other states do which means you won't have to mow your yard very often.
Pro 10. The economy is on the Rise
In 2009, the unemployment rate in Arizona was about 11.2%. As of April 2015, Arizona's unemployment rate dropped to 6%.
Pro 11. Breathtaking Scenery
Arizona has some of the best sunsets and sunrises most people have seen. Arizona is perfect for outdoorsy people who love hiking and generally being outdoors.
Pro 12. World's Premier Golf Destination
Arizona is a great place for retirees that love golf. According to GolfArizona, "Few would dispute that Arizona, with golf-rich cities such as Scottsdale and Phoenix is one of the world's premier golf destinations".
Retiring in Arizona Cons
Con 1. Another Con Is That Arizona Has A Higher Crime Rate Than Most States
According to the reports the police department has been giving the FBI, Arizona's crime rate is a bit higher than many of the other states. This is a disadvantage that one doesn't have to worry about if they live in one of the low crime or no crime vicinity, where they will also find lower than the average on property tax rates.
Con 2. Compared To Other States, Arizona Offers A Good Quality Of Life
Arizona is one of the few states to offer a little bit more of the warmer weather (which is desirable by most) in the winter months, and the rest of the year offers hot weather, lots of sunshine, with great humidity levels for one's health. Also, Arizona summers usually give much more of the nice weather than the usual three months this is certainly the case in the lower parts of the state. Although the winter months may offer perfect weather, the rest of the year offers very hot weather, which might not work out for all.
Con 3. Haboobs and Monsoons
Arizona's monsoon season from June 15th to September 1st brings nasty storms. Monsoons are usually followed by a haboob, which is another word for a huge dust storm.
Con 4. Snowbirds
Arizona has great weather even in the wintertime which many snowbirds to the state when the weather starts getting colder in their home state. The state does get a little overpopulated and traffic increases significantly.
SLS Retirement Communities
We have 4 locations open and another location under construction in the state of Arizona which offer a variety of services and living arrangements. From independent living to fully assisted living we complement our services with highly sought after amenities including memory care.  See below for the locations we currently have available.