Cost Of Assisted Living In Arizona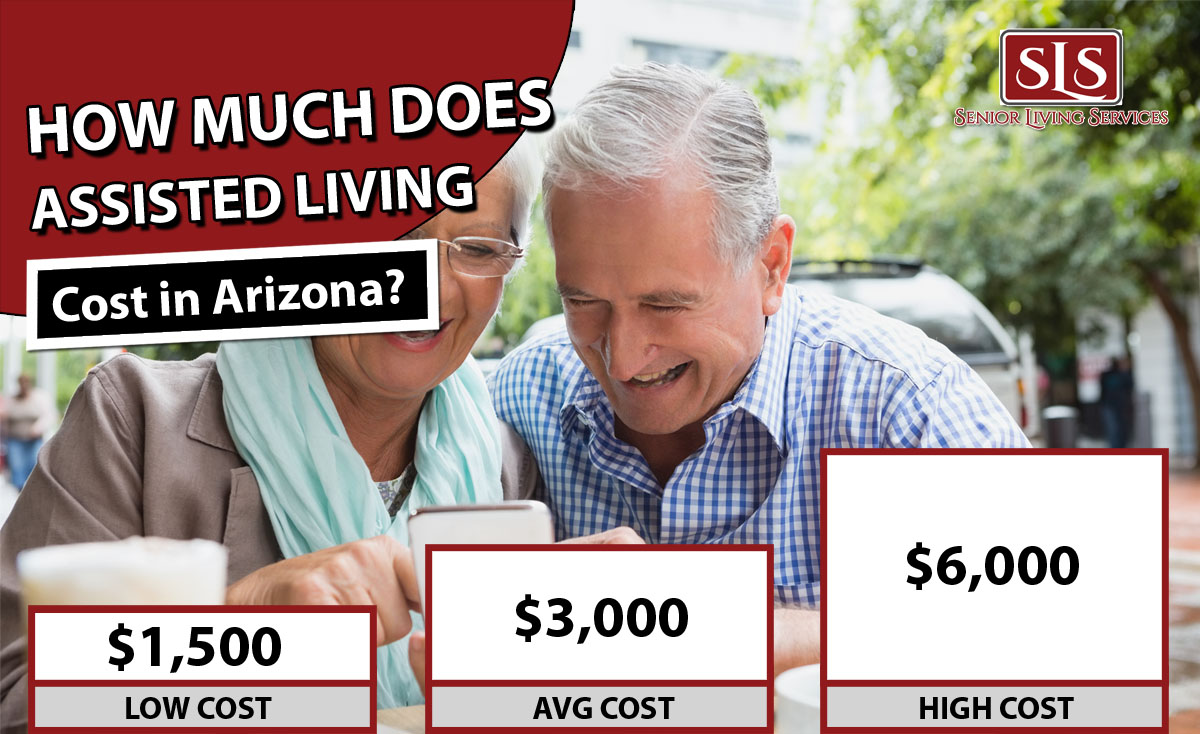 The average cost of assisted living in Arizona mirrors the cost to get assisted living in the Phoenix Valley. Some premium services, locations, and areas do cost more. Luxury assisted living facilitates will cost more than cheap assisted living facilities.
Low Cost: $1,100 per month
Average Cost: $3,500 per month
High Cost: $8,300 per month
Cost Of Assisted Living Near Me In Arizona By City
Phoenix Arizona
According to Bankrate, the average cost of assisted living in Phoenix is $3,500 per month, or $42,000 per year for a 1 bedroom apartment in an assisted living facility. Seniors do not have to make due with these entry level assisted living communities in Phoenix.  It is possible to find some very luxurious assisted living options in Phoenix for between $3,000 to $4,000 dollars.
Rates in Phoenix can be hard to understand as each facility has different amenities, floorplans, and options.  Don't disregard some of the higher priced options as once you add up extra costs at a cheaper place, you may pay as much or more!
Tucson Arizona
According to Genworth Cost Of Care Survey, the average cost of assisted living in Tucson, Arizona was about $3,695 per month.
Mesa Arizona
According to Canyon Winds Retirement, This equates to a cost of about $3,150 per month; with low cost average around $1,100 and high costs averaging $6,700. SeniorAdvice states "The average daily cost for assisted living in Mesa, Arizona is approximately $105, with costs running between $37 and $223 per day."
Chandler Arizona
Assisted Senior Living states that a 1 bedroom apartment in an assisted living facility in Chandler, Arizona will cost you around $3,600 per month.
Scottsdale Arizona
The average cost for a single bedroom apartment in an assisted living facility in Scottsdale is about $4,800, much higher than surrounding cities according to assistedliving.org. This is because Scottsdale is known for their high-end, luxury retirement communities.
Glendale Arizona
SeniorHomes.com has a great article that lists the top Glendale Assisted Living Facilities and their associated costs. According to their list, the average cost of assisted living in Glendale, Arizona is around $2,461.
Gilbert Arizona
Caring.com lists 21 assisted living facilities near Gilbert, AZ, with an average of $2,487 monthly rent costs.
Peoria Arizona
According to Desert Winds Retirement, the average cost of assisted living in Peoria, Arizona is $2,948; with low costs ranging around $2,446 and high costs around $3,447.
Surprise Arizona
Chaparral Winds Retirement states that "Assisted living costs in Surprise, Arizona average $3,250; with high costs ranging around $7,072 and low costs ranging around $2,446."
Sun City Arizona
Cost of Assisted Living in Sun City, Arizona is around $3,150; with low cost ranging around $1,100 and high cost ranging around $6,700, according to senioradvice.com.
Sun City West Arizona
Cost of Assisted Living in Sun City West, Arizona is around $5,477; with low cost ranging around $2,655 and high cost ranging around $8,300.
Sedona Arizona
According to Sedona Winds Retirement, the cost of Assisted Living in Sedona, Arizona is around $4,005; with low cost ranging around $2,206 and high cost ranging around $5,804. Sedona is one of the best places to retire in Arizona.
Youngtown Arizona
Ventana Winds Retirement states that the cost of Assisted Living in Youngtown, Arizona is around $3,293; with high costs ranging around $4,141 and low costs ranging around $2,446.
Average Cost of Assisted Living in Phoenix
Assisted living costs vary from state to state and by city.  If you're searching for "Assisted Living Phoenix AZ Costs" or "How Much Does Assisted Living Cost In Arizona", this post should help!  Phoenix, Arizona is fast becoming one of the most popular places to retire in the country.  The area even beats cities in Florida as it has a low cost of living, lower cost options for housing, and easy access to quality medical care.  In addition to those great advantages, seniors are flocking to the Phoenix Valley because the state of Arizona does not tax social security checks.  With lower cost housing and the state not taxing senior's income there is simply less strain on the budget.
Why Choose Assisted Living In Phoenix?
Phoenix has great weather so there's plenty of time to get out and enjoy everything the city has to offer.  In addition to great entertainment there's amazing shopping, dining, recreation, and cultural attractions.  With loads of art galleries seniors who love sculptures, paintings, and other artistic expressions will love Phoenix.  Phoenix may have a few hot summers, but the low humidity makes them easy to enjoy.  The rest of the year is mild, and seniors won't have to worry about shoveling snow off their driveways or sidewalks.
Phoenix Assisted Living Options
Arizona offers seniors assistance in finding housing with a state program called Independent Living Supports, or ILS.  In addition to helping seniors find the housing they need it safeguards seniors in Arizona.  Seniors should consider the program their first step in getting information about community-based services.  It helps seniors live independently as long as they can.
The ILS Program provides disabled and aging resources, family caregiver support, legal services, assistance, protection for the rights of seniors living in long-term care facilities, volunteer opportunities for people over 55, health insurance assistance, nutrition programs, community-based services, healthy again services, emergency preparedness for seniors, and mature worker services.
Phoenix is home to more than 25 assisted living communities, all of which have different amenities, locations, and set of services.
Finding Assisted Living Arizona
You can browse assisted living facilities online on SeniorAdvisor.com or SLSCommunities.com to get an idea of what the properties look like, what kind of amenities they have, and what floor plans are available. You will also have a chance to hear from residents and their families who have left reviews about their own person experiences at assisted living facilities.  Reading about assisted living communities online helps narrow down the list of places you'd like to visit when deciding on where you'd enjoy living.  It's important to keep in mind if the community offers transportation and the distance from shopping, entertainment, and medical services.
Once you have a list of best options it is a great idea to schedule a few tours of your top assisted living facilities. While you're there tour the inside and outside looking for how well the landscaping is kept along with the overall cleanliness of the facility.  The very best facilities will typically offer to let you sample a meal during your tour.
Assisted Living Budgeting & Value
Before choosing which facility you'd like to live in; take stock is which services you need right now, and also those that you might need in the near future.  Choosing a location that can accommodate your needs today and, in the future, makes it much easier than having to go through the whole process of finding a new senior living facility if the one you're living in doesn't have the services you need.  Many of the best assisted living facilities have other on-site communities that can offer additional services, should the need arise.
Choose an assisted living community where the costs for living, services, meals, and other costs are all listed separately and compare it to other facilities where the living conditions are similar but they offer all-inclusive pricing.   There is a chance you will see that there are costs put into all-inclusive pricing that you have no need for and could save money living somewhere that allows you to pick and choose what you need.
Paying For Assisted Living In Phoenix
Funding for assisted living in Phoenix differs greatly based on each senior's financial situation.  A common resource for assisted living is Medicaid.  There are some assisted living options in Phoenix which don't accept Medicaid, so it is important to ask that question if you believe you'll need it, before you schedule a tour. The Medicaid Program in Arizona helps provide payment for long-term care services, as well as Medicaid health coverage, to eligible seniors who, because of their medical condition, require help or assisted with daily living activities such as transportation, grooming, dressing, bathing and eating.
Seniors with better financial standing can use a combination of retirement money and social security to fund more luxurious alternative assisted living options.  In some cases, even equity from the family real estate can be used by selling the property or taking a mortgage against it.  In addition, some families choose to rent the real estate as an additional source of monthly income to help pay for assisted living services. Financial planners can help you and your family explore the very best options for how to fund the assisted living costs for a facility you want to live in.
Find Quality Assisted Living With SLS Communities
If you're looking for the very best assisted living in Phoenix; SLS Communities can help!  We have 5 locations in the Phoenix Valley that seniors and their families can choose from for assisted living services.   With great amenities such as meticulously manicured landscaping, pools, theater rooms, on-site salons, and much more SLS delivers seniors the very best assisted living services in Phoenix, Arizona.
Check out our locations below
For more information about assisted living and senior living services please call 480-348-0300.