If you're searching for retirement housing options or types of retirement homes, this post is for you.  SLS specializes in providing retirement living options such as assisted living, independent living, memory care and home care. "types of retirement homes", "types of senior living facilities", or "types of retirement communities" or "retirement homes for seniors" while looking to find out which type of senior living community is right for you? If the answer is yes, this guide should help create a clearer picture of all of the different types and explain more about each.
Assisted Living – Independent Living – Memory Care – Home Care
There are a lot of retirement community living options out there, it is okay to feel overwhelmed and confused about the types and styles of care for a senior living community. It is important that you learn terminology and the differences of the senior care solutions so that you can make a good choice for your loved one. When you start your search, use this guide to learn about the various types of housing options available in the United States.
Assisted Living
Assisted living communities are for seniors who cannot live on their own safely, but do not need as much care needed for a nursing home. They receive assistance with medications, daily living activities, housekeeping and meals. There are 3 meals a day provided in a central dining room. Residents have private apartments that have a limited kitchen area. Staff is available 24/7 for additional safety. Many assisted living communities have licensed nursing services. The hours will vary, so be sure to ask about them when you visit. Scheduled transportation and social activities are available as well. There are sometimes a special unity for those with Alzheimer's but not in all communities
Also called:
Personal care home
Assisted care community
Payment:
Some take Medicaid
Mostly private pay
Price:
$2800 to $4500 for Alzheimer's care shared suite
$2500 to $4000 monthly depending on apartment size and assistance level
Find Assisted Living Facilities In Arizona
Independent Living Communities
Senior independent living communities are for seniors who are still independent with few medical problems. Residents will live in a fully equipped private apartment.
There are a variety of apartment sizes from 2 bedrooms to studio apartments. Fine dining services are also offered with a custom designed meal package. Often times, a resident can choose to pay for a certain number of meals daily. There are also frequent social outings and events for entertainment.
These are called:
Continuing care retirement community
Senior apartments
55+ Communities
Retirement villages
Congregate care
Retirement communities
Payment:
Some government funding through Section 202
Mostly Private Pay
Price range:
Find Independent Living Facilities in Arizona
Nursing Homes
Nursing homes have 24/7 skilled nursing care for the elderly who need high levels of medical assistance. 24 hour nursing services are available from a licensed nurse. Most nursing homes do provide short-term rehab stays for those who are recovering from surgery, injury, or illness. Long-term care will have high level care needs and complex medical issues that need routine nursing services. Residents will share rooms and are served meals in a central dining room unless they are too ill. There are also activities and some nursing homes have a special unit for those with Alzheimer's.
Also called:
Long term care facility
Skilled nursing center
Nursing center
Convalescent care
Payment:
Medicaid
Private Pay
Medicare
Price:
Alzheimer's Care
There are plenty of housing options for those with Alzheimer's or dementia. For those who are memory impaired, it is vital that they have 24/7 care and structured activities to ensure quality of life and safety. Many will try to care for their family at home, but it is hard given the skills that are needed to care for those with memory issues.
If you need a care community, you need to understand that Alzheimer's care is done in assisted living, as well as personal care homes, and nursing homes. Normally, the residents will have a semi-private apartment and structured activities provided by trained staff. Many of these environments will have locked or secured areas that ensure that no one wanders off. Most times within these secured areas, residents will have access to gardens and walking paths.
Also called:
Dementia Care
Memory Care
Payment:
Price:
Find Memory Care Facilities in Arizona
Residential Care Home
Residential care homes are private homes that serve residents that live together and get home from live-in caretakers. These homes have assisted care services for those who want a home like community and privacy. Assistance with daily living like dressing and bathing are provided. The nursing services and amenities will vary. Ask about their services when you visit.
Also Called:
Adult family home
Board and care home
Group home
Payment:
Price:
$1500 to $3000 monthly depending on care level and services
Find Senior Living Home Care in Arizona
Respite Care
Respite care is a place that gives caregivers a break by allowing the resident to have a short-term stay in the community that will meet their needs. Most assisted living communities and nursing homes have respite care. The resident can stay from a week to over a month depending on the situation. They will receive the services that the community offers. Respite care stays are also a good way for the elderly to get acquainted with their new residence. Most residents find that they enjoyed their stay and are willing to move in after their visit. Respite programs are also available for Alzheimer's and assisted living residents.
Also called:
Adult day care
Short-term stay programs
Payment:
Price:
Home Care
Home care will allow the elderly to stay in their home while receiving assistance that is needed to help them to stay independent. Normally, home care involves assistance with daily living activities like dressing, bathing, and meals or instrumental daily activities like making appointments, transportation, paying bills or just being there for companionship and emotional support. Home care services range from once a week to 24 hours daily depending on needs.
Also called:
In-home personal care
Home health care
Home care aide
Payment:
Medicaid/Medicare via certified home health agencies
Private Pay
Price:
Senior Housing Options Comparison
The graphic will help lay out the approximate costs for each different type of senior care and living services.  Families can use this information to better plan for their needs.  It details approximate costs, types of services included, and whether each type of care includes things like medication management, personal care, transportation, and much more.  Knowing the needs of each senior helps pick the best level of care that fits their preferences and care level.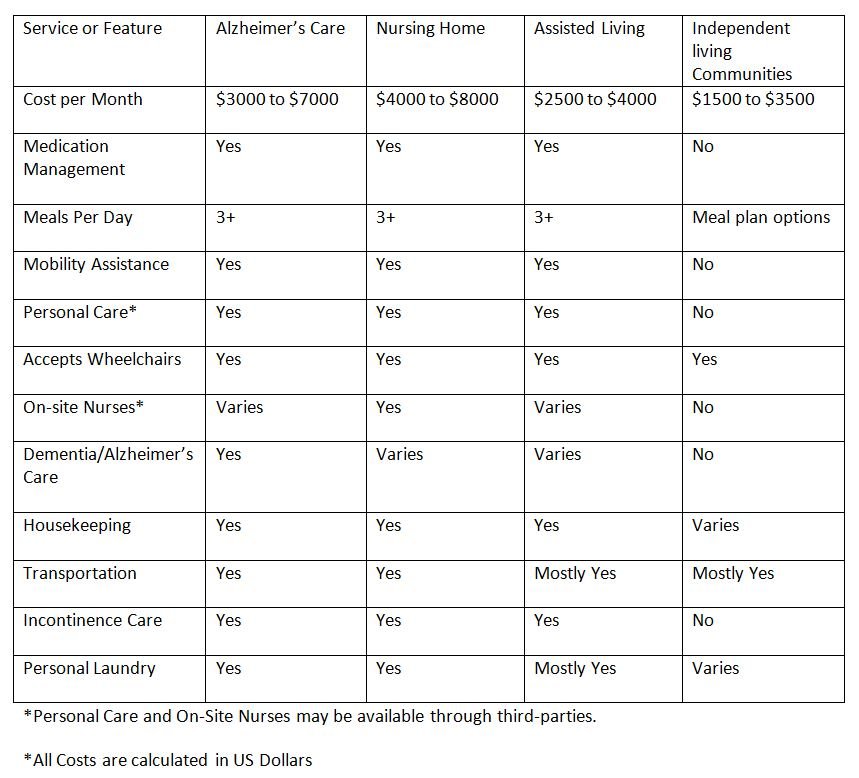 How To Find A Retirement Community
As you or a loved on is getting ready to retire it's a good time to start considering your living arrangements during retirement.  Retirement communities are fast becoming a hot spot for active retirement lifestyles for seniors of all levels of independence and health.  While traditionally retirement homes were just for seniors that needed care active retirees are joining them as the benefits go far beyond help with medications and care.  One of the most popular reason seniors are flocking to retirement communities is to stay active, stay social, and avoid becoming isolated.
Look For Resort Style Living
Retirement communities are not nursing homes and can be fun vibrant places to live.  Look for retirement communities that have amenities such as on-site hair salons, hot tubs, pools, restaurants, or craft rooms that allow you to explore your artistic side.  This makes it so your new home feels like a never ending vacation.
Look For Lifestyle
The best communities are those that give you the same freedom as you have at home.  If you have a dog or a cat you'll want to make sure the community you choose is pet friendly.  Another consideration is if you'll have the ability to have a child, grandchild, or other family member move in for more than just a few weeks.  There are also considerations for things like having plants, a garden, or even an outdoor grill on your balcony or patio.  Carefully consider what hobbies and activities you love that you'll want to keep doing at your retirement community.
Look For Actives & Recreation
In addition to having built in social interaction look to make sure your retirement community has activities and plenty of recreation close by.  The retirement community you choose should have a calendar of events, activities, and even some crafts.  In addition you'll want to make sure your favorite types of recreation are close by.  If that means you're near a golf course or a bowling alley make sure there's one nearby.
Look For Good Weather
As we retire most of us aren't excited about shoveling feet of snow all winter long.  Many seniors are moving to retirement communities in warmer states such as Arizona.  With great retirement communities in picturesque locations such as Sedona, Mesa, Peoria, Youngtown, and Surprise, AZ seniors are spoiled for choice.
Look For Hospitals & Medical Care
Quality medical care and access to emergency services is a must for all of us no matter our age.  For seniors it's a good plan to choose a retirement community that's near good doctors, clinics, and hospitals.  This makes the travel time less to go and come back from appointments and eases worry about where to go if you need some help.  If you have a need of specialist doctors you'll want to make sure some are nearby your new retirement community home.
Look For Continuing Care
While many retirement age adults have no need for services such as assisted living or memory care knowing the community offers them is a benefit.  Making the transition when or if the need arises is more simple if your community offers the more skilled levels of care and nursing.  While you likely don't need it now planning for the future makes it more simple and less stressful should it become helpful.
Arizona Retirement Homes
If you are already searching for retirement homes in Arizona you clearly already know that Arizona most likely the best place to retire in the United States.  SLS Communities has multiple locations in the state of Arizona which offer Independent Living, Assisted Living, Memory Care, and Home Care Services.  All services are custom tailored to each resident to meet their needs and respect their independence.  Our staff strives to provide the most welcoming and compassionate senior care services anywhere.  When you or a loved one is looking for a place to retire, consider SLS Senior Living Services in Arizona. For more information or to schedule a visit at one of our locations please call 480-348-0300.