What Type Of Senior Living Facilities Are Best?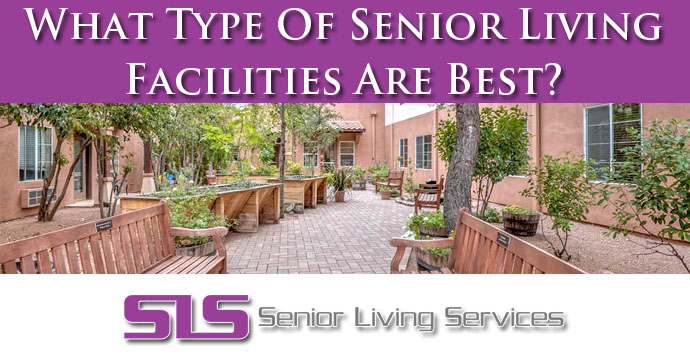 Deciding what type of senior living facilities are best is a big decision for both retirees and the families that love them. There are a lot of different companies and communities operating which have varied levels of care, service, and quality.  Most quality senior living services providers offer four main categories of care: independent living, assisted living, memory care, and home care services.
Each of these different types of senior living facilities offer the tailored level of care needed with the dignity that every senior deserves.  Read more below on each of the different types of senior living facilities.
Independent Living Communities
Living in senior independent living communities means having fully equipped private apartments. This option is a great choice for seniors which are independent and have few medical issues.
Having to keep up with laundry, cooking, maintaining a home, and driving to doctor's appointments and activities can become a challenge.  Choosing independent living means keeping your independence, while leaving the details to the staff of community employees.
Apartments for independent living come in the same studio, one bedroom, and two bedroom  layouts that many adults live in. Amenities that quality senior living communities feature are things like swimming pools, Jacuzzi, fitness centers, cable or satellite TV, housekeeping, computer rooms, card rooms, billiards, and even onsite beauty salons or barber shops.
Assisted Living Communities
Assisted living communities are just that, a place where seniors enjoy the peace of mind knowing that assistance and help is there when they need it. This is an option which is great for seniors which are no longer able to live on their own safely, yet do not need the higher level of care which is common in nursing homes.
The assistance is tailored to individual's needs and wants.  It comes in the form of daily living tasks, help with monitoring medications, help with housekeeping, and meals are included. Depending on the facility each apartment might feature kitchenettes with the main cooking being done by the staff and served in central dining rooms. Staff in assisted living communities is available 24 hours a day, 7 days a week, 365 days a year to ensure that seniors have the safety net that gives them peace of mind.
Memory Care & Alzheimer's Care
Alzheimer's is a reality for many seniors and quality senior living facilities have programs specifically designed to help people live with dignity and live in a welcoming and warm community.  Memory care consists of structured activities and round the clock care to enrich the lives of these seniors and to safeguard them.
Highly trained staff members in these this care setting help seniors participate in activities which enrich their lives and help keep them safe. Apartments are generally semi-private which are in areas of the facility which are secured to prevent seniors from going to explore and having a hard time finding their way back.  These areas typically feature gardens and walking paths so they can still enjoy fresh air, sunshine, and even the occasional rain shower.
Senior Home Care Services
The homes we buy and live in are many times symbols of our hard work, years of effort, success, and setting for life's best memories. Many seniors then have serious reservations about leaving their homes.  Just because you love your home doesn't mean that daily tasks don't become more difficult.
Senior home care services allow seniors to maintain their address, residence, and privacy while still delivering the care they need. Home care services are generally available 7 days a week and can be tailored to the needs of each individual.
Arizona Senior Living Facilities
If you are looking for quality senior living facilities in the state of Arizona, SLS Communities has 4 locations which offer all of the various care programs. These programs are designed to fit the needs of seniors and pay them the respect they deserve. Every type of senior living service offers the care and dignity which residents, families, and friends expect for the loved seniors in their lives. For more information about SLS Communities please click here or call 480-348-0300.
Back To Home