CONTACT US TODAY TO FIND THE PERFECT RETIREMENT COMMUNITY!
Qualities of a Reputable Retirement Community With Terry Williams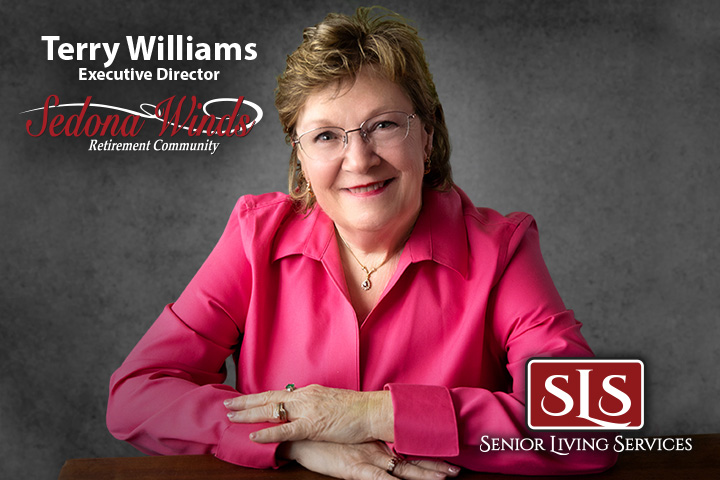 Show Description:  In today's episode of Senior Living Arizona, we get the chance to have a one-on-one conversation with Terry Williams, the Executive Director for the past eleven years of Sedona Winds Independent Living, the very popular and successful retirement community located in the gorgeous Red Rocks of Sedona, Arizona's Village of Oak Creek.
Show Notes:  Sedona is well known for its glorious rock formations and it is also the home of Sedona Winds, which offers not just Independent Living but offers Assisted Living and Memory Care as well.  One of the many benefits of this community is how the model of retirement living works so gracefully in this location.  The Independent building sports a seasonally heated pool, walking paths, library, fitness room, game room, activities galore, a hair salon, a fabulous menu and dining room, and beautiful views of the mountains. Part of their offerings include helping residents who get to a point in their lives where they may need more assistance with daily living or their memory loss turns into advanced dementia or Alzheimer's, there are many levels of care available to accommodate the residents.
In this episode Terry elaborates on her background leading to the Directorship of Sedona Winds and her tenure there and what motivates her in her role. She discusses the importance of loyal, compassionate staff and what health-related issues she feels are crucial to raising public awareness about and why.  We also expand on the activities and services available at Sedona Winds, what kind of voice the residents have there, why it's important and how the happiness level of the residents is tracked.  We also chat about how she creates a sense of community at her property and the role families play in the lives of the seniors living in a retirement community.  This is a lovely interview with a seasoned professional who is an expert in her field.  We hope you enjoy the conversation and the information offered.
RETIREMENT LIVING AT ITS FINEST | READ & WRITE REVIEWS HERE!