CONTACT US TODAY TO FIND THE PERFECT RETIREMENT COMMUNITY!
Walk to End Alzheimer's with Northern AZ Community Executive Lesley Jenkins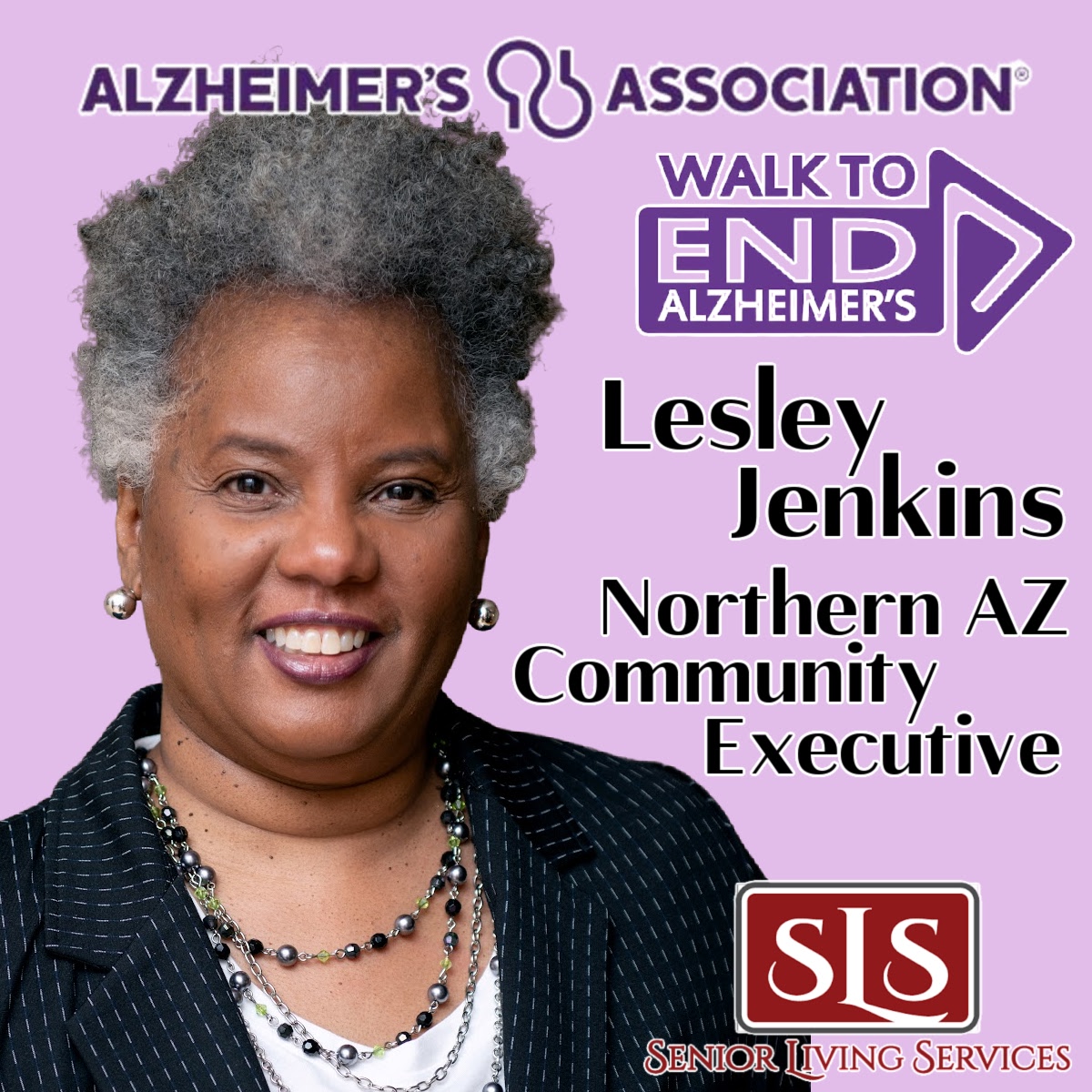 Show Description: Today's episode is rich with information about what the "Walk to End Alzheimer's" cause is from Lesley Jenkins, the Northern Arizona Community Executive serving a generous region in the South West.
Show Notes: We learn about where the Walks take place in Arizona and when, as well as how anyone can participate on various levels from sponsorship to walking with your dogs and or loved ones to help raise money for the care and support services available for individuals diagnosed with the disease and their caregivers.
These Walks also provide funding for the invaluable research still needed to find a cure for Alzheimer's. Plus we learn about the different levels of dementia vs. Alzheimer's and how prevalent the disease is today.  Lesley shares with us about the Alzheimer's Association and what services are available including the 24/7 helpline where people can speak confidentially with a trained Care Consultant, get help with planning for the future, coaching for family members, and strategies to address safety concerns, and referrals to local resources. These services are offered in over 200 languages.
There are also support groups that provide a forum to share feelings, concerns, and information and learn new skills.  The Desert Southwest Chapter offers over 50 support groups in English and Spanish, across Arizona and southern Nevada.  All of the support groups are facilitated by trained individuals and meet at various locations and times.  Most groups are for family and friends supporting a loved one with dementia but there are also groups designed specifically for individuals with early-stage dementia.  Call 800-272-3900 or visit:  alz.org/dsw/supportgroups to find a group near you.
The Alzheimer's Association educational programs increase awareness and knowledge about Alzheimer's and related dementias.  Session topics include an introduction to the disease, addressing behavioral challenges, long-term planning, and much more.  Almost all of their educational presentations are offered in English and Spanish.  Call 800-272-3900 or visit:  alz.org/dsw/education for more information.
Early Stage programs provide a variety of education sessions and activities designed to actively engage, empower, and encourage individuals with Early Stage Alzheimer's and their care partners.  Call 800-272-3900 for more information.
The Alzheimer's Association's Approaching Alzheimer's:  First Responder training is a free online course to prepare first responders to respond to common calls involving a person with dementia.  For more information, call 800-272-3900 or visit asl.org/firstresponders
Finally, with the onset of the pandemic in 2020, a Virtual Education Program was enacted to assist people in dealing with Alzheimer's disease, which is not a normal part of aging.  In their virtual program, people can learn about the impact of Alzheimer's; the difference between Alzheimer's and dementia; stages and risk factors; current research and treatments available for some symptoms; and Alzheimer's Association resources.  Call 800-272-3900 or visit alz.org/crf to explore all upcoming virtual education programs and support groups.
RETIREMENT LIVING AT ITS FINEST | READ & WRITE REVIEWS HERE!